San Francisco offers full slate of events and exhibits for 2016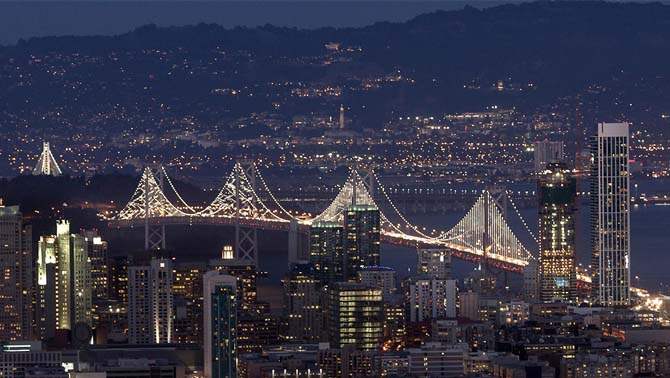 Another historic year of openings, events and exhibitions is in store for San Francisco, with once-in-a-lifetime experiences and returning annual favorites.
The David Ireland House at 500 Capp Street Opens – Jan. 15, 2015
After a complex restoration effort, David Ireland's Mission district house at 500 Capp Street—the late conceptual artist's enigmatic residence and site-specific art installation—opens to the public on Jan. 15, 2016 as the city's first historic artist's home. During the thirty years Ireland lived there, he embedded the house with his own pieces and transformed it into a work of art in its own right. The home is now widely admired as both the source of and repository for the influential West Coast artist's most important artwork. Reservations are now available for scheduled tours. www.500cappstreet.org
San Francisco Arts Commission Opens of New Main Gallery in War Memorial Veteran's Building - Jan. 22, 2016
The San Francisco Arts Commission (SFAC) Galleries will celebrate the opening of a new and greatly expanded 3,000 sq. ft. gallery space in the historic War Memorial Veterans Building with the inaugural group exhibition Bring it Home: (Re)Locating Cultural Legacy through the Body, curated by SFAC Galleries Director Meg Shiffler and independent curator Kevin B. Chen. The new Main Gallery located on the ground floor of the War memorial Veterans Building. www.sfartscommission.org
The Bay Lights - Jan. 30, 2016
One of San Francisco's most beloved art installations becomes a permanent fixture in the new year. The Bay Lights, Leo Villareal's monumental light sculpture comprised of 25,000 LED lights, will add shine and sparkle to the western span of the San Francisco-Oakland Bay Bridge from dusk to dawn, year-round. The return of The Bay Lights is in large thanks to the generosity of private donors, Illuminate the Arts and the State of California. www.thebaylights.org
Berkeley Art Museum and Pacific Film Archives Opens – Jan. 31, 2016
Visitors will experience innovative art exhibitions, film screenings and live performances in a cutting-edge building designed by Diller Scofidio + Renfro. www.bampfa.berkeley.edu
Super Bowl 50 - Feb. 7, 2016
It's the end of the NFL season and the most-watched sporting event in the nation. On Feb. 7, 2016, Levi's Stadium will host Super Bowl 50. The game itself will be in Santa Clara, but all the action and celebration will be in San Francisco starting Jan. 30, 2016. From Super Bowl City at Justin Herman Plaza to the NFL Experience at Moscone Center, San Francisco will be the center of Super Bowl activity. www.sfbaysuperbowl.com
Oscar de la Renta Retrospective - March 12-May 30, 2016
The world premiere retrospective of Oscar de la Renta's work celebrates the life and career of one of fashion's most influential designers. The exhibition, curated by André Leon Talley, will include more than 100 ensembles produced over five decades, and is presented in collaboration with the house of de la Renta and the designer's family. www.deyoung.famsf.org
Counter Pulse, Opens in a New Location - March 12, 2016
After 24 years at 1310 Misson St., CounterPulse, an incubator for grassroots culture and a stage for intrepid art, will launched its inaugural season in November. The season culminates March 19, 2016 with their Grand Opening Celebration at the new location, 80 Turk St. Experience a packed season of gutsy, experimental performance from the Bay Area and around the globe. www.counterpulse.org/new-home/
Minnesota Street Project Opens - March 16, 2016
Minnesota Street Project will offer affordable space for art galleries, artists and related nonprofits and retail, as well as a location in the heart of the historic Dogpatch district to put down roots and build a dynamic arts hub. Phase 1 of Minnesota Street Project will open March of 2016 at 1275 Minnesota St. in the city's Dogpatch Neighborhood. While the first building is under construction, Minnesota Street Project will present rotating visual arts exhibits three blocks away at 2291 Third St., which will serve as Minnesota Street Project's temporary headquarters. www.minnesotastreetproject.com
Bill Graham and the Rock & Roll Revolution – March 17-July 5, 2016
The first comprehensive retrospective about the life and career of legendary rock impresario Bill Graham (1931–1991) comes to the Contemporary Jewish Museum. Recognized as one of the most influential concert promoters in history, Graham launched the careers of countless rock and roll legends in the 1960s at his famed Fillmore Auditorium. He conceived of rock and roll as a powerful force for supporting humanitarian causes and was instrumental in the production of milestone benefit concerts such as Live Aid (1985) and Human Rights Now! (1988). As a promoter and manager, he worked with the biggest names in rock, including the Grateful Dead, Jefferson Airplane, Jimi Hendrix, Santana, Led Zeppelin, and the Rolling Stones. www.thecjm.org
San Francisco Giants - April 7, 2016
It's an even-numbered year; could another World Series title be in store for San Francisco's beloved Giants? Find out when the season gets started with the home opener at AT&T Park against the dreaded Dodgers. www.sfgiants.com
The New SFMOMA - May 14, 2016
A major expansion is underway at the San Francisco Museum of Modern Art (SFMOMA), which has embodied bold vision and innovation from its founding in 1935. With more than 30,000 works, the SFMOMA collection is internationally recognized and continues to grow. In spring 2016, SFMOMA will reopen with nearly three times the previous capacity for the presentation of art. The approximately 235,000-square-foot expansion will seamlessly join the existing building. One of the catalysts for the expansion is the addition of the Doris and Donald Fisher Collection, one of the greatest private collections of contemporary art in the world. The new Pritzker Center for Photography will be the largest space in an American art museum dedicated to photography. The new outdoor sculpture terrace will include the biggest public living wall of native plants in San Francisco, with 16,000 native plants in a vertical garden. Nearly 15,000 square feet of art-filled free-access public space will more than double SFMOMA's current capacity. The public galleries will open one hour prior to the museums and admission for those ages 18 and under will always be free. www.sfmoma.org
Zappos Bay to Breakers - May 15, 2016
What was once a goofy local footrace has grown into a major international competition. In the Bay to Breakers race, runners traverse the city from the Financial District to Ocean Beach, passing through a number of San Francisco's many neighborhoods. Floats may be forbidden, but you're bound to still find some creative costumes on the route. www.zapposbaytobreakers.com
Strandbeest: The Dream Machines of Theo Jansen – May 27–Sept. 5, 2016
The first North American traveling exhibition of Strandbeests—giant, wind-powered, kinetic creatures by celebrated Dutch artist Theo Jansen—will be on view at the Exploratorium from Memorial Day through Labor Day weekends in 2016. Jansen's mesmerizing lifelike figures move as familiar, yet otherworldly beings, blurring the lines between machine and animal, art and science, sculpture and performance. The exhibition will feature Jansen's most recently realized creations; a "fossil" hall revealing the evolution of his iterative process and artistic ingenuity; videos featuring the charismatic Jansen speaking about his 25 year endeavor; artist's sketches; and compelling, large-scale images by renowned photographer Lena Herzog. www.exploratorium.edu
Sites Unseen Developing the Alleys of Yerba Buena – Spring 2016
Sites Unseen, a new public art initiative, will activate seven alleyways in the downtown Yerba Buena neighborhood with dynamic installations of permanent and temporary artworks, performances, screenings and other events. www.sitesunseen.org/
Living Innovation Zones "Block by Block" - Spring 2016
On Sept. 30, 2015, City leaders and non-profit and arts communities came together to "flip the switch" on Light up Central Market, a series of six interactive art projects including Block by Block, the latest Living Innovation Zone (LIZ). Also debuting that evening was the Central Market Showcase, a selection of prototypes that inspired connection and will serve their communities during the Market Street Prototyping Festival. www.sfliz.com/
Emperors' Treasures: Chinese Art from the National Palace Museum, Taipei - June 17-Sept. 18, 2016
Feast your eyes on a rare presentation of more than 150 imperial artworks, many of which are making their U.S. debut, from the National Palace Museum, Taipei. Thirty extremely rare masterpieces, some created by the emperors themselves will be on view who reigned from the early 12th through early 20 centuries. The exhibition will feature paintings, calligraphy, bronze vessels, ceramics, lacquerware, jades, textiles, enamelware and documents. See them all at the Asian Art Museum. www.asianart.org
San Francisco Pride - June 25–26, 2016
The annual celebration of LGBT pride will focus on economic and racial equality this year, as the community and its allies gather to commemorate the successes of the past and the struggles of the present. Expect a variety of events tailored to all types, from parades to panel discussions to parties. www.sfpride.org
Eat Drink SF - Aug. 18-21, 2016
San Francisco's annual celebration of everything edible will be back at the Fort Mason Center for Arts & Culture next summer. Expect a who's who of Bay Area chefs, cocktail creators and brewmasters showing off their greatest achievements, discussing the latest trends, and offering more than enough samples to share. www.eatdrink-sf.com
San Francisco International Airport Control Tower - Summer 2016
San Francisco International Airport opens the new torch-shaped Control Tower featuring a ribbon of glass reflecting sunlight during the day and illuminated by interior lighting at night. Visitors will have the ability to stand in the Pre-security Public Corridor at the base of the tower and look straight up the tower through the skylight glass roof to enjoy the LED light waterfall. www.flysfo.com/media/press-releases/towering-achievement-new-airport-traffic-control-tower-sfo.
50th Anniversary of the Black Panthers - Oct. 8, 2016–Feb. 12, 2017
The Oakland Museum of California presents We Want; We Believe: The Black Panthers. The exhibition, coinciding with the 50th anniversary of the Black Panther Party, explores the how the legacy of Black Panthers continues to resonant with identity and racial concerns in the U.S. today. www.museumca.org/exhibit/black-panther-50th-anniversary-exhibition
Curran Theatre Re-opening - Late Fall 2016
Under the curation of eight-time Tony Award winner Carole Shorenstein Hays, the Curran will reopen after a major restoration & renovation as a 1,600-seat venue in late 2016 with the new mission. Inspired by the unique entrepreneurial spirit of the Bay Area, as well as Shorenstein Hays' lifelong passion for creatively daring, cutting-edge material, the Curran will provide a home for a handpicked selection of the most exciting stage works being conceived and created anywhere in the world. Built in 1922, the Curran has housed some of the most important productions in theater history and has maintained a reputation over the course of its life as one of the most prestigious live entertainment venues in North America. www.sfcurran.com