Safety tips for wildfire prevention – do your part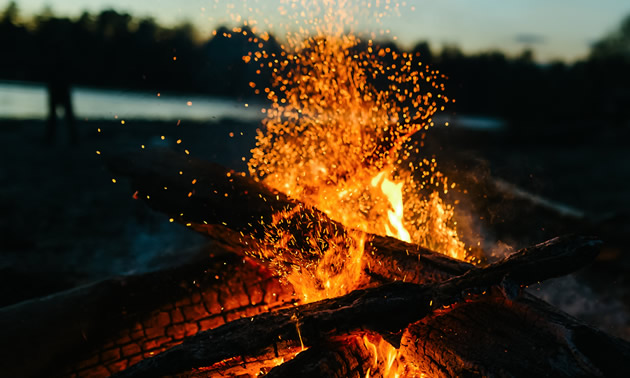 Summer brings forth thoughts of camping and walking along the beach under clear blue sunny skies at nearby lakes or rivers. Spending time with your loved ones enjoying nature should be fun and safe, so let us remind you to "Know before you go!"
The Camping and RVing BC Coalition has gathered some new safety tips and travel advice about wildfires and smoke, aimed at tenters and RVers. We urge all campers to be vigilant and respectful of the power of fire. By being aware, working together and caring for the forested backyard we love – we can reduce human caused fires.
Many wildfires are human caused – up to 40% per year – and, therefore, can be prevented. Here are some tips about how you can ensure you don't cause an accidental fire.
Only start a campfire in the supplied firepit. Never move a firepit from its original placement, this is the safest area deemed by park staff. Always have at least 8 liters of water near your firepit to quickly douse the fire if needed.
Never leave a fire unattended! Completely extinguish your campfire before sleeping or leaving the campsite by dousing it with water and stirring until the ashes are completely cold – unattended and unseen embers can cause wildfires.
Take care when fueling or using lanterns, heaters, and stoves. Avoid spilling any flammable liquids, and store your fuel away from appliances. Ensure heat-based appliances are cool before fueling them.
Never throw cigarettes, smoking materials or matches from moving vehicles or on park/forest grounds. Completely extinguish smoking materials in a proper smoking receptacle or a can with water before disposing of them. When hiking or camping, it's recommended that you carry a pocket ashtray to dispose of cigarettes.
Never leave food items cooking unattended, whether outside or inside your camper.
Did you know? You can be heavily fined for wildfire-related violations due to an increased effort to prevent wildfire damage in British Columbia under the Wildfire Act. For instance, failing to properly put out a burning substance, such as a cigarette, is a fine of $575; and the penalty for ignoring a fire restriction is $1,150. You can view these violations and fines here.
About the Camping and RVing British Columbia Coalition
The Camping and RVing BC Coalition was formed in 2008 with the support of Destination British Columbia to better position the provincial camping and RVing experience and to capitalize on the growth of nature-based tourism. Coalition members currently include BC Parks, BC Lodging & Campgrounds Association, Recreation Sites and Trails BC, RV Rental Association of Canada, Thompson Okanagan Tourism Association, Kootenay Rockies Tourism, Tourism Prince George, BC Society of Parks Facility Operators, Parks Canada, Recreation Vehicle Dealers Association of British Columbia and the Freshwater Fisheries Society of BC.