RVers have spoken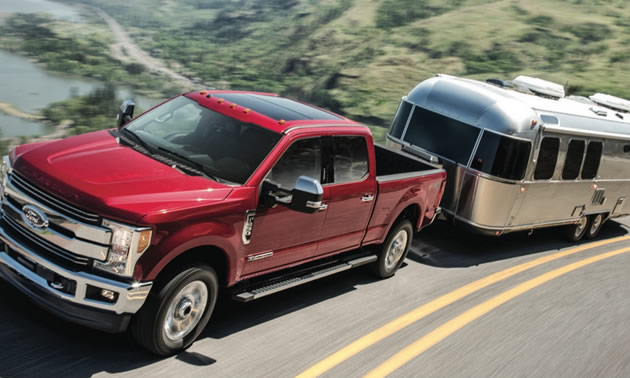 What do RVers want in a tow vehicle? We wanted to know so we asked RV expert, Reg DeYoung, author of our regular RVwest Ask An RV Tech column. DeYoung said there are four things RVers demand when it comes to a reliable tow vehicle—power, sway control, capability and back-up ease.
It's like Ford has purposely designed its new lineup of Super Duty trucks specifically with RVers and tech experts like Reg DeYoung in mind. Early press reports indicate that the new F-250 and F-350 can not only tow more than any other truck in the class, they are also a dream to drive and back up. Ford promises to give every RVer the power to tow even the biggest trailer or fifth-wheel unit safely and securely down the road, at the same time giving them the peace of mind of being able to navigate their big unit into even the tightest of campsites.
After introducing the patented Ford Pro Trailer Backup Assist system as an optional feature in the light-duty F-150 series, Ford is now rolling out comparable trailer-towing technology in its new Ford Super Duty line of trucks.
The new Super Dutys will have an optional Trailer Reverse Guidance System that will utilize the truck's cameras (up to six!) to increase ease of backing up, increase overall visibility and coach the driver when and how to turn the steering wheel when easing into a campsite—not to mention enhancing marital harmony at campsites across the country at the same time!
The Trailer Reverse Guidance System works like this:
1) One of 20 class-exclusive features on the all-new Ford F-Series Super Duty helps drivers see more angles, monitor more area around the truck and provides real-time coaching while backing up the trailer.
2) Three high-resolution cameras provide multiple views along with steering guidance graphics to assist in backing and maneuvering a conventional trailer, and a colour-coded bird's-eye diagram of the truck helps warn the driver of any jackknife dangers.
3) Three additional cameras include one to see behind the trailer, another to watch inside the cargo box (for hooking up fifth-wheel and gooseneck trailers) and one to see directly ahead of the truck.
Need more convincing that the all-new Super Duty is for you? How about checking out these capability numbers:
Best-In-Class Maximum Gooseneck Towing: 32,500 pounds
Best-In-Class Fifth-Wheel Towing: 27,500 pounds
Best-In-Class Conventional Towing: 21,000 pounds
Best-In-Class Payload: 7,630 pounds
The 2017 Super Duty will be offered in three cab configurations, i.e. Regular, SuperCab and SuperCrew. The SuperCab comes with suicide-style rear doors which open up 170 degrees. The SuperCab and SuperCrew will feature flat rear floors and foldable bench seats which allow one to expand cargo capacity.
There will be two powertrains available. The standard engine is a 6.2 L V-8 gas engine offering 430 lb. ft. of torque. The optional 6.7 L V-8 power stroke diesel engine delivers a whopping 925 lb. ft. of torque. Both engines will be paired to one of two Torqshift six-speed automatic transmissions, depending on the model and engine selected.
RVers have spoken for—no, demanded—a better towing vehicle. The new 2017 Ford Super Duty lineup has more than answered the call with more power, better sway control, more capacity and first-in-class technologies to increase towing ease and safety.