Crosscamp – urban outdoors for millennials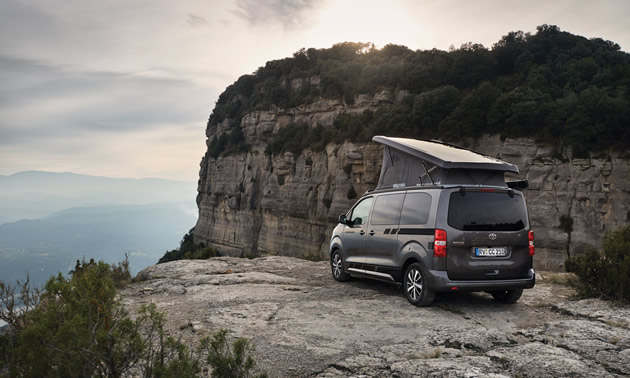 For the launch of CROSSCAMP, the new compact camper brand, the Erwin Hymer Group conducted an extensive analysis of social megatrends and their impact on the caravanning market. Camper vans of all types, including compact and sub-compact variants are becoming increasingly important in the booming RV market with a share of 40 percent. Urbanization, individualization and changes in mobility behavior play a role here – but, above all, the fact that millennials are increasingly discovering camping as a form of holiday – albeit in a different form from traditional campers.
Fresh impetus from the USA: Millennials take camping by storm
The trend is coming from the USA, where millennials – those born between 1980 and the late 1990s – now account for more than 40% of campers. In 2018 alone, the number of campers there grew by 1.4 million households – 56% of them belonging to Generation Y as millennials are also known. According to a Kampgrounds of America report (KOA), they prefer unknown, rustic facilities rather than the other extreme of camping holidays, known as "glamping" (glamorous camping). The majority go camping in the countryside and backwoods at least three times a year. On social media in particular, camper vans are becoming icons among travelers seeking individual experiences, with #vanlife registering more than five million posts and #camping reaching nearly 26 million hits. Joachim Reich, Sales Manager CROSSCAMP: "Because millennials prefer the big city for their everyday lives, we refer to this as the urban outdoor trend. We're also seeing this in clothing and shoes. In terms of camper vans, the CROSSCAMP brings both together – the urban feel paired with a yearning for the great outdoors."
Tiny on the road
More than half of the world's population lives in cities – by 2050 this figure is expected to rise to two-thirds. "Tiny houses" are a phenomenon of this trend, first seen in Tokyo, where each individual has an average of around just 19 square meters of living space. The idea behind micro-housing is to accommodate maximum quality of life within the smallest possible space. For Joachim Reich, the multifunctional camper is therefore "a tiny house on wheels" because it offers comfortable berths for up to four people within an external overall length of just 4.95 meters. "Micro-housing shows that urbanization represents not only a change in (living) spaces, but is also leading to new ways of living and thinking," explains Reich. "And for many customers, the attraction of a motorhome no longer automatically corresponds to its outside length."
Freedom of choice at all times
However, this is making flexibility all the more important. The growing urban population wants a camper van that can function fully as a primary car for everyday life – from parking in underground garages to handling the "big shop" – especially one that can adapt quickly and flexibly to changing requirements. Joachim Reich: "The versatility of the CROSSCAMP also addresses another megatrend: individualization. In essence, it means having the freedom of choice at all times." This is important because trends such as micro-housing are accompanied by a growing yearning for the great outdoors on the part of many city dwellers – a longing for natural, tranquil and stress-free spaces.
"Whether it's a spur-of-the-moment trip to the coast to spend the night at the beach or a visit to the furniture store, the CROSSCAMP leaves our customers free to decide at any time," says Joachim Reich.
One particular highlight of the CROSSCAMP is the kitchen, which can be removed as a complete block through the left sliding door and used as an outdoor kitchen. Removing the kitchen also increases the space inside the CROSSCAMP and further enhances its qualities as a versatile van.
Feel good appeal – The Crosscamp is the perfect Hygge-mobile
Particularly popular in the visual world of social media and part of the megatrend of individualization is the "hygge" feeling. "Hygge" is a well-established byword for coziness and wellbeing in a homely setting and can also be found in many travel reports posted in van communities. It's not about retreating into isolation, but about fellowship and conviviality with friends and family. CROSSCAMP communication, which is primarily on social media, also picks up on these moods. Reich: "It's about authenticity and celebrating the simple things in life."
From Tourist to Traveler
Authenticity also plays an important role in changing mobility behavior. According to findings of the Zukunftsinstitut in Frankfurt/Main, the longing for authentic encounters is an increasingly important driver for holiday planning. The trend known as "de-touristification" means that the individual wants to be perceived as a traveler and not as a tourist. Joachim Reich: "The flexibility of the CROSSCAMP makes it possible to travel without a fixed schedule, advance bookings or a program. Being able to drift as you please on vacation is the key to authentic experiences."
The technical features of the CROSSCAMP also stimulate the instinct to travel. A wide range of innovative assistance systems are part of the standard equipment or available as options. The basic version of the compact camper van has a 1.5-liter four-cylinder diesel engine with 88 kW (120 hp). A 2.0-liter four-cylinder diesel engine with 110 kW (150 hp) and 6-speed manual transmission or 130 kW (180 hp) and 8-speed automatic transmission are also available. The proactive traction control system, Toyota Traction Select, ensures safe progress on demanding terrain such as snow, mud or sand. All variants are equipped with SCR exhaust-gas treatment technology and comply with the new Euro 6d temp emissions standard.
Its technical characteristics make the CROSSCAMP the ideal companion for mobile everyday life. And according to a study by the Zukunftsinstitut, being mobile is a basic social need for many millennials as well as forming the basis for professional success. The car is the most important means of transport in the mobility mix and is used by 62 percent on a regular day and by more than half of all millennials at least five days a week.
About Crosscamp
CROSSCAMP is the new brand from the Erwin Hymer Group for the compact camper van segment. CROSSCAMP vehicles prove their worth in urban everyday life as well as on short weekend adventures or longer vacations. This makes them just as versatile as their owners and the right partner for the urban outdoors. The brand is based in Isny, Allgäu (Germany), where Dethleffs motorhomes and caravans are made, and home to the competence center for camper vans, which develops and builds urban vehicles under the CROSSCAMP and Pössl brands. www.crosscamp.com