Mandatory stop: Watercraft Inspection Program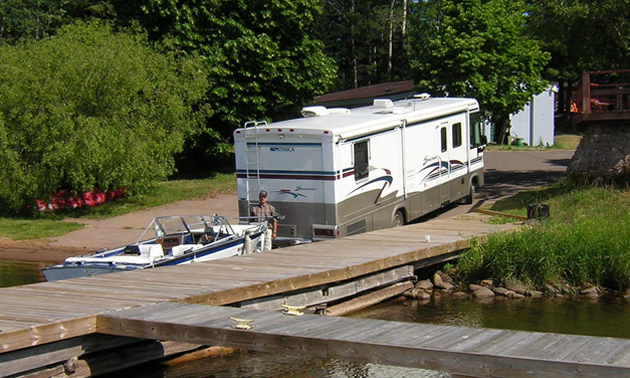 In 2015, BC launched a pilot watercraft inspection program. During the pilot season, over 4,300 watercraft were inspected and provincial inspectors interacted with approximately 10,000 people to promote Clean, Drain, Dry. Refer to the 2015 Final Report for more information.
The 2016 season is already underway in BC! Five inspection stations exist along the B.C.-Alberta border, and three along the B.C.-United States border. In total, 32 auxiliary conservation officers are operating the inspection stations seven days a week from April through October 2016.
The expanded program is funded through partnerships with BC Hydro, FortisBC, Columbia Power and the Columbia Basin Trust.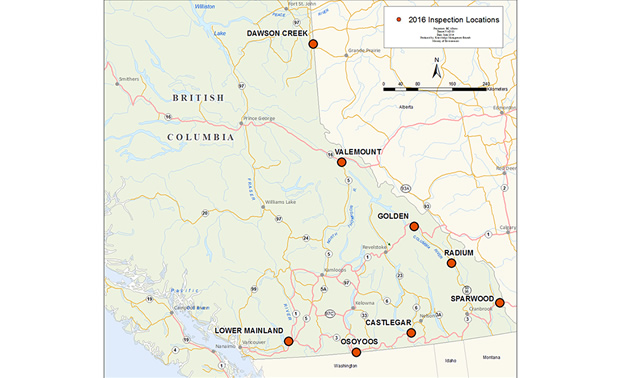 The 2016 permanent inspection station locations were selected based on data from the 2015 boating season. The 2015 inspection locations were assessed for suitability as a permanent inspection station based on; boater traffic volume, safety/communication, direction(s) of traffic targeted, the source location of boaters (% coming from outside BC) and the number of high risk and mussel infested watercraft intercepted.
It is mandatory for all watercraft to stop at road side inspection stations. Watercraft includes sailboats, motorboats, car toppers, kayaks, canoes, and paddle boards being transported in BC. Dedicated crews of inspectors check and if necessary decontaminate mussel infested boats. This approach has been taken by other jurisdictions in the Pacific Northwest, and proven to be highly effective in educating boaters on the risk of invasive mussel introduction.
How can they enter BC?
Key pathways are recreational boats on trailers or any other watercraft or contaminated equipment fouled with zebra or quagga mussels, and moved across land;
Newly settled mussels are particularly difficult to detect as they are only a few mm's in size;
Microscopic free swimming larvae can be transported in any raw water, or
Freshwater mussels spread by fouled recreational boats on trailers and boats destined for BC are intercepted by US jurisdictions every year.
Watercraft Risk Assessment
All watercraft owners coming through watercraft inspection stations are asked a series of questions by the inspectors to determine if the watercraft is high or low risk. Below are the definitions of high and low risk watercraft and please refer to the Watercraft Risk Assessment flow chart for further details.
Low Risk Watercraft
Watercraft that have only been used within British Columbia or other non-contaminated provinces or states within the last 30 days. Zebra and quagga mussels are not established in British Columbia, Alberta, Saskatchewan, Oregon, Idaho, Washington or Montana (see table below for list of contaminated provinces and states).
To prevent the spread of other AIS within BC we strongly recommend that boaters follow the Clean Drain and Dry program.
High Risk Watercraft
Any vessel or piece of equipment that has been in any province/ state known or suspected of having zebra or quagga mussels (see USGS maps) in the past 30 days, or
Any watercraft or equipment that is coming from a state / province that has quagga or zebra mussel infestations (see USGS website) and is not clean, and to the extent practical, drained and dry.