Jellystone Park in Nova Scotia celebrates its 20th anniversary this year
by Jeff Crider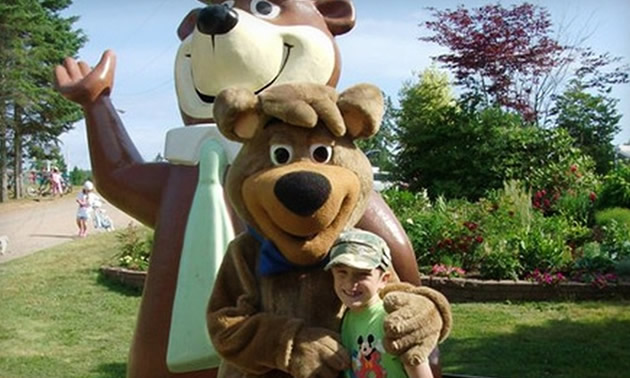 When it comes to camping in Nova Scotia, it's hard to beat the wide array of family activities and amenities at Jellystone Park.
"It's our number one differentiator," said Henk John Kuipers, who owns and operates the park with his wife, Mary Ann. "We have organized activities and lots of amenities geared toward the kids such as jumping pillows, mini golf, a gem mining sluice, and duck races. We also have Yogi Bear, Boo Boo, and Cindy Bear. The kids love it."
The Kuipers have double the staff of most campgrounds, including lifeguards. "We've found that if we can keep the kids happy, the parents are happy, especially if they know how hard we work to keep their kids safe," Kuiper said. "We're pretty strict about enforcing our curfew. We really want to be a family campground."
The Kuipers have owned and operated the Jellystone Park in Kingston for seven years, though the campground has been part of the Jellystone Park franchise network for 20 years. They plan to celebrate the campground's 20th anniversary as a Jellystone Park with special activities in mid-July, which coincides with the 50th anniversary of the Yogi Bear-themed franchise network.
Since the Kuipers acquired the campground seven years ago, they have made consistent improvements, installing new plumbing and electrical connections, remodeling the park's restrooms, building a new zero-entry swimming pool, adding a new playground and jumping pillow, and rebuilding the miniature golf course.
"Last year, we introduced eight VIP RV sites, which are pull through campsites with 50 amp electrical service," Kuiper said. Other recent improvements include upgrading the park's rental cabins and replacing a pancake shack with a new enlarged concession stand with a covered patio.
The campground has 214 campsites and 14 cabins, 10 of which sleep four while the other four sleep six.
Jellystone Park locations, of course, are famous for their family activities and theme weekends with Yogi Bear, Boo Boo and Cindy Bear. Upcoming theme weekends include a Pirates and Mermaids weekend, July 19-21, with a family boat building contest, pirate flag and mermaid tail crafts, and a glow party for teens at the pool and a Halloween themed weekend on Aug. 24-26 with campsite decorating, costume contests, and trick-or-treating.
For more information, including a detailed schedule of activities and theme weekends, please visit www.jellystonens.com.
About Yogi Bear's Jellystone Park™ Camp-Resorts
Celebrating its 50th anniversary in 2019, Yogi Bear's Jellystone Park is the nation's leading family camping destination, famous for providing guests with amenities such as pools, water slides, and splashgrounds; activities including jumping pillows, mini golf, and pedal carts; fun-filled theme weekends such as Chocolate Lovers Weekend and Halloween Spooktacular Weekends; and interactions with Yogi Bear™ costumed characters. Jellystone Park guests can choose from a variety of accommodations, including premium cabins and yurts, deluxe RV sites, and traditional tenting campsites. There are more than 80 Jellystone Park locations in the United States and Canada. For more information, visit www.jellystonepark.com