Jellystone Park at Mammoth Cave hopes to open 103 more campsites and 20 cabins by late April
by Jeff Crider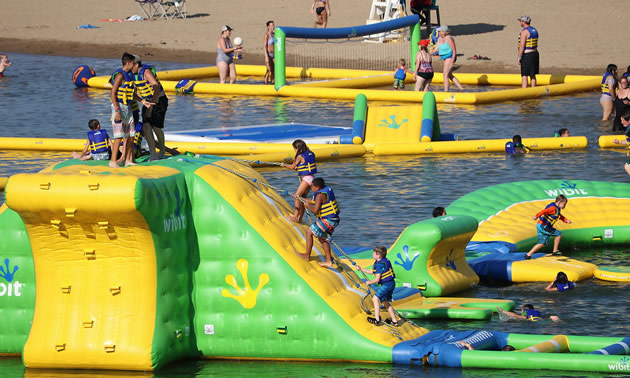 The Mammoth Cave Jellystone Park location is almost ready to open 103 additional campsites and 20 additional cabins.
"By the end of April, we hope to have them ready," said Bill Pott, who co-owns and operates the park with his wife, Kay, and their daughter, Emily Moss.
The new campsites and cabins will complete the first phase of a $10.7 million expansion of the park, which included last summer's opening of Karst Beach and the opening of a Nathan's Famous hot dog franchise.
Karst Beach includes a new 2.3 acre man-made pond and splash beach with a 110-foot by 130-foot long Wibit floating sports park with water trampolines and slides. The Wibit is designed to accommodate up to 100 people at a time.
The first phase of the multimillion-dollar expansion includes three additional playgrounds, three additional bathhouses, a pedal cart track, and day use pet kennels. A major new building was also added encompassing registration, offices, and a retail area called Huckleberry Knob, which includes souvenirs, gifts, toys, and other items. Food options are also housed in the new building, including Nathan's Famous hot dogs, Hunt Brothers Pizza and Swirlstation ice cream.
"These new attractions are going to provide a big boost in tourism revenue not only for us, but for the Commonweath of Kentucky," Bill Pott said, adding that once the new campsites and cabins are in place, Mammoth Cave Jellystone will have 228 campsites and 94 cabins.
The Karst Beach water play park and Nathan's Famous franchise and other Mammoth Cave Jellystone Park improvements are expected to generate nearly $3.5 million in sales and income taxes for the Commonwealth of Kentucky during the next 10 years, according to an economic impact study prepared by Chicago-based Hunden Strategic Partners.
The 45-year-old Mammoth Cave Jellystone Park, which first opened in 1974, is one of the oldest campgrounds in the Jellystone Park network, which celebrates its 50th anniversary this year. Phase II of the expansion, which has yet to commence, will include even more campsites and cabins as well as other amenities that will be determined with guest input.
The Potts say their expansion will have a positive effect on the Cave City economy, not only producing short-term construction jobs, but an eventual permanent increase in the park's workforce from 55 to over 100 full- and part-time employees during the peak camping seasons.
Jellystone Park locations, of course, are famous for their organized family activities and theme weekends with Yogi Bear, which help families create unique memories. Amenities and activities at the Mammoth Cave Jellystone Park include two swimming pools, a splashground, water slides, jumping pillows, mini golf, arts and crafts projects, and plentiful interactions with Yogi Bear, Boo Boo Bear, Cindy Bear, and Ranger Smith.
Upcoming theme weekends include an "Easter Eggstravaganza" April 19-21 with Easter crafts, an egg decorating contest, an egg toss, an egg hunt, and a flashlight Easter egg hunt. Mother's Day weekend, May 10-12, will include a family dance Friday night where kids dance with mom first, a kids craft activity to make a gift for mom, a mother-daughter/son look-alike contest, and karaoke.
The park is also organizing a "Father of the Year Week," June 10-16, with a 9 hole mini golf classic, kids versus dads games, a root beer drinking contest, and a hairiest legs contest. Kids can also dress up dad for the Miss Jellystone Contest! Christmas in July week will be July 22-28 with snowball fights, ornament making, an ugly sweater Christmas party, and prizes for the best decorated campsites and cabins.
The Pott family has received considerable local and national recognition for the quality of their park as well as their recreation and activity programs. Leisure Systems, Inc., which franchises more than 80 Jellystone Park locations across the U.S. and Canada, recently presented park owners Bill and Kay Pott and their daughter, Emily Moss, with four awards recognizing the quality of their customer service and recreation programs as well as their exemplary scores on LSI's annual assessments of facilities and park operations and the quality of their new camp store.
Moss also received LSI's Operator of the Year Award, a national award recognizing the individual who is directly responsible for the day-to-day operations of the Jellystone Park locations that best represents excellence in management, improved ratings, and growth in business.
The Glasgow-Barren County Chamber of Commerce awarded the park its Small Business of the Year award in February 2019. In addition, Bill Pott received the 2018 Citizen of the Year Award from the Cave City Chamber of Commerce in recognition of his efforts to improve the local economy.
The Cave City Jellystone Park location has also received national attention and several awards in recent years. U.S. News & World Report named it one of "The 8 Coolest Campgrounds for Families" in 2016, while the Travel Channel named it one of the 10 best campgrounds for families in 2015. Two years ago, the Potts received the Dan O'Connell Service Award from Leisure Systems, Inc. The award recognizes Jellystone Park owners who have made exemplary efforts to expand the campground industry.
"We're putting in the amenities and activities that people want, and they're willing to travel to get those amenities and attractions," Bill Pott said, adding that 55 percent of his campers come from out of state. For more information, please visit www.jellystonemammothcave.com.
About Yogi Bear's Jellystone Park™ Camp-Resorts
Celebrating its 50th anniversary in 2019, Yogi Bear's Jellystone Park is the nation's leading family camping destination, famous for providing guests with amenities such as pools, water slides, and splashgrounds; activities including jumping pillows, mini golf, and pedal carts; fun-filled theme weekends such as Chocolate Lovers Weekend and Halloween Spooktacular Weekends; and interactions with Yogi Bear™ costumed characters. Jellystone Park guests can choose from a variety of accommodations, including premium cabins and yurts, deluxe RV sites, and traditional tenting campsites. There are more than 80 Jellystone Park locations in the United States and Canada. For more information, visit www.jellystonepark.com.