How to enjoy the freedom of boondocking without giving up comforts
by Kimberly Shellborn —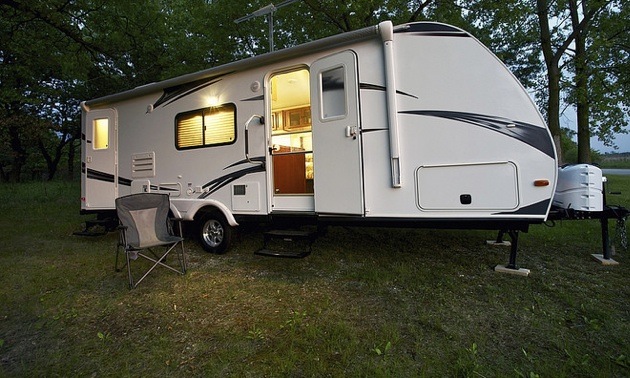 You have probably heard people talking about boondocking. You may have seen pictures. You might be curious to give it a try. After all, by boondocking you can have the freedom to go where you want and save money. But you may still wonder if you can really live without the full hookups that you have in a comfortable campground. How will you manage without electricity, water and other comforts that you have come to rely on in your RV?
The truth is that you can still have most of those comforts while enjoying the freedom of boondocking.
What is boondocking?
Boondocking comes from the word boondock, which means rough, remote, or isolated. But most people today would like to think of it as freedom to enjoy the outdoors and nature, but with a few comforts as well.
Why would you want to boondock?
Many like to go to remote areas and enjoy nature and the tranquility it has to offer. But most people don't want to sacrifice all of their comforts to have this type of relaxation. With today's RVs you can have the best of both worlds.
But what about all the comforts?
Fresh water
You don't have to go without water. RVs have a supply of fresh water. You may want to ration it a little bit, depending on how long you plan on being unplugged.
Bring some bottled water to drink. Buy a case of water bottles for drinking. You can leave bottles in the fridge, so they are cool when you want them and you will also have these to take with you when you go on hikes or other activities away from your camp.
If you park near a body of water, you may consider using the water from the river or lake for washing dishes or doing general cleaning. This will help your supply last longer.
If you are considering doing a lot of boondocking, you may want to invest in a good water filter. This will filter water from almost any source and turn it into potable drinking water.
This would also be a good time to have short showers. Lather up with the tap turned off, and then quickly rinse.
Electricity
Most RVs come with plenty of battery power. However, you will want to be conscientious of what you are using.
Turn lights off when you don't need them. This may sound too basic to mention, but it always amazes me how often people automatically reach for the light switch when it really isn't necessary.
Think of using solar power. Many RVers will buy a small solar panel to help them keep their batteries charged up.
Generators can also charge up your power. Bring extra fuel for the generator.
Cooking
Thanks to the ability of switching your oven, stove top and fridge over to propane, you will be able to cook all your favourite gourmet recipes.
Make good use of your barbecue or campfire. Try cooking over your campfire using a grill or—my personal favourite—wrap mixed vegetables and a bit of butter in aluminum foil and throw in the coals of the fire. In almost no time you have delicious steamed vegetables.
Prepare some meals ahead to save propane. Have your potatoes pre-baked; then you just need to heat them up. Make up a few meals ahead of time and freeze them. When you want them it will be a simple matter of thawing them out and briefly reheating.
Internet
This may be your biggest challenge if you want to get away from it all. Finding a place that is in nature but with connection to Internet is difficult.
You may want to be near where you know there is a server tower; this way you will have internet and cell service.
You may have to go somewhere if you want to have a WiFi connection: perhaps a coffee shop, restaurant or local library.
Although it may be more convenient to live plugged in, with a bit of planning you can have the best of both worlds—uncrowded camping and freedom to enjoy nature, but with your warm shower and fridge full of food.
A great resource for boondockers is http://www.boondockerswelcome.com/.