Snowbirds flock to Tucson's Senior Olympic Festival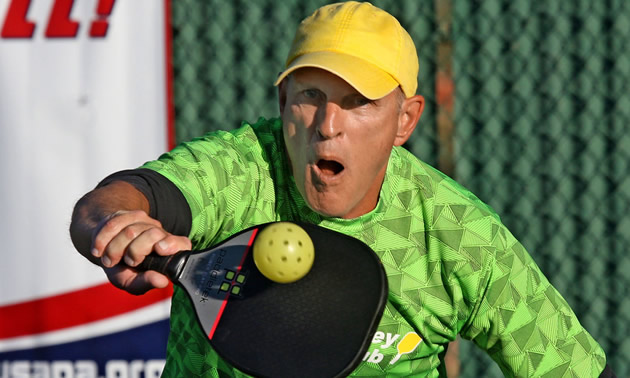 TUCSON, Ariz., Jan. 27, 2017 — Pickleball has quickly become the most popular competitive game at RV parks and resorts across the nation. But that shouldn't lead people to think that pickleball is the only competitive sport snowbirds play.
Consider the Tucson Senior Olympic Festival. From Jan. 7 to Feb. 4, thousands of snowbirds will join southern Arizona residents in 35 competitive events in 31 sports, including racquetball, powerlifting and track and field.
"I would say there are a good 1,300 to 1,400 people who participate in the Tucson Senior Festival, and a good 50 to 60 percent of them are snowbirds," said Mike Davis, program coordinator for the 33rd Annual Tucson Senior Festival.
That's not even counting the snowbirds who will come watch the games, which take place at various venues throughout Tucson, including Voyager RV Resort, which will host the pickleball competitions.
"Snowbirds like physical activity. They like to keep themselves in shape, and many of them thrive on competitive events," said Jo Ann Mickelson, executive director of the Arizona Association of RV Parks and Campgrounds, which hosts GoCampingInArizona.com, the statewide travel planning website.
Snowbirds who are interested in learning more about the Tucson Senior Olympic Festival should visit www.tucsonseniorgames.org.
Snowbirds needing a place to stay this winter should visit www.GoCampingInArizona.com, the statewide travel planning website. The website offers detailed information on RV parks and resorts, including resorts that have park model RV rental accommodations. Based in Phoenix, the Arizona Association of RV Parks & Campgrounds markets campgrounds, RV parks and resorts through GoCampingInArizona.com and its printed campground and RV park directory, the 2016 RV and Camping Guide to Arizona, which is available free of charge online. The 32-page color guide contains a travel planning map as well as detailed descriptions of more than 90 campgrounds.
The camping guide is available in digital format on GoCampingInArizona.com and can also be ordered by emailing a request to [email protected].