Fraserway RV named a Blue Ribbon Top 50 RV Dealer in North America & RVDA Of BC Dealer Of The Year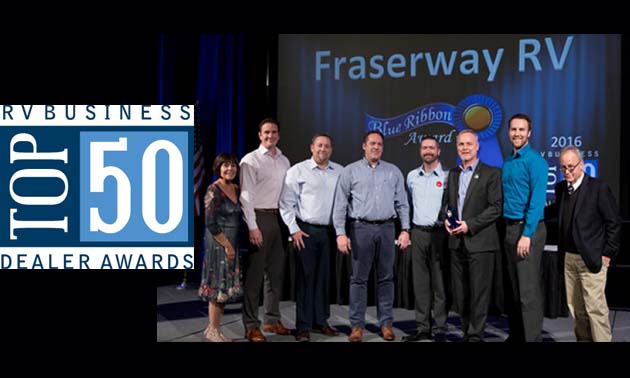 CANADA – Fraserway RV was recently named amongst the 2016 RV Business Top 50 Dealer Awards. Judged independently of sales volume, these awards recognize U.S. and Canadian RV dealerships that live out a commitment to best practices at every professional level.
In addition to this award, Fraserway was also recognized as one of five "Blue Ribbon" dealerships in the Top 50 list, an extreme honour for any RV dealership.
"Fraserway is very honoured by this award," says owner James Epp. "Ever since my dad, Erdman, started the company in 1969, he always said, 'Never satisfied until good is better and better is best.' That motto has always helped us strive to do the best work we can, so this recognition from the industry is incredibly special to us. There are a number of factors that have contributed to our successes over the years, but I want to specifically acknowledge the many Fraserway employees who have worked hard to earn this recognition."
Dealerships are nominated by RV manufacturers. Nominees are then invited to complete a comprehensive application which describes in depth their approach to customer service and satisfaction, employee training and education, financial planning, property management, charitable giving, marketing and more. The applications are judged by an independent panel of veteran industry experts.
Other members of the Fraserway RV Leadership Team celebrated this award as well. "James Epp's drive, determination and passion for the RV business have made our company what it is today," says Alex Loosdrecht, Chief Operating Manager. "Employees, customers and business partners appreciate our core values which are fundamental to how James has built the business."
Lineke Kereluk, Vice President of Fraserway's Rentals divisions, was especially excited as she helped launch the rental side of the business 25 years ago. "The rental division started with 50 units," she explains. "We are extremely proud to say that we have become the largest and highly sought-after rental company in Canada with 1,200 vehicles. Our incredible growth is thanks to the vision of James Epp along with the loyalty and dedication of our employees, many who have been with us from the beginning."
Gary Krause, a Controller, celebrates this award in light of his significant tenure. "I'm proud to have been a part of the Adventurer Group for 40 years. I've seen phenomenal growth over those years, and in great part, it's due to the vision of James Epp."
"We are proud to be recognized as industry leaders," says Patrick Blink, Chief Financial Officer. "It's a testament to the hard work and dedication of both the ownership and our entire team."
The awards were presented at the 2016 RV Dealers International Convention/Expo in Las Vegas, Nevada.
Fraserway also won the RVDA of BC 2016 Dealer of the Year Award, which was presented at the 2016 RVDA Annual Meeting in Kelowna, B.C. Established in 1969, Fraserway RV has grown from a small, local business to become Canada's largest and only national RV dealership network. We are also the largest and only Canadian-owned RV rental company in Canada with locations coast-to-coast, famous worldwide for our uncompromising quality of service. Built on being full-service, we are known as "The Place for Everything RV."