Farm families honoured at Ukrainian Village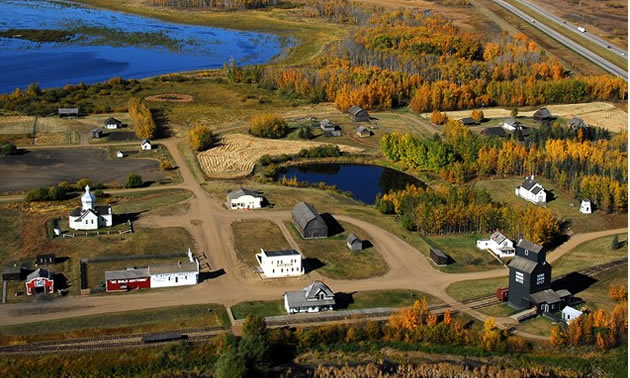 Alberta families who have farmed the same land for 100 years or more were recognized with Century Farm and Ranch awards.
Recipients of the award received a bronze plaque to commemorate this significant milestone. A total of 96 families were recognized across the province, including 17 families who were honoured at the Ukrainian Cultural Heritage Village on August 2.
"Agriculture is at the core of who we are as Albertans. It's an integral part of the foundation of our province's cultural heritage, our strong economy and our vibrant rural communities. It is an honour to recognize these founding families and their legacy. Our government continues to support the sustainable growth of our local food industry and the hard-working entrepreneurs in this sector." — Oneil Carlier, Minister of Agriculture and Forestry
"There are not very many farms that make it to 100 years in one family. We feel very lucky to have stayed together on this land. I've been here from the time when we were seeding land with a team of four horses to the modern tractors now. I have to say, I prefer the air conditioned cabs!" — Steve Holowaychuk of Smoky Lake, Century Farm and Ranch Award recipient
Since 1993, more than 1,750 families have received the Government of Alberta's Century Farm and Ranch awards.
Agriculture is the province's largest renewable industry, with exports valued at more than $11 billion annually. There are more than 40,000 farms in Alberta, totalling more than 50 million acres.
Alberta Century Farm and Ranch Award recipients who were recognized at the Ukrainian Cultural Heritage Village:
The Austin Family of Paradise Valley
The Botten Family of Boyle
The Cadieux Family of Lac La Biche
The Chomik Family of Bruce
The Flack Family of Spedden
The Fletcher Family of Wainwright
The Francis Family of Ardrossan
The Giebelhaus Family of Bruce
The Goldsmith Family of Dewberry
The Holowaychuk Family of Smoky Lake
The Johnson Family of Lloydminster
The Kiziak Family of Derwent
The Koles Family of Willingdon
The Lundgren Family of St. Paul
The Minailo Family of Willingdon
The Skoreyko Family of Bellis
The Zazula Family of St. Michael