Moab, Utah—where fall colours light up forests, mountains, rocks and canyons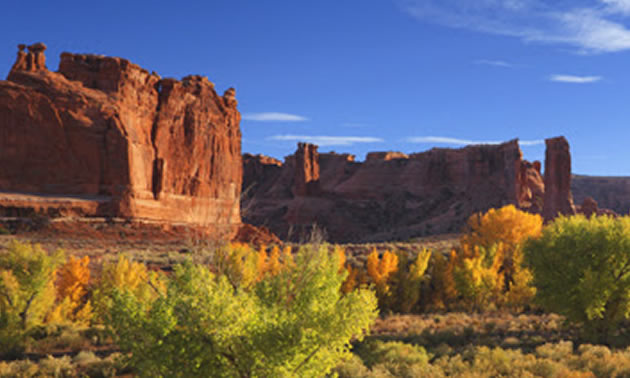 MOAB, UT, Sept. 19, 2016 – Moab, Utah, is an adventure world that never sleeps. One of the most exciting times of year in this red rock playground is Autumn when the convergence of yellow (think cottonwoods) along the Colorado River, reds (the multi-colored slick rock terrain), brisk days, elbow room in Arches and Canyonlands national parks and festivals create a perfect fall get-away scenario.
When planning a long September or October weekend, travelers are well-advised to first call or drop in and talk to the experts at the Moab Adventure Center (http://www.moabadventurecenter.com/), the region's one-stop for activities, gear and advice.
"Everyone knows about the spectacular fall colors of aspen, cottonwoods and other deciduous trees in town, on the mountain and inside the canyons. But another fall color change is the deepening hue and richness of the multi-colored sandstone rocks themselves! The special angle of the fall light, the crisp, dry air and shorter days bring out the density of the many colors of rock surrounding Moab. It's our favorite time to be here," says Jamie Pearce, Manager of the Moab Adventure Center.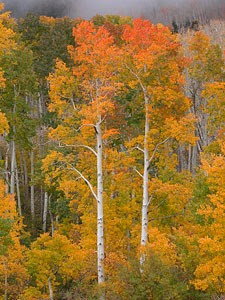 For an immersion in color and texture, Pearce suggests leaf- and rock-peeping tours by jeep, rented for a day starting at $190 through Moab Adventure Center (http://www.moabadventurecenter.com/trips/jeep-rentals/). Her favorite fall color road trips include:
La Sal Mountain Loop Road Scenic Backway: Just 20 miles south of Moab are the La Sal Mountains, part of Manti-La Sal National Forest. At nearly 13,000 feet, these pine and aspen covered mountains are the second highest mountain range in Utah. Unique here are expansive views of the red rock landscape below. The loop takes about three hours over 60 miles. Hairpin curves on the Castle Valley side are unsuitable for large RV's. Family cars are welcome. See: http://www.discovermoab.com/la_sal_mountain_loop_road.htm
Gemini Bridges Trail, exploring a region between Highways 191 and 313, reaches grand vistas and accesses numerous other trails. Here is the spectacular twin arch, called Gemini Bridges, on the rim of an arm of Bull Canyon. A jeep is required on these 48 miles with 14 miles on 4WD road.
Poison Spider Mesa Trail overlooks the colorful Colorado River and Moab Valley. Expanses of unbroken slick rock and views of the Behind the Rocks area and the La Sal Mountains make it one of the most attractive drives in the area. Jeeps are required on these 36 miles with 16 miles on 4WD road.
Moab Rim Trail climbs tilted rock strata along the south side of the Colorado River to reach a rim view overlooking Moab, with outstanding views of the river, Spanish Valley and the La Sal Mountains. This 4wd trail is the boundary of the Behind the Rocks Wilderness Study area; the area west of the trail is closed to vehicle travel to protect scenic and primitive recreation values. A jeep is required on these 15 miles with 7 miles on 4WD road.
Please see http://www.discovermoab.com/fourwheel.htm

The beginning of Autumn doesn't mean that river activities are over. Instead, through October scenic float trips reveal the changing colors along the Colorado River. The Moab Adventure Center arranges both Full Day or Half-Day (AM or PM) trips daily. See: http://www.moabadventurecenter.com/trips/rafting/

Favorite fall events include: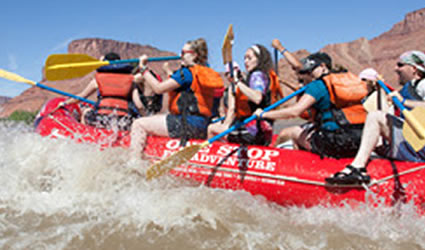 Sept 22-25 - 13th Annual Mother of All Boogies (Skydiving Festival) invites skydivers from all over the world four full days of high altitude skydiving from turbine aircraft.
Sept 30-Oct 2 - Outerbike - Test ride all of the latest and greatest bikes and gear on the world class trails of Moab. The world's best bike and gear manufacturers will be set up at the Outerbike Expo site.
Oct 1-8 - PleinAir Moab - PleinAir Moab celebrates open air painting in breathtaking environments.
Oct 27-30 - 11th Annual Moab Ho Down Mountain Bike Festival and Film Fest is a fundraiser for local trails and the Moab Bike Park.
Nov 4-6 - Moab Folk Festival is a 3-day music event with 12 performers, workshops, local educational outreach and art vendors.
Nov 4-6 - Moab Celtic Festival "Scots on the Rocks" brings to life the rich heritage and colorful history of Scottish and Celtic cultures.
See: http://www.moabadventurecenter.com/areainfo/calendar.php)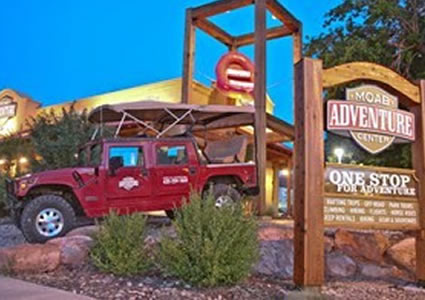 About Moab Adventure Center
Moab Adventure Center is a division of Western River Expeditions (http://www.westernriver.com/), an adventure travel company headquartered in Salt Lake City, with operations and offices in Moab, Utah and Fredonia, Arizona. The company is the largest single tour provider in Moab, UT. The Moab Adventure Center is located at 225 South Main Street, Moab, Utah 84532. For information and reservations please call (435) 259-7019 or (866) 904-1163 or send an email from http://www.moabadventurecenter.com/contact/. The center also has a 2,000-square-foot retail space selling adventure related gear and clothing as well as souvenirs.