Far Horizons Tucson Village RV Resort wins national award for its water and energy conservation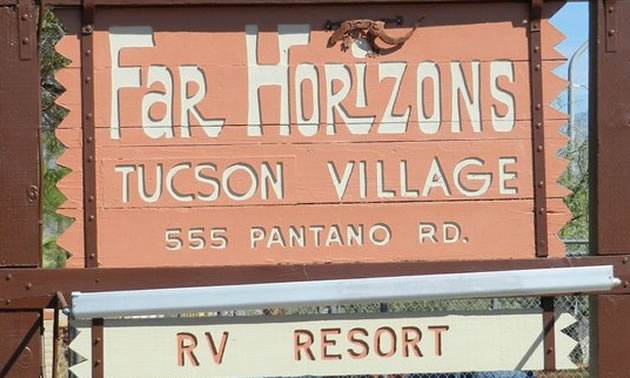 Far Horizons Tucson Village RV Resort is one of the most environmentally responsible RV resorts in the country, according to the National Association of RV Resorts & Campgrounds.
The popular snowbird park received the "Green Mega Park of the Year Award" from the National Association of RV Parks & Campgrounds in recognition of its extensive water and energy conservation and recycling initiatives.
"We do everything we can think of to demonstrate and communicate conservation and recycling to our team members and to our guests," said Ken Shrensel, general manager of the 514-site resort.
Tucson Village regularly invites representatives from "Keep Tucson Beautiful" to visit the park and provide information to its guests. The resort also shares information through its bi-weekly newsletter. The resort's green initiatives include:
Water Conservation: Tucson Village utilizes landscaping practices and techniques that minimize water usage. It uses only native Sonoran desert plants, which it complements with artificial turf, colored earth and decorative rocks. Watering is done only at night to minimize evaporation. The resort, which has its own well, also recycles water for landscape irrigation purposes.
Community Garden: Tucson Village created a "community garden" program six years ago with the idea of encouraging guests to grow their fruits, vegetables, herbs and flowers, while making efficient use of the resort's water resources.
Energy Conservation: Tucson Village uses energy-saving products and appliances throughout the resort, including programmable thermostats and Energy Star-rated refrigerators and hot-water tanks; low wattage ceiling fans; compact fluorescent bulbs and combination microwave/convection ovens instead of traditional oven/range units. The resort also makes use of solar powered lighting as well as low voltage lighting for walkways, patios and decks. Motion sensors are used to minimize the use of lighting where it is safe to do so. In addition, the resort has installed covers over the parking spaces of all its rental cottages to shade guest vehicles and a portion of their unit, resulting in lower cooling costs.
Waste Recycling: The resort provides multiple convenient recycling bins throughout the park for all locally recyclable items, including glass, plastic, cardboard, paper, cans as well as electronic waste. The resort also offers professional shredding services to encourage guests to shred personal paperwork instead of trying to dispose of it in some other way.
Use of Recycled Products: Tucson Village uses post-consumer recycled products whenever safe. Examples include recycled paper for park printing; recycled plastic bags for trash and recycling bins; recycled fabric/fiber combinations for windbreaks and plant covers; and recycled glass, which is used in the park's glass fusion/stained glass craft shop. Tucson Village specifically sources and purchases "post consumer" content items whenever it is feasible to do so.
Increased Use of Online Communication to Reduce Paper Consumption: By making a strategic shift to online communication, Tucson Village has reduced the amount of paper needed for guest correspondence, receipts and bi-weekly newsletters by more than 1.5 tons annually, a decrease in paper consumption that also results in less toner waste.
Use of Biodegradable Cleaning Products: Tucson Village uses non-toxic, biodegradable cleaning products such as Boulder, Seventh Generation and Watkins.
For more information about the resort, please visit www.tucsonvillage.com.
Source: Jeff Crider