Canada's RVwest magazine celebrates 50th Anniversary of iconic Boler trailer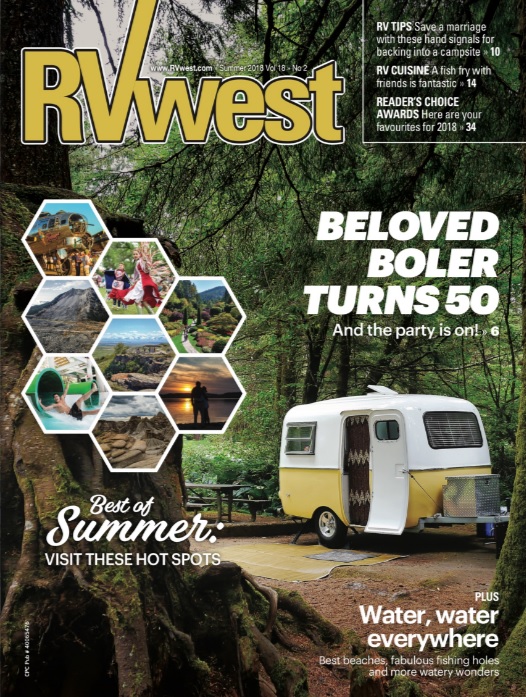 As RVwest magazine, Western Canada's leading RV publication, celebrates 18 years of publishing, they are particularly proud of their recent cover story featuring the iconic Canadian-made Boler trailer.
The egg-shaped Boler celebrates its 50th anniversary in 2018 and this week a group of avid enthusiasts in Winnipeg, the hometown of the original Bolers, is holding a celebration party.
"The Boler trailer has such an enthusiast following, we are pleased to feature the "little trailer that could" on the front cover of RVwest," said Keith Powell, publisher. "We congratulate Ian Giles and his team of volunteers who have worked so hard to put this event together."
Here's an excerpt from RVwest's recent cover story by RV journalist, Timothy Fowler:
"Buttercup" is the name Ian Giles gave his Boler trailer. This August, he and Buttercup will join hundreds of other Boler owners in the RV equivalent of a pilgrimage to the birthplace of Boler––Winnipeg, Manitoba. The iconic Boler trailer debuted in Winnipeg in 1968. It is Buttercup's 50th anniversary and Giles wants to do the party up right.
The event is open to all makes and models of moulded-fibreglass trailers, and the official celebration takes place August 15 to 19, 2018, at the Red River Exhibition Park in Winnipeg. But the event starts all over North America as Boler owners stage caravan launches and travel with fellow fibreglass-trailer fans to the anniversary celebration.
"It is a bit like a family reunion," Giles said, "This is a family I want to be around."
Bolers are a smooth-skinned fibreglass-constructed trailers, icons of Canadian camping for 50 years. Bolers are small, light and rustproof because of their glass fibre and resin construction. Of the estimated original 10,000 produced up until 1988, there are still plenty on the roads. Many owners have breathed fresh life into decades-old Bolers with lovingly executed remodeling. Bolers are hip. Their owners understand the value of travelling light.
"Welcome to the addiction," Giles said. "You just fall in love with Bolers, and they are customizers . . . they're like a blank canvas."
Read the entire Boler article here.
RVwest magazine and website (www.rvwest.com) highlights destinations throughout Western Canada and sunbelt destinations across the western United States—introducing the reader to fun activities, interesting historical sites, local arts and culture, and idyllic parks—as well as the latest RV products, events and more.
Avid RVers share their stories, tips and adventures from their most memorable trips in RVwest. No other publication brand reaches as many western Canadian RVers by delivering a copy directly to them via Canada Post, a digital copy through our email newsletter or as posted on our popular website. American sunbelt resorts and destination are reminded to reach out to western Canadian RVers and invite them to visit this winter.
For more information about RVwest and how to effectively market your RV business or product, please contact [email protected] or sales co-ordinator Amie Lubbers at [email protected]