Campgrounds and RV parks across Texas are being used as base camps for fall activities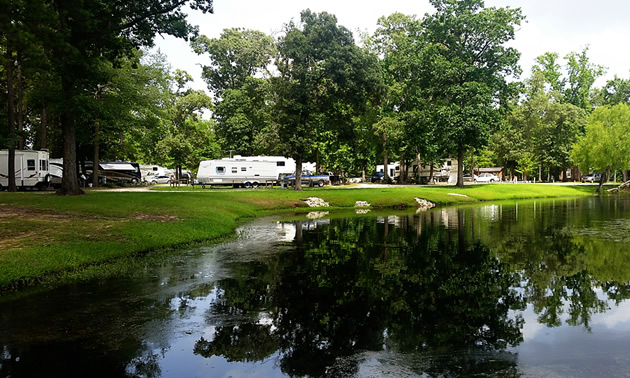 CROWLEY, Texas, Nov. 5, 2018 — Winter Texans are making their annual pilgrimage to campgrounds and RV parks across the Lone Star State, bringing an economic boost to communities throughout the state while they enjoy activities and meals together with their winter friends.
"While our affiliated parks offer lots of onsite activities and entertainment, it's the friendships that Winter Texans develop with one another that bring them back to the same campgrounds, RV parks and resorts every year," said Brian Schaeffer, executive director and CEO of the Texas Association of Campground Owners (TACO).
Schaeffer added that Winter Texans are increasingly making use of TACO's travel planning website, TexasCampgrounds.com, to plan their winter escapes. TexasCampgrounds.com provides descriptions, photos and links to more than 350 campgrounds, RV parks and resorts across the Lone Star State, many of which have park model RVs, cabins and other rental accommodations.
"You don't even need an RV to stay in many of our campgrounds," Schaeffer said, noting that companies like Malakoff-based Platinum Cottages (www.platinumcottages.com) are supplying Winter Texans with fully furnished park model style cabins and cottages with separate bedrooms, kitchens and bathrooms.
Here's a sampling of some of the campgrounds and RV parks on TexasCampgrounds.com where Winter Texans are rendezvousing with friends from across the country:
Forest Retreat RV Park in New Caney: This RV Park has almost 100 sites with 50 amp and 30 amp service and lots of amenities, including a swimming pool, free cable TV service, free Wi-Fi, public bathrooms and showers, a clubhouse with free coffee and ice, onsite propane and a laundry facility. www.forestretreatrvpark.com
Loyd Park in Grand Prairie: Loyd Park is a 791-acre recreation area located in the middle of the Dallas/Fort Worth metroplex on the west shore of Joe Pool Lake. The park has 221 campsites, eight lakefront cabins, an 18-room lodge and a two-bedroom, one bath house for rent. Built on a site with large majestic oak trees just a few steps from Joe Pool Lake, the Loyd Park Lodge, which opened last year, features a fully furnished kitchen, a covered porch with rocking chairs, barbecue grill, a fire pit and big screen TVs and Wi-Fi. Loyd Park also features furnished one- and two-bedroom cabins with kitchens and bathrooms as well as large private and group campsites, each of which comes with its own picnic table, pavilion, grill and fire ring. www.loydpark.com
Oak Forest RV Park in Austin: This Roberts Resorts park is located in a forested setting 10 minutes from downtown Austin. Amenities include forested areas, a swimming pool, a pavilion, bocce ball area and a dog park. Just a mile up the road from the park is the Travis County Exposition Center, which hosts Texas rodeos, horse shows, car shows and bike rallies among other events. Golf enthusiasts can play at nearby Bluebonnet Hill Golf Course or Morris Williams Golf Course, while bass fishing is available at Walter Long Lake. http://www.robertsresorts.com/resorts/oak-forest-rvpark/
Summer Breeze USA Resorts in the greater Houston area: Summer Breeze USA owns and operates three resorts in the greater Houston, including Summer Breeze USA Victoria RV Resort, Katy Brookshire RV Resort and Kemah RV Resort. The Kemah resort features a swimming pool and hot tub and park model rentals, while Summer Breeze USA Victoria features heated swimming pools, a clubhouse with kitchen, shuffleboard and outside pool as well as cabin rentals. The Katy Brookshire RV Resort features a 10,000-square foot indoor heated pool, a giant indoor Texas boot shaped hot tub, a NASA-themed water park, park model and cabin rentals as well as a clubhouse and fitness center. More information about the parks is available at www.summerbreezeusa.com
The Vineyards Campground & Cabins in Grapevine: The Vineyards Campground & Cabins occupies 52 acres of an 850-acre mostly wooded scenic area encircling Grapevine Lake. The park offers RV sites with concrete pads as well as furnished cabins. Amenities include cable television and upgraded Wi-Fi service and a pavilion. www.vineyardscampground.com
Based in Crowley, the Texas Association of Campground Owners is the trade association that represents campgrounds, RV parks and resorts across the Lone Star State. For more information about camping in Texas, please call Brian Schaeffer at (817) 426-9395 or visit www.TexasCampgrounds.com and www.TexasCabinRentals.net.