Be a "Winter Texan" as Canadian snowbirds discover Texas campgrounds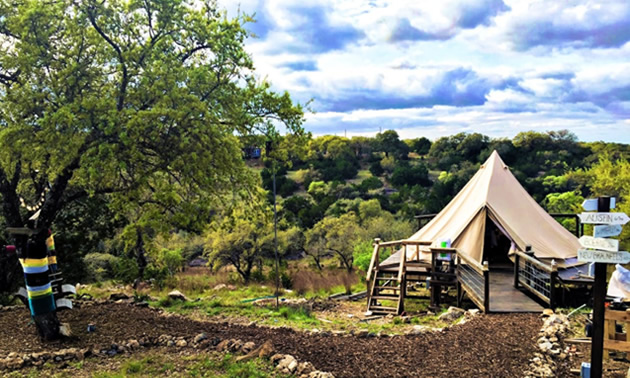 Winter has definitely hit western Canada with a wallop, but campgrounds, RV parks and resorts from Dallas to the Rio Grande Valley are keeping busy as thousands of "Winter Texans" make their way into the Lone Star State from the US Midwest and western Canada.
"Our members are telling us the winter of 2017 is going to be a busy time for many Texas campgrounds," said Brian Schaeffer, executive director and CEO of the Texas Association of Campground Owners (TACO), which hosts TexasCampgrounds.com, the travel planning website.
"Some parks have already sold out their monthly sites, while others still have vacancy for the winter. So it's good to check TexasCampgrounds.com and call the parks that interest you for details," Schaeffer said.
Texas has a wide range of public and private parks that provide everything from RV sites and rental accommodations to organized activities and entertainment, even in the middle of winter. Here's a sampling of parks that showcase the variety of camping Texas has to offer in the winter months:
Fort Amarillo RV Park in Amarillo: This park is a popular location for visitors who want to see the Panhandle-Plains Historical Museum as well as Palo Duro Canyon State Park, a rugged 800-foot deep, 110-mile long chasm that is the largest canyon in the U.S. after the Grand Canyon. Other Amarillo area attractions include the Big Texan Steak Ranch, which will serve you a 72-ounce steak free of charge — provided you can eat it along with all the trimmings inside of an hour. Park amenities include a 4,500 square foot dog park, tennis courts, an indoor heated swimming pool, and Lizzie Mae's Mercantile, the park's unique gift store, which features everything from Texas-themed souvenirs, Christmas ornaments to specialty food items, unique baking mixes and condiments to unusual lamps, throw pillows and one-of-a-kind home decor items. www.fortrvparks.com.
Leisure Resort in Fentress: Leisure Resort is a 117-site campground with 22 cabins, five of which have full size kitchens. The park also has elevated 12- by 12-foot "tree houses," which feature bunk beds, mini-refrigerators and barbecues. It also has a clubhouse as well as a pavilion for hosting weddings, family reunions, birthday parties and other special events. The park is east of the Texas Hill Country and is roughly 40 miles from Austin and 60 miles from San Antonio. While many visitors come to go rafting on the San Marcos River, the park also has numerous onsite amenities, including a pet park, fishing, a nature trail, playgrounds, pool and sand volleyball court and basketball court. Upcoming winter activities include a chili cookoff on Jan. 14 and a Valentine's Candlelight Dinner on Feb. 11 with live music. www.leisureresort.net
Loyd Park in Grand Prairie: Loyd Park is a 791-acre recreation area located in the middle of the Dallas/Fort Worth metroplex on the west shore of Joe Pool Lake. The park has 221 campsites, eight lakefront cabins, an 18-room lodge and a two-bedroom, one bath house for rent. Built on a site with large majestic oak trees just a few steps from Joe Pool Lake, the Loyd Park Lodge, which opened last year, features a fully furnished kitchen, a covered porch with rocking chairs, barbecue grill, a fire pit and big screen TVs and WiFi. Loyd Park also features furnished one- and two-bedroom cabins with kitchens and bathrooms as well as large private and group campsites, each of which comes with its own picnic table, pavilion, grill and fire ring. www.loydpark.com
Oleander Acres RV Resort in Mission: This park, which is about an hour's drive from Brownsville and South Padre Island, is a great place for nature enthusiasts. Not only is it located near the World Birding Centers of the South Texas Rio Grande Valley, but it features more than a dozen butterfly gardens that attract about 100 different types of butterflies. The park also offers an indoor farmers market from 4:30 to 6 p.m. on Thursdays that features locally grown organic produce as well as honey and fresh squeezed orange juice. Winter activities at the park also include classes in Spanish and line dancing. The park also offers live entertainment. Oleander Acres also features leash free dog runs for big dogs and small dogs. www.oleanderacres.com
Rayford Crossing RV Resort in Spring: Park owners Bill and Gwen Craig have made more than half a million dollars in improvements to this park in recent years, including a new dog park and improvements to the pools, buildings and patios. Guests often use Rayford Crossing as a base camp for sightseeing in the Houston area or attending local festivals and sporting events. Concerts in the Cynthia Woods Mitchell Pavilion, one of the world's top rated outdoor amphitheaters, are another big draw. The park organizes several outings during the winter months to make it convenient for park guests to enjoy local and regional events. Upcoming winter outings include an overnight trip on Feb. 12 to the Coushatta Casino Resort in Kinder, La. The park, a three-time winner of TACO's "Park of the Year" Award, also offers plenty of recreational activities, including hiking and biking trails as well as an exercise room and luxurious bathroom facilities with granite and stone showers. www.rayfordcrossing.com.
Stone Creek RV Park in Schertz: This park is a great base camp for excursions to major attractions in New Braunfels, such as Schlitterbahn Waterpark, Rockin' R River Rides and Texas Tubes, and San Antonio, which is home to The Alamo, The River Walk, the San Antonio Zoo and Aquarium and many other attractions. Onsite amenities include a hot tub; family and adult swimming pools; two large off leash dog parks with dog agility equipment; and two large recreation halls. The park also provides free cable TV and WiFi and cabin rentals. www.stonecreekrvpark.com
Rio Vista Resort in Kingsland: This park is located on Lake LBJ, which is popular with water sports enthusiasts. The resort offers kayak and canoe rentals, while jet skis and larger boats can be rented from other businesses along the lake. In addition to RV sites, Rio Vista Resort offers lake houses that sleep up to 20 people and villas that sleep up to eight. Most RV sites are within 200 to 300 feet of the lake, many are on shady spots, and all of them have easy access to the lake, fishing pier, and boat slips. Other amenities include a swimming pool, a water trampoline, water slides, a splash pad and mini golf. www.riovistaresort.com
Texan RV Ranch in Mansfield: This 159-site park is within 20 minutes of major Dallas / Forth Worth Metroplex attractions, including Cowboys Stadium, Hurricane Harbor and Hawaiian Falls. The park features big rig friendly pull through RV sites as well as three one bedroom cabin and three two bedroom cottage rentals. Amenities include a swimming pool, a pavilion and free WiFi and cable TV. Park Manager Christy Coker said the park's guests include Winter Texans as well as full time RVers, workers and people who are buying, selling or building homes in the area. www.rvparksdallasfortworth.com
Rio Vista Resort in Kingsland: This park, which is located along the shores of Lake LBJ, has close to 100 sites. The park offers houses, villas and park model RV rentals. Winter activities include pot lucks, soup nights, pancake breakfasts, brunches, happy hours and games, such as bingo and Texas Hold 'em, as well as organized dinner excursions. Regional attractions the Legends and Packsaddle golf courses, which are less than five minutes away, and seven more golf courses are 20 minutes away. The Lyndon B. Johnson Ranch, which is managed by the National Park Service, is a 30 minute drive away, while Longhorn Caverns is five minutes away from the park. www.rio-vista-resort.com.
VIP La Feria RV Park in La Feria: This park offers two heated swimming pools, two whirlpool hot tub spas, a shuffleboard court, a large recreation hall, horseshoe pits. The park also has fenced dog park areas. Winter activities include crafts, games, potlucks and ice cream socials as well as live entertainment. The park also competes in a park decorating competition with other parks in La Feria. VIP La Feria has won the competition every year for the past eight years, according to Park Manager Ruth Dearinger. www.viplaferia.com
Based in Crowley, the Texas Association of Campground Owners is the trade association that represents campgrounds, RV parks and resorts across the Lone Star State. For more information about camping in Texas, please call Brian Schaeffer at (817) 426-9395 or visit www.TexasCampgrounds.com and www.TexasCabinRentals.net.
Source: Jeff Crider PR