Reserving a campsite with BC Parks
If you want to make camping reservations with BC Parks, here are some things you need to know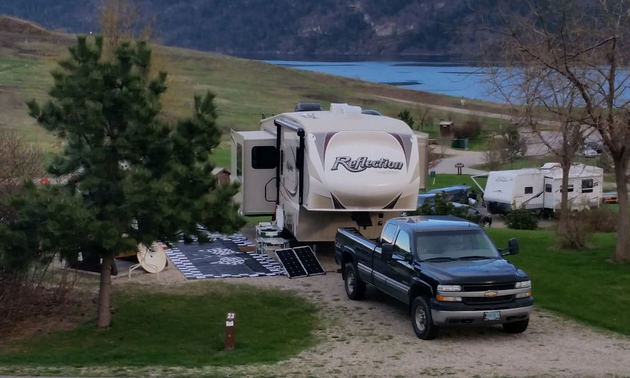 If you are one of the many RVers itching to experience B.C.'s legendary camping opportunities, you should start planning your summer adventures several months ahead of time. BC Parks has a reservation system in place that enables you to book your stay well in advance, but these coveted sites do fill up fast.
The BC Parks website has a wealth of information on various relevant topics, including local events, volunteer positions and things to see and do while you are visiting. It also outlines the reservation process to assist you in securing your dream campsite.
Here are a few tips from the site to guide you in the process of making campground reservations through BC Parks:
How to make or change/cancel your reservation
You can visit the Discover Camping help page to find detailed information on making or managing your reservation. If you require more in-depth assistance, you can also use the call centre (info and hours below). Please be aware that there is a $5 surcharge for using this service.
Call centre information
Toll-free from Canada and the U.S.: 1-800-689-9025
From other countries: 1-519-826-6850
Hours of operation: Seven days a week, including holidays (with the exception of December 25th and January 1st, when the centre is closed), 7 a.m. - 7 p.m. PST
Be prepared before making your reservation
Before you actually begin the reservation process, make sure you are familiar with how it works and that you've chosen your ideal sites (be sure to have a few in mind, in case your first choice isn't available). Have your contact information and credit card in hand before starting the process.
If you are reserving more than one site, be aware that each must be reserved under a different permit holder's name. Make sure the other person knows to expect a confirmation email in their name.
Familiarize yourself with BC Parks' policies and fees.
When new sites become available . . .
New campsites (referred to on the BC Parks site as "new inventory") become available periodically and are released at the exact same time the call centre opens (7 a.m. PST). This keeps it fair and ensures that those reserving online have the same access as those using the phone service. It is not recommended that you fill in the online form ahead of time, as the information entered may be lost when you go to make the reservation. Requests can only be processed by the web server after 7 a.m. PST.
If you want to make sure you get your request in at exactly 7 a.m., refer to the atomic clock that is displayed by clicking the System Time button on the Discover Camping website.
Keep in mind that if you are inactive during the reservation process for more than 15 minutes, you will lose any sites you haven't already paid for. When you begin the reservation, the system holds that site for you while you fill in your information, so the time-out feature ensures no one unknowingly holds a site that they aren't planning to reserve.
When you try to book a campsite at exactly 7 a.m. PST and you still can't access it, there are a number of reasons why this might be.
This is the explanation given by the BC Parks website:
"There are three explanations for why this can happen:

Someone else is either booking that site or even just looking at it online. When you open a site to 'look' at it, the reservation system has to assume you might book that site so that multiple reservations cannot be made for the same site. The system will time out after 15 minutes of an inactive reservation.

Once inventory has been released, you can book up to BC Parks' maximum stay (14 days past your arrival date). For example, someone wanting to arrive at a frontcountry campsite starting on July 14th and staying two weeks can book their reservation starting March 14th. This would book inventory from July 14-July 28. So if you tried to book that site for an arrival date of July 15th starting on March 15th, this particular site would not be available. The exceptions to this rule are:

sẁiẁs (Haynes Point) Provincial Park has a maximum stay of 7 nights all year-round.

Martha Creek, Mount Fernie, Porteau Cove, Loveland Bay and Ellison Provincial Parks have a maximum stay of 7 nights during the peak season only (June 15 to Labour Day inclusive).

The reservation system will only show availability for sites that match your requested dates exactly. For example, if you wish to book a site from July 14th to July 18th, it would only show sites available for the whole time period. If there were sites available from July 14 to July 17, those would not show up. Nor would sites available from July 15 to 22 or later."
Be aware of peak times
Peak times tend to centre around the release date (which happens four months prior to a park's first reservable date) or when an especially popular site/time becomes available (such as a high-demand campsite or a long weekend booking). It is suggested that you reserve during mid-week or choose parks that are located farther away from large cities.
You can also try using the mobile interface (you don't need a smartphone; you can use the mobile interface on any computer as well.) This streamlined version of the site reduces the amount of time it takes for pages/images to load and makes navigation (and therefore, reservation) faster. Please note that this interface does not provide access to group, day-use shelter or Bowron Lake Canoe or Berg Lake Trail backcountry reservations, so if you require those, you need to use the regular version of the website.
If you don't get the site of your dreams on the first try, don't give up! Plans change and cancellations happen, so check back frequently to see if one of your preferred campsites becomes available.