Canadian RV trailering and towing tips
Know how to tow like a pro before you go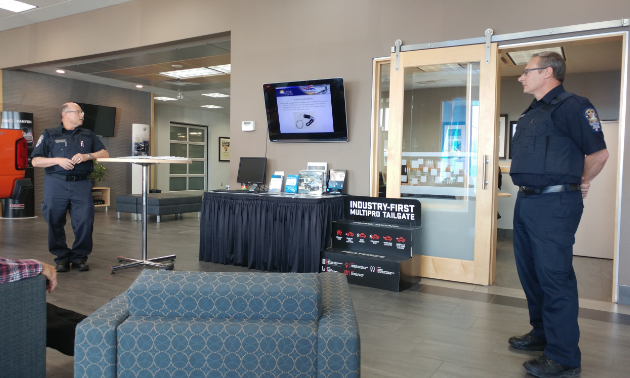 It's time for your next big RVing adventure. Wahoo! Before you head out, you may want to familiarize yourself with some of the rules and regulations regarding towing and trailering in B.C. Whether you're a seasoned, international RVer or a newbie looking forward to your first trip, it never hurts to brush up on a few tips to keep yourself safe and secure as you get to where you're going.
Recently, Northstar GM in Cranbrook, B.C., held a trailering and towing seminar. B.C. Ministry of Transportation's Ernie Krause, senior area vehicle inspector, and Douglas Archibald, carrier safety inspector, outlined what RVers need to know before they go on their next trip.
Brake requirements:
All trailers and towing dollies must have brakes on all wheels when their Gross Vehicle Weight (GVW) (trailer/dollie and load) exceeds 1,400 kilograms (3,086 pounds). Every trailer with brakes must have a breakaway device hooked to the trailer brake system.
Surge brakes may be used when towing a vehicle that has a GVW of up to and including 2,800 kilograms (6,173 pounds).
Motorhomes (only) may tow motor vehicles via a tow bar without brakes hooked up on the towed motor vehicle, when the towed motor vehicle's laden weight (weight of towed vehicle and its load) is:
Less than 2,000 kilograms (4,409 pounds), and
Less than 40 per cent of the Gross Vehicle Weight Rating (GVWR) of the motorhome towing it
"Weight distribution is critical," said Krause. "Don't have all of the weight in the back."
Preparing to tow:
The vehicle-on-tow must have valid licensing and insurance.
Only one trailer may be towed at a time.
All vehicles being towed via a ball hitch must have safety chain(s) or cable(s).
A recreational vehicle towed via a fifth-wheel hook-up does not require safety chains or cables.
All vehicles being towed must have lights connected to the tow vehicle.
"Before heading out, check the brakes, lights and heavy trailer endorsement," said Archibald.
Maximum widths for recreational vehicles:
Maximum total overall width for recreational vehicles is 2.6 metres (8 feet, 6 inches).
Mirrors (only) may exceed the width of the vehicle by 20 centimetres (8 inches) on each side.
Maximum lengths for recreational vehicles:
Maximum total length for a motorhome is 14 metres (45.93 feet).
Maximum length for a towed recreational vehicle is 12.5 metres (41 feet).
Maximum overall length for a combination is 20 metres (65.6 feet).