Tips for purchasing an RV for the first time
Thinking of buying an RV? By taking your time, educating yourself and asking lots of questions, you can avoid any possible pitfalls.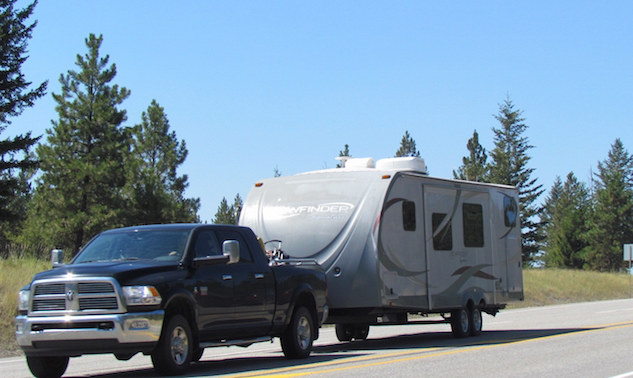 It may have been after you were invited to a backwoods campsite for a barbecue and campfire, watched the next-door neighbours load up the kids and dog for another adventurous weekend or saw RVs travelling down the highway that you wondered if owning an RV may be a good choice for you and your family.
There are many factors to consider, from which type and size of RV will best suit your needs to having your expectations met with amenities, comfort, price and usability. It is not uncommon for folks to try and envision floor plans available with preferences like lots of storage area, a walk-around bed or a kitchen with suitable counter space.
When purchasing an RV, whether new or used, take the time to do some research and educate yourself about all the many aspects of RV ownership—even additional items like maintenance costs, insurance, registration and fuel costs should be noted. Try and attend an RV show, talk to some RV enthusiasts, sign up for some service seminars at your local RV dealership and, last but not least, read some RV-related magazines like this one. It will be beneficial to check with your local auto or RV dealership for proper tow ratings for your planned tow vehicle and a pre-approval for a loan is advisable. Even special licence endorsements may be required to tow or operate some RVs.
When you're ready to start checking out RV units for yourself, your local RV dealership is a great place to start. The sales lots will have both new and pre-owned RVs to explore all of the many floor plans, features and price listings. The knowledgeable sales staff can answer many of the questions and inquiries you may have to help you find a unit that best fits your needs and wants. It is advisable to have a friend or relative that has some experience with RV ownership to help check out an RV that spikes your interest, especially with pre-owned units or if a private seller is involved from an Internet or newspaper ad. Take pictures or videos to help you document your prospects.
When a new or pre-owned RV is purchased from an RV dealership, a pre-delivery inspection, or PDI, will be done by a qualified RV technician. The technician will inspect areas like the propane, water and electrical systems in addition to the safety features and undercarriage, etc., basically everything from top to bottom and front to back. When a pick-up date has been set you will be given a customer walk-through or orientation of all the amenities, features and proper safety procedures with your particular RV.
Although buying new has the benefits of the most up-to-date appliances, features, colour schemes and a factory warranty, a pre-owned late-model RV has merits primarily with the depreciation being paid for by the first owner. And dealers will offer programs like a pre-owned appliance warranty for a specific amount of time.
If you are thinking about purchasing an RV from a private seller the biggest pitfall would be getting stuck with someone else's problems, which in some cases can be very expensive to repair. Many RV service departments will offer a fixed point inspection that will check out the important areas like the LP, water and electrical systems for a minimal charge, with repairs only done with your authorization. At the very least, an LP system check-over with a leak-down and pressure test is very important and highly recommended.
If you choose to inspect the RV yourself then remember to be very thorough and know exactly where to look for problem areas. Research all the common questions to ask the seller. These tasks can help save you a lot of grief and disappointment. As an example, an overlooked average-sized fridge that has a failed cooling unit can set you back close to $2,000 for a replacement.
If you shop wisely and are very patient, a great purchase can be made to provide all the benefits of RV ownership to you and your family for many years.