RV refrigerators 101
A few diagnosing tricks will help you determine what is wrong with your fridge
by Reg De Young —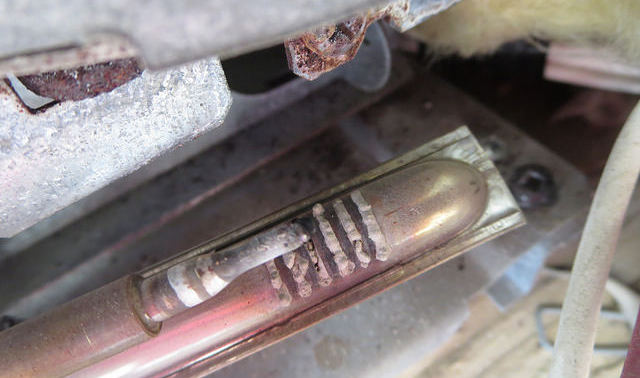 Your RV absorption fridge is quite an impressive appliance. It can function on as many as three energy sources, namely, AC and DC electrical power or LP gas. It must operate and withstand all the movements associated with highway or backroad travel and function under uncontrolled temperature environments. There are no compressors or moving parts with this type of fridge.
We should first discuss the very basic process of absorption in an RV fridge cooling unit at the rear of the fridge. There is a compressed and mixed solution containing water, ammonia, hydrogen and sodium chromate, a rust inhibitor. The cooling unit also has four major components: the boiler, condenser, evaporators and absorber. When a heat source is applied, the chemical mixture will boil or percolate—much like a coffee maker—and flow through the pipes or cooling unit to remove or absorb heat from the contents of the fridge to keep the items cold or cool.
The RV fridge will usually have two modes to select, with the third mode being 12-volt DC on some models. There is the auto mode which has priority for 110-volt AC, and in the event of AC power loss, the fridge will automatically select the LP gas heat source. If the LP gas mode switch is selected, the fridge will hold on this source only. This function is useful when an inverter has been installed in your RV.
When selecting the 12-volt DC mode, it must only be used while you are travelling to maintain or hold the temperature. The amp draw is sufficient enough to flatten your RV battery in a short time.
On many RV fridges, there are climate control or high-humidity switches located either in the upper freezer assembly or on the control panel. These switches should be left off when not required as they will draw about 0.5 amps continuously when operating.
For good performance in cooling, the RV fridge must be relatively level and have proper ventilation and a suitable heat source at the cooling unit. If any of these three parameters are not met, the cooling process will be affected or even fail.
If you feel your RV fridge is not functioning properly, there are a few tasks to do. Try operating the fridge on another heat source to see if it cools normally. You may have a failed heating element or weak flame at the burner. If you smell ammonia inside the fridge compartment, hear a gurgling noise or see a yellow substance on the cooling unit outside, you have a failed cooling unit.
Here are some helpful tips to apply when using your RV fridge:
Take the items from your residential fridge directly to the already cooled RV fridge;
Park with the fridge on the shaded side of the site;
Have the fridge checked and serviced annually by your local RV service centre;
Check for any recalls on your particular fridge make and model; both Dometic and Norcold have areas on their websites to check for information regarding recalls.