Visiting family and friends in Saskatoon
With two sons living and going to school in Saskatoon, Gerilee and David Kermack return to Saskatchewan at least twice a year.
by Kimberly Schoenberger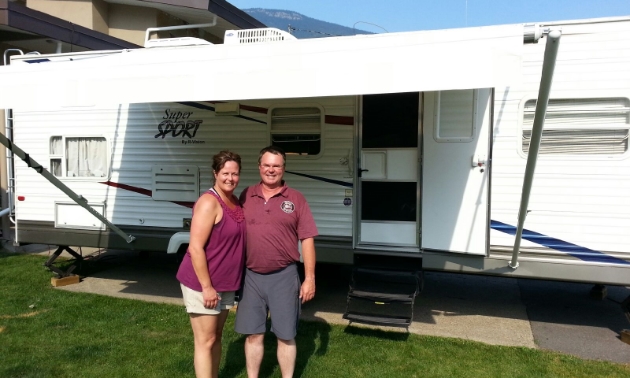 Gerilee and David Kermack make annual trips to Saskatoon, the city they once called home, to visit their family and friends and to enjoy the RVing life. Their two boys, Jerry and Kevin, have both attended university in Saskatoon, so the couple visits as often as they can—even celebrating at their campsite at Gordie Howe Campground.
"We have stayed there a few times," Gerilee said, about the RV park. "The last time was for two weeks. Our son Kevin was graduating from the College of Education at the time, so on the day of his graduation we hosted a barbecue at our site for about 20 people."
Gerilee said that the grad party was a huge success, and that those kinds of nights is really what makes a good camping trip.
"The best part is being able to have friends and family over for a barbecue," she said, "or to sit around the fire at night."
The couple lived in Saskatoon for five years between 2002 and 2007, and the roots and relationships they developed while there have stuck even after their move to Cranbrook, B.C.
"We used to live in Saskatoon, so we like to stay (there) and invite friends and family over for a visit," Gerilee said. "Kevin lives in southern Saskatchewan, so we go back at least twice a year. And our other son Jerry is going to be starting his second year at the College of Education at the University of Saskatchewan."
Keeping up with RV travels
Gerilee and David make their trips in a 27-foot Super Sport travel trailer, which Gerilee said is perfect for their travel needs.
"I like that it has a queensize bed and washroom," she said. "Also because it is not that long, it is fairly easy for my husband to park."
David is Manager of Structure for CP Rail and Gerilee works as an administrative assistant in registration for College of the Rockies, and the two make sure to enjoy their vacation time to the fullest. They plan on taking an excursion south of the border later this year.
"We are going on a three week road trip down south this September," said Gerilee. "We are going down the Oregon Coast, Napa Valley, Anaheim—to see Mickey—Grand Canyon and back home."