Soaking up the sun
RVwest met full-time RVer Brenda Robson at the Fort Steele Resort and RV Park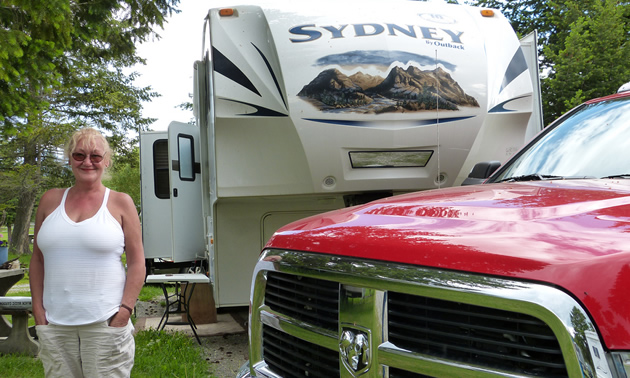 Who: Brenda Robson, full-time solo RVer
Where: Fort Steele Resort and RV Park at Fort Steele, B.C.
What is your rig? It's a 32-foot 2012 Sydney by Outback fifth wheel and a Dodge diesel truck.
What are your travel plans? I'm staying at the Fort Steele Resort and RV Park until October 2012 and I am spending the winter at Bashford's Hot Mineral Spa RV park west of Niland in southern California.
When did you start RVing? Two years ago, after I went across Canada to the Atlantic with a girlfriend who I met in California. We also travelled through Arizona, New Mexico, Texas and Louisiana together.
What are some highlights from your RV trips? I really loved New Mexico—we went to the caves at Carlsbad Caverns. Louisiana was memorable too. We went on a swamp tour in Louisiana and saw people who live on the bayou. We also went to a mansion in Texas and went on a cemetery tour and saw these above-ground tombs.
What do you like most about RVing? The coolest thing about travelling is the people you meet.