RV Voyageurs
Jeanette and René Genereux let their RV travels contribute to a full retirement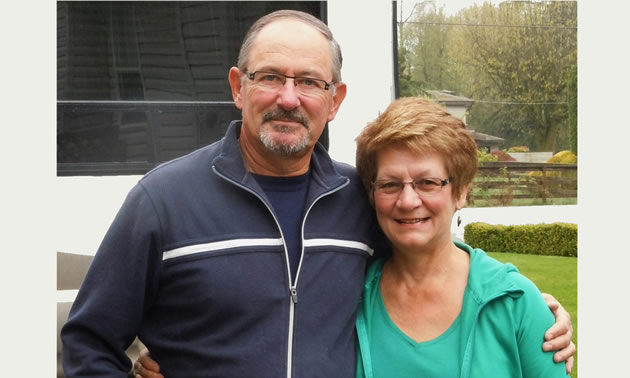 René and Jeanette Genereux are semi-retirees who use their RV to enjoy winters where it's warmer than their home in B.C., and to explore some of their other hobbies, such as riding motorcycles and the outdoors. They write about their road-related and day-to-day adventures at RV Voyageur.
What have been your highlights and most memorable journeys as RVers?
We enjoy getting to see new country and meeting new like-minded RVers. Spending time in settings along the Colorado River and being able to put our kayak to good use was also great. Perhaps the most memorable was spending time at the foot of Superstition Mountain in Gold Canyon east of Mesa, Arizona, when our daughter, son-in-law and grandson flew down for a one-week visit.
Motorcycling is a big part of RVing for us. We park for one month at a time, then plan day trips on our motorcycle. It is a fantastic way to see the countryside within a one-day return ride from where we are. Golfing is also a big part of my (René's) RVing lifestyle. Jeanette is not a golfer but she has many hobbies that occupy her when I am on the links.
Tell me about your RV—what do you like and what would you change?
Our RV is a 40-foot fifth wheel with four slides. When all slides are open, it provides us with close to 400 square feet of living space. We have a stacked washer and dryer on board. We truly enjoy that feature because on laundry days, we can hang the laundry close to the fifth wheel and catch up on maintenance or reading or simply being lazy. The fifth wheel also has a separate living room—with closing french doors—that provides an extra room for visitors such as kids and grandkids or friends and relatives. We quite enjoy our fifth wheel. With four solid years of RVing behind us, we find that it suits our RVing needs very well.
How much of the year do you spend RVing and why do you love the RV lifestyle?
The past three snowbirding seasons had us spend between 3½ and four full months in the U.S. Southwest. In the spring and summer months, we take our fifth wheel out for one-week trips to local parks and lakes near by. The RVing lifestyle allows us to roam at will. If we like a place, we can choose to stay longer. If not, we can pack up and roll to the next spot. We quite enjoy the freedom that RVing permits.
What have you found challenging when living out of an RV?
We do not lack for anything. We have all the comforts of home in a much smaller but cosy package. Our sticks-and-bricks home is well looked after, so we don't worry about it when we are away.
What advice would you have for someone who is interested in RVing?
I would suggest that potential RVers research and plan well for RVing. Consider your budget, time allotments to be away, what your needs are in terms of minimum comforts and the areas you would enjoy spending time at. Without a solid and well-thought-out plan, one could find that they purchased the wrong RV (too small, too big or too old) or, as a couple, they are not suited to the lifestyle. It could be advisable to rent an RV and try out the lifestyle for as much time as possible. See what amenities you need and decide on those you don't need in an RV. Decide if you prefer boondocking over RV resort-style RVing. If you prefer to be in the boonies, your RV has to be equipped with solar panels or have a robust generator on board to power the on-board refrigerators, microwaves, television, computers, etc.
Where are your favourite places to travel? Have you also spent time exploring Canada?
We travel everywhere we have an interest in exploring. We've spent our past three winters in the U.S. Southwest—Arizona and southern California—and have an interest in RVing into Mexico, Texas, Louisiana, Florida and many Eastern Seaboard states. In Canada, we have travelled throughout British Columbia and Alberta. One of our goals is to travel through the Prairies, through Ontario and Quebec, and spend a fair bit of time in the Maritime provinces.