The BC family that returns to its roots in Alberta every summer
Introducing Nathan and Michaela to Mom's and Dad's old stomping grounds
by Lisa Crane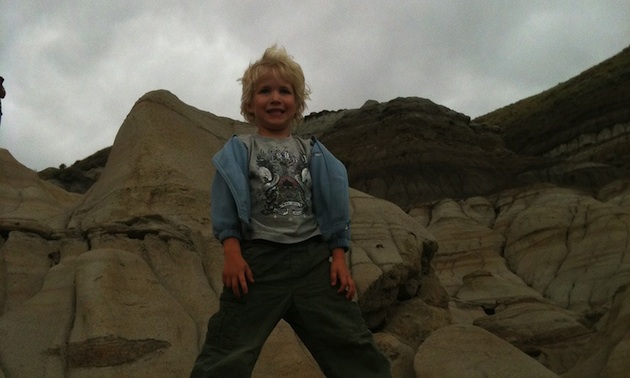 Leah Taranger and her husband Michael Meinig, originally from Alberta, now reside in Kimberley, British Columbia. The couple, who have two kids—Nathan, five, and Michaela, almost two—have been avid tenters all their lives, but are now pleased that they have made the switch to a 2010 Palomino tent trailer. Leah said it makes camping a little easier and gives the couple a chance to introduce their kids to their old stomping grounds in Alberta.
Palomino passion
"I love being off the ground, having coffee first thing in the morning next to my heater, and the little fridge is a hit with all the kids," said Taranger. "It is nice that you can stay warm and play cards and games with the kids if it rains, but you still feel a lot like you are camping in a tent."
Taranger said that having the tent trailer gives them the maximum amount of space for the least weight, and so their regular trips to Alberta are a breeze.
Camping in Alberta
The family are keen to do a lot of trips back to Alberta. A highlight last year was their trip to Dinosaur Provincial Park, a UNESCO World Heritage site northeast of Brooks, Alberta.
"We loved Dinosaur Provincial Park," said Taranger. "It is a beautiful area with gorgeous sunsets and hoodoos to hike around and explore. The museum is right in the park too, and people come to visit during the day, but then go home—so you feel like you have an exclusive experience inside the park."
She said the park was peaceful and quiet despite being full, so the family wouldn't hesitate to go back. Their five-year-old son Nathan particularly enjoyed the experience and remembers everything about it. The guided tours and ongoing partial excavations also add to the unique experience.
Favourites
The family goes camping most long weekends and then do an extended trip in August.
"Besides Dinosaur Provincial Park," said Taranger, "our favourite Albertan camping spots would have to be Waterton, the Kananaskis and Drumheller."
Taranger said the family would love to visit Writing-on-Stone Provincial Park on the prairie grasslands in the south, where First Nations petroglyphs and pictographs can be found.
"We love how you get so much variety in Alberta, with the Badlands and the Hoodoos. You can get a completely different experience within the same province," said Taranger.
The family is really into hiking and biking, so enjoy these activities when they camp. They also enjoy going away with friends so everyone's kids can play together. The highlight though, for their son, Nathan, is completely different:
"I like that we can turn the couch into a bed in case we have an extra person," he said, "and my favourite thing to do is to build big Lego sets on the table."