Make camping easier with a great food plan
Spend less time in the camp kitchen
by Angie Pitre —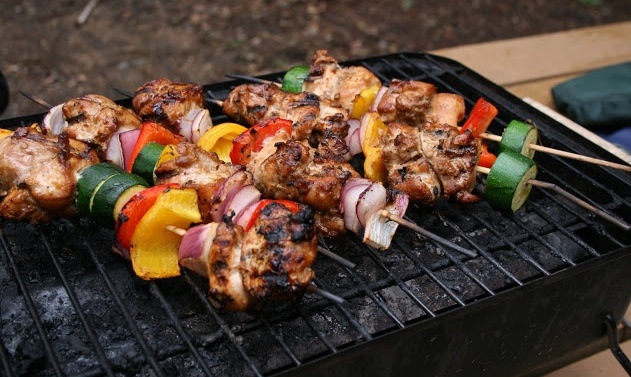 For my family, there is no better summer experience than camping together. The fresh air, the lack of a schedule, the slower pace... it is the ultimate in fun and relaxation. One of the things that make our camping trips go peachy keen is if I have a food plan ready to go. Here is how I use a food plan to make our camping trips more enjoyable with an organized approach to feeding the family.
Plan the menu
Write down all of the meals that are going to be needed for the trip and then make a meal plan—no matter how simple or involved you would like it to be. This provides a blueprint for the groceries needed, and then you can shop and pack accordingly.
Prepare healthy snacks
Wash and cut up fresh fruit and vegetables before leaving home, and pack everything in Ziploc bags or plastic containers. This makes for healthy snacking on the road or at the campsite.
Containerize condiments
Save yourself time and money by packing small containers of condiments made up from the bigger sizes already in the fridge at home. This saves having to buy small sizes of condiments, therefore saving money. The smaller containers fit into a camper fridge better, too.
Label food containers
This makes it much easier when searching the fridge looking for things. All you need for labelling is masking tape and a marker.
Have side dishes ready
If a meal requires sliced onions or mushrooms, slice them before leaving home and store them in a plastic Ziploc bag in the fridge.
Pack a special lunch for set-up day
Make the day that camp is set up easier by having lunch already made. One of our favourite things to make for set-up day is a stuffed picnic sandwich, made the night before leaving home and stored in the fridge. My family loves this ritual and looks forward to this sandwich when we arrive at our destination.
Marinate and freeze meats
Once meals are planned, meats can be marinated with favourite flavours and frozen until needed.
Pack a great salad for travelling
Before leaving home, make a salad that travels well and can be a side to meals. A bean salad or a pasta salad works well for travelling without getting soggy. Our family loves a marinated bean salad that lasts for a few days.
Use camp cookers
These tools are perfect for making quick meals and snacks like grilled cheese sandwiches and dessert pockets with cream cheese and jam. Kids love them too! This makes for a mess-free kitchen, too.
Cook meals in tinfoil packets
Meals like this not only taste great, but cut down on dish-washing duty, which makes for happy smiles all around.
These tips may seem like a lot of work at first, but once the destination is in sight, the time spent pre-planning will be worth the effort with more time for fun and relaxing and less time spent organizing and preparing meals.