Top tips for buying your first RV
Good communication is essential when detailing your needs and wants to a sales consultant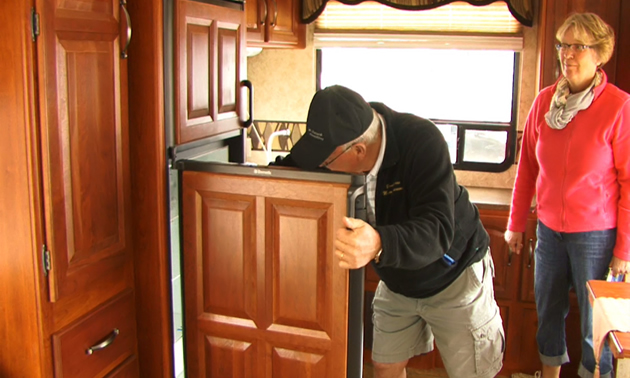 With camping season soon upon us and RV shows rolling out the latest and greatest trailers on the market, many new RV owners will soon be heading to area parks to enjoy their first season of RV camping. But as experienced salesman Chris Swift knows firsthand, finding the perfect fit for a first-time buyer takes a lot of communication between the client and the consultant.
"When we meet with potential first-time buyers," said Swift, "our job is to clarify what they're looking for, put down any myths they may be misguided by and answer any questions they may have."
While Swift said the majority of buyers today are more educated than ever before thanks to the Internet and web forums where campers meet to chat, nothing beats just walking into a dealership or RV show and consulting with a salesman who understands your needs and can help you discover the unit that will work best for you.
"There's a consulting side to this business, which means you have to ask a lot of questions and truly listen to the answers," said Swift. "You have to make sure the trailer they buy is going to be one that fits with their lifestyle and with what they're looking to get out of camping."
For some first-time buyers that means starting right at the beginning, with the most basic of questions, including "What do you have for a tow vehicle?"
"Even though tow guides are available on the web, they're constantly changing," said Swift. "A 2010 truck and a 2006 will be able to haul two totally different loads, and looking at what you're towing is just as important--whether you're looking to haul a tow trailer or a fifth wheel, for example. Before you even take people on to the lot, you need to find that out."
Tow guides often don't take into account where the vehicle will be towed--the mountains versus open prairies--nor the amount of additional weight the buyer may pull, depending on his or her camping style. If water is not available where they like to camp, the extra weight of stored water may put a tow vehicle to the test.
When picking a trailer, size really does matter. If the place you like to camp is a small campsite tucked away in the trees, the 41-foot toy hauler you just bought may not exactly fit. So you need to either change your expectations, your camping site or both.
Ask yourself if the trailer will fit on your driveway or storage area. If not, said Swift, you many have to factor in the cost of a storage facility. How long do you plan to keep the trailer? Is it suitable, size-wise, for the needs you have today?
Swift said he believes that, where possible, buyers should purchase an RV that sleeps the number of people who will be camping in it on a regular basis. Even though most dinettes turn into extra sleeping areas, putting the table up and down all the time may become tiresome and you would have been better off with a trailer that fit your needs.
Size also matters when it comes time to back up a trailer. As with most things, practise makes perfect. If you're a first-time RV owner, it might not be in your best interests to get a vehicle you're not comfortable towing and backing up. Better to start smaller and build your way up than to be frustrated and give up the idea of camping before you really get started.
Possibly the best advice Swift gives to newcomers is to buy used and trade up as required.
"What a lot of people don't realize," said Swift, "is that once they've bought a trailer and have registered it in their name and have driven it off the lot, even if they return it to us the very next day we have to now treat that trailer as used and assign the depreciation values as such, just as you would have to with a car. So it's best to be absolutely sure that you've got the right fit from the start when you're buying new."
Most people, said Swift, aren't necessarily looking for a trailer that will last a lifetime.
"I've been with Woody's for six years and it's my experience that most people will switch up their trailer through the years for a number of different reasons," said Swift. "They'll often buy a used trailer for their first trailer because they're not sure if they're going to enjoy it, and then as they continue to camp other things may change. Maybe their job has changed and they can afford a bigger model, maybe they've decided to stay at a recreational site and they're looking at a park model, or maybe the kids are now grown and they're looking for one that will suit them better as a couple. Life's circumstances often change and your trailer should reflect that."
Which is why the salespeople Swift trains are taught to always constantly ask their customers the most basic of questions: Why?
"Why do you want one this size? Why do you want one with this feature? Why do you need this extra storage? The answers to those types of questions," said Swift, "will help your salesperson identify the type of camping experience you're looking for and point you in the direction of the best trailer for you."