Miranda and me
Rae Crothers has done what many of us only dream of—she's RVing full time, and has lots to say on the matter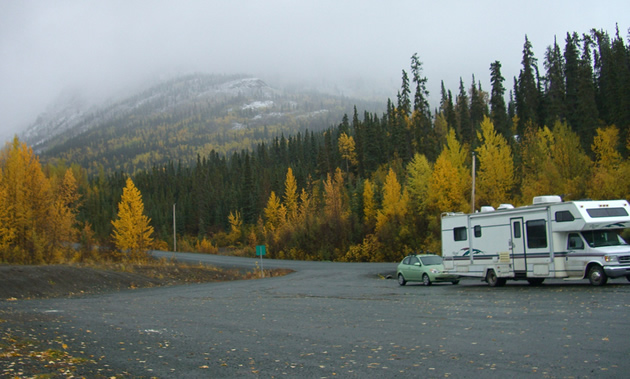 It was a series of revelations that made Rae Crothers decide to take to the road. She asked herself what she really wanted out of life, and then made it a reality. That was over three years ago. Now she travels throughout North America following invitations and opportunities for herself and Miranda.
Miranda is a Canadian-made 32' Glendale Royal Classic class C motorhome. When travelling, she tows a small hatchback. Crothers finds this a great combination as she can have her own little apartment that can park anywhere, and a vehicle to then explore with.
"Sometimes I'm in tourist mode, sometimes I'm in work mode," said Crothers. "The only constant that people have to understand is that RVing is my real life, not a perpetual vacation. It is open to the same (whims) of fate as any other lifestyle."
The longer Crothers lives the full-time RV life, the more she realizes that she'll never go back to a more conventional one. She was first intrigued by the lifestyle when she read a blog by a couple who lived full time in a converted bus. The idea stayed with her until a vacation where she quickly grew tired of motels and restaurants.
"(I thought), surely there were other options than slaving away at a job for 50 weeks of the year to get two weeks of freedom," said Crothers. "RVing would allow me to travel with my cats and for us to have a home, too."
Less than a week after setting off, Crothers had her first holding tank disaster while trying to empty it after a frustrating day. Confirmation that she had the right attitude came when her first reaction was to laugh.
Certainly, RVing full time has its challenges. For someone wishing to live this lifestyle pre-retirement, financial concerns may be the biggest barrier. It took Crothers a little while to realize what skills she could take on the road, and to develop multiple streams of income. She recommends starting out debt-free, living frugally, and remembering that just because you're travelling doesn't mean you're on vacation.
One point that resurfaces repeatedly is the shortage of information for Canadian RVers. Crothers has written an ebook called Full-Time RVing in Canada because she found that a good source was needed. Unfortunately, Canadians often base their RV dreams on an American standard. It is, said Crothers, much more difficult to legally live full time in a home on wheels for Canadians.
Crothers hasn't let any of the standard excuses stop her from living the RV life she's come to love.
"It can be tough not to be able to share the stress with someone, but there is no reason a woman can't do this alone," said Crothers. "I knew nothing about RVing when I started and I can now troubleshoot basic problems."
Crothers likes to keep her destinations fresh, but says she loves B.C. for the diversity in landscapes that it offers.
"I think that for most people, myself included before I travelled in the province, B.C. is either the soggy Vancouver Coast or the Rockies," said Crothers. "But the province has arid desert, lush rainforest and everything in between."
In short, Crothers doesn't have any plans to give up her ability to see the continent from her own living room. She embraces freedom combined with the comforts of sleeping in her own bed with her cats, and cooking in her own kitchen—it looks like Crothers plans to keep Miranda doing what she does best.
You can follow Crothers' lessons and adventures at her blog, Travels with Miranda.