A grand cross-country journey
In 2012 Ronald and Danielle Saumure took a trip of a lifetime, from Ottawa to Alaska.
by Karen Kornelsen —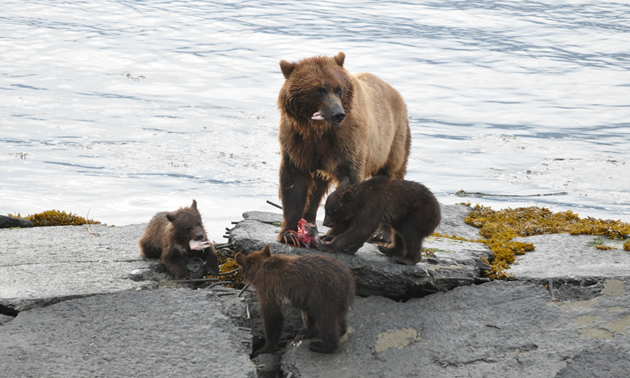 High school sweethearts Ronald and Danielle Saumure have been travelling and camping together since 1974. The couple from Ottawa, Ontario, are now retired and have taken their travelling to a whole new level.
On June 30, 2012, the day after Danielle retired from being a public school teacher for 30 years, the couple took off on an epic trip that took them from Ottawa all the way to Alaska, then south through Yellowstone National Park and back home. The trip took 10 weeks altogether and they did it in their 24-foot Sunseeker with their Toyota Corolla in tow.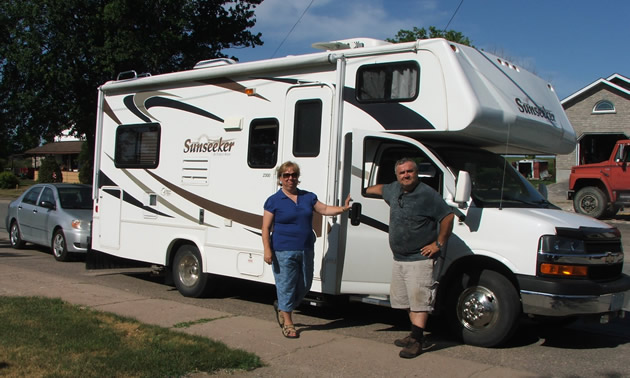 The idea to head to Alaska was born when the couple celebrated their 25th wedding anniversary in 2004. They flew to Vancouver and from there, did a week-long cruise to Alaska.
"Once we saw the scenery, we knew we would be back," said Ronald. "We saw RVs in a few locations and thought, this is the dream."
Ronald knew he was retiring in 2011 from his job as a public servant, so in 2009 the couple bought a new RV knowing they would have it paid off by the time their adventure started. The year before the trip, the couple spent about three months planning in total. The Milepost travel book was an incredible resource for them, as well as other books on camping in B.C. and Alaska. They also used tourist websites and analyzed maps.
Ronald has been camping his whole life.
"I was born in late May and went camping for the first time in July," he said. "We camped all the time. Danielle wasn't a camper before we met in 1974, but that quickly changed. We have two boys and when they were younger, and because Danielle had two months off every summer, we would always go for a trip in a tent or a tent trailer."
The family made trips to B.C. in the west and Newfoundland and Labrador in the east, and in 2008 they bought an old RV for the first time. They upgraded when they decided on Alaska because they wanted the comforts of sleeping in a comfortable bed every night, having a private washroom and being able to cook in their own kitchen. It was also easier to tow the Corolla so that once they arrived in major centres they could get around and explore.
Alaska
On June 30, 2012, the couple set out for Alaska. They knew one stop along the way had to be at the Calgary Stampede. In their rush to see the Calgary Stampede parade they made it from Ottawa to Calgary in five days. As an amateur photographer, Ronald absolutely loved taking in the sights of the cowboys.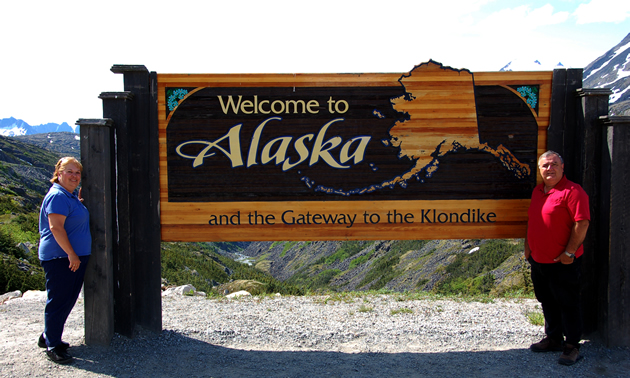 The Saumures then headed through the Rockies and stopped in Banff, Jasper, Lake Louise, Prince George and Chetwynd before heading to Fort Nelson. They took Route 97 up to Dawson Creek, B.C., then headed to Dawson City, Yukon. They knew from day one they wanted to take the Alaska Highway, which links Dawson Creek, B.C., to Fairbanks, Alaska.They also made it to Fort Liard, a small Inuit community in the Northwest Territories.
The couple really enjoyed Dawson City, Yukon. It was a beautiful, and hilarious, experience for them.
"It's an old town with dirt roads and wooden sidewalks and it looks like a Western could still be filmed there at any time," said Ronald. "There is a casino there, the Diamond Tooth Gertie's Gambling Hall. My wife and I don't really gamble, but we heard they had a show on one night and decided to go. We walked in and sat right in front because there was lots of room. As part of the show, the can-can girls selected four men from the crowd to show them how to do it. They made the mistake of choosing me—as I have two left feet and they're not very co-ordinated. I got a lot of laughter from the crowd. Then the other part of the show was to take off the young ladies' garter belts. The first two gentlemen got them off in about 30 seconds. When it came to me—and I had only ever done this once, when I got married to my wife—I told the girl I was going to take my time. I made a big show of it, taking it down and putting it back up and licking her knees. It lasted almost a minute and I got a standing ovation from the crowd."
"It was quite funny," said Danielle. "The next day we had stopped in another campground in Alaska, and some people stopped us and asked if we still had the garter belt. It was so funny to be recognized."
The couple took the Top of the World Highway from Dawson City to Chicken, Alaska.
"It's a gravel road with an incredible view from all sides," said Ronald. "Then when you cross the road into Chicken, Alaska, there is a population sign that says 2, for the one Canadian border guard and the one American border guard. We thought it was quite funny when we heard the reason they call it Chicken. The official bird of Alaska is called a ptarmigan, but because no one could agree on the spelling they ended up calling it Chicken."
The couple spent about three weeks total in Alaska and loved every minute of it.
"We saw animals every day," said Ronald. "We saw grizzly bears, moose, caribou, bald eagles—it was amazing."
Valdez, Alaska, was a highlight for the couple. They took a cruise for a day on a boat and got to see whales and eagles. They also very much enjoyed Homer, Alaska.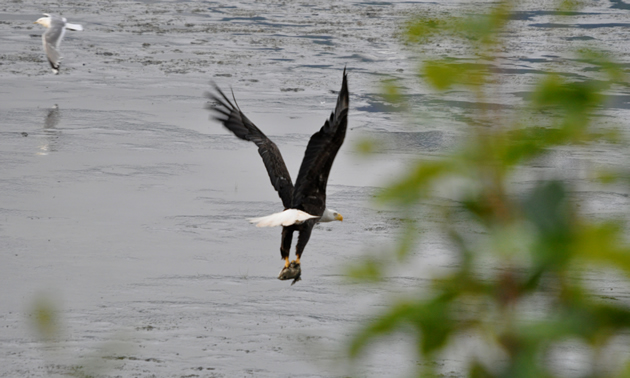 "There is a big spit, a long sandy peninsula that goes out into the bay," said Ronald. "There's lots of fishing here for big halibut. We camped there and it was unbelievable. It was also the most expensive campground, but we'd definitely go back."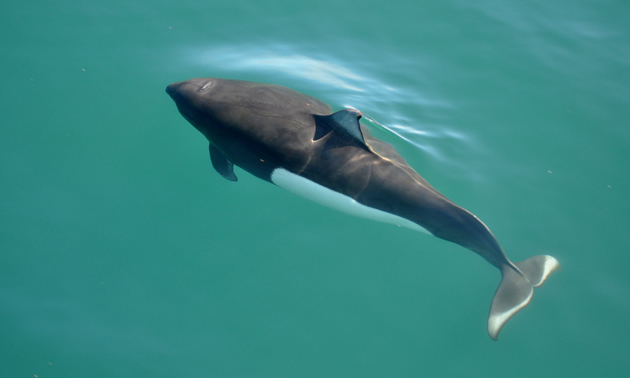 One of their bucket list items was to go to the Arctic Circle. The couple went from Fairbanks on a small bus with a group of people. They left at 6 a.m. and got back at 11 p.m. It was a long trip, but so incredibly worth it to touch the permafrost and see the tundra.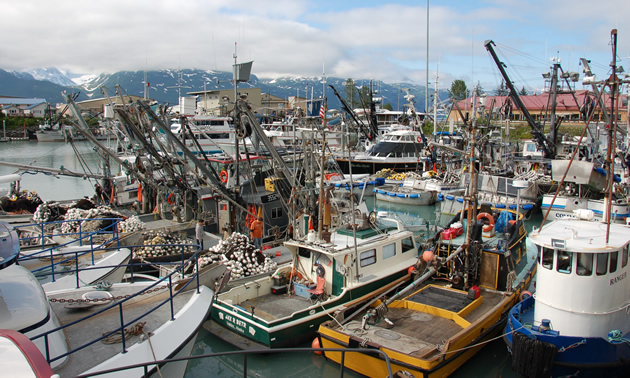 "It was still sunlight when we got back, because the days are so long there," said Ronald. "We don't like the light in the mornings when we're sleeping in the RV, so we actually had to block all the windows so we could at least sleep until 8 a.m. The days are really long."
Yellowstone National Park
The Saumures then took their time and spent about two weeks travelling from Alaska to Yellowstone National Park. They drove through B.C. and stopped in places like Prince Rupert and Penticton. In Penticton, they spent a day tubing down the Penticton River channel, which is a canal about seven kilometres long. From there they entered the U.S. and headed to Yellowstone.
"Seeing the wood bison was a huge highlight for us," said Ronald. "The geysers were also unbelievable, and it was amazing to see Old Faithful erupt. From Yellowstone we also went south to Grand Teton National Park, which was really beautiful. Basically you have a mountain and then large mountains, no foothills, so it's quite incredible that the mountains are right there. We stopped in that area and had a good laugh because we told some people that in French, Grand Teton actually means large boobs. It was named by French Canadians from the Hudson's Bay Company. And they are quite big peaks!"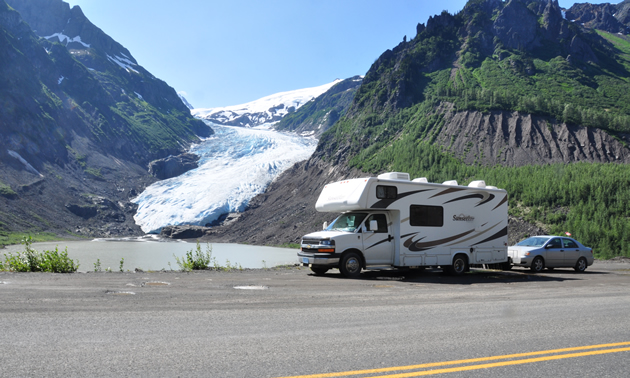 The couple learned a valuable lesson about Yellowstone, and that was to not go on the weekends due to the high volume of tourists. They were glad for Monday to arrive, when traffic is reduced and there's lots of parking available. Ronald and Danielle spent about three days in Yellowstone, two days in Grand Teton, then headed to Mount Rushmore. They also stopped in South Dakota where the Devils Tower National Monument is and where Close Encounters of the Third Kind was filmed. The couple really enjoyed the area before heading back to Ottawa by crossing from the U.S. back into Canada at Sault Ste. Marie.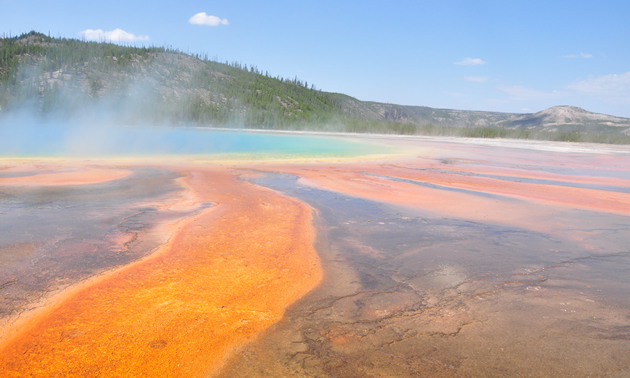 Take your time
Ronald and Danielle's biggest advice to travellers who want to take a similiar journey or a journey of their own is to take your time.There are so many amazing places to see and so many adventures to have, it's important not to rush.
"We really enjoy travelling and also learning from others," said Danielle. "It's about getting ideas from others and sharing your own. You learn a tip from someone and pass it on, whether that's discounts at grocery stores or gas stations or tips on locations to check out, like a beautiful waterfall."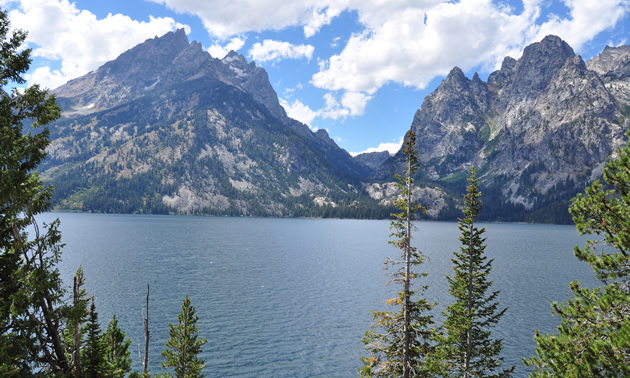 Ronald and Danielle are also bloggers and blogged every single day of their Alaska/Yellowstone trip. They have now converted that blog into a small book so they can show people when they travel.
"We definitely intend to go back to Alaska," said Ronald. "We will do it again. Once we know we're going to be at the end of our travelling days, maybe getting older or our health is getting weaker, we will go back to Alaska. It's nature at its best."
You can check out Ronald and Danielle's blog at: rvingenalaska.blogspot.ca.