Serving up Southern barbecue from a revamped RV
Southern flavour from the Chariot of Smoke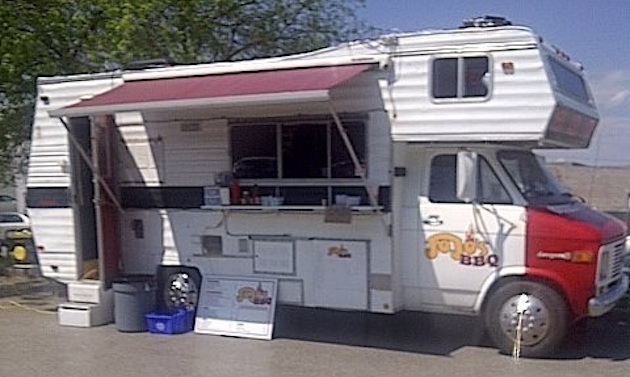 As the owner of a 1975 class C Chevy motorhome converted into a food truck and an RVer in her personal life, Jody Barned offers some interesting food for thought.
A Red Seal chef, Barned worked odd jobs in kitchens before becoming the executive chef at Calgary's Palomino Smokehouse in 2005.
"That's where I got my passion for Southern barbecue," said Barned, who is nicknamed the Barbecue Queen. "They took me on a trip to Tennessee to do research. Part of it is the Southern flavour—and by flavour I don't just mean the flavour of the food, I mean the whole lifestyle of the Southern food," she said.
"You go down South and it's religion; it's not just a lifestyle. Barbecue competition is very fierce. You get these 400-pound tattooed men that cry like babies if their brisket doesn't win the national championship."
Barned opened the Palomino and worked there until 2008. She considered a career change, but discovered that she was meant to be in the food industry.
"It's what I love; it's my passion," she said.
"Financially speaking, to open a brick-and-mortar restaurant was not feasible for me, so I started looking into the food truck trend all over North America. I just happened to find a converted RV in town—it was the only one in town—and bought that and started the food truck."
The MacGyvered motorhome
Most mobile food vendors operate from converted step van-style trucks. Barned's vehicle is a bit more of a challenge. It's an old class C motorhome that has been gutted and rebuilt or "MacGyvered," but she thinks that gives it character.
"It's a fully contained camper with the bed that goes up top," she said. "I had to redo the plumbing, electrical, fire suppression and ventilation. I put in a deep fryer, a smoker, a grill. And where the pull-out couch would normally be, that's my service window. I painted it and put decals with JoJo's logo, so it's a little bit more me and Southern barbecue."
Barned was on the road in her Chariot of Smoke on June 5, 2011—the first true food truck to take to Calgary's climatically challenging streets—serving up specialties smoked "slow and low" on a blend of cherry and hickory wood: melt-in-your-mouth pulled pork shoulder sandwiches, beef brisket, homemade coleslaw, cowboy beans, corn fritters, and a Canadian dish with a southern twist—poutine with pulled pork, beef brisket and bacon gravy.
"When it's been good it's been really good and I'm getting great business" she said. "But when it's bad my water tank is freezing and exploding, like it did this past winter.
"It's the hardest job I ever had, it's the most challenging, but at the same time it's the best job I ever had," she said. "Everybody likes a good challenge, and my truck affords a sort of freedom, which is also huge when it comes to RVing."
RVing for fun
While Barned does not own an RV for recreational use, she said her boyfriend does and that one day she would also like to have her own.
"I love the lifestyle," she said. "I love camping and I love being in the outdoors.
"Cooking on a makeshift grill that I've pulled out of the oven in the RV over a big campfire—the rustic, old-school kind of way—for me, that's the life."
For more information on JoJo's BBQ, visit bbqcalgary.com. To find when and where JoJo's BBQ and all other Calgary-based food trucks will be, visit streetfoodapp.com/calgary.