Plains Bison return to Banff National Park
These majestic creatures are making a come-back, and we couldn't be happier
by Parks Canada —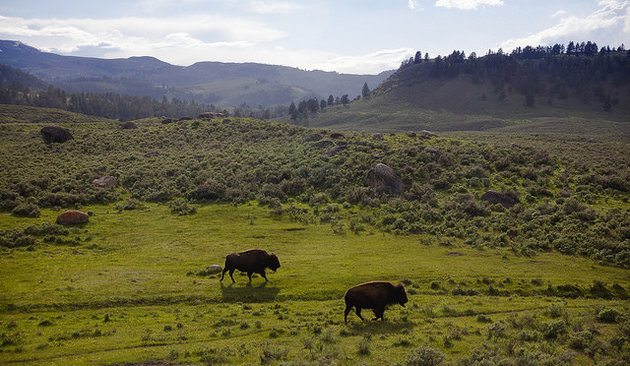 As a world leader in conservation, Parks Canada is committed to the recovery of species such as the plains bison. Parks Canada is pleased to announce that on February 1, 16 bison were successfully translocated to the Panther Valley in Banff National Park. Absent from the Banff wilderness for more than a century, this historic homecoming is an important celebration of the environment and culture of Canada's first national park and a momentous way to celebrate the 150th anniversary of Canada's confederation.
The reintroduction of bison is not only ecologically important, but it has a great spiritual meaning for Indigenous Peoples. It provides a first step of reintroducing bison but also bringing back that connection Indigenous Peoples have with bison and with Banff National Park.
Historically, bison were dominant grazers that helped shape the ecosystems of what is now Banff National Park. The return of bison to Banff will restore a keystone species to the landscape, foster cultural reconnection, inspire discovery, and provide stewardship and learning opportunities. In the long-term, re-establishing a new wild population within its historical range in Banff National Park will provide a key contribution to national and international bison conservation efforts.
For 16 months, the bison will remain in an enclosed pasture in the Panther Valley, closely monitored by Parks Canada. In summer 2018, the herd will be released to explore the full ~1200km2 reintroduction zone in the remote eastern slopes of Banff where they will interact with other native species, forage for food, and fulfill their missing role in the ecosystem.
The bison reintroduction to Banff has been and will continue to be built through collaboration and cooperation with Canadians, stakeholders and Indigenous Peoples.
"Our Government is committed to preserving and expanding our national parks and protected areas and contributing to the recovery of iconic Canadian species," said Catherine McKenna, Minister of Environment and Climate Change. "This is a historic moment and a perfect way to mark Canada's 150. Not only are bison a keystone species and an icon of Canada's history, they are an integral part of the lives of Indigenous Peoples. By returning plains bison to Banff National Park, Parks Canada is taking an important step towards restoring the full diversity of species and natural processes to the park's ecosystems while providing new opportunities for Canadians and visitors to connect with the story of this iconic species."