Fire safety and prevention
Advice from BC Wildfire Management
by Kimberly Schoenberger —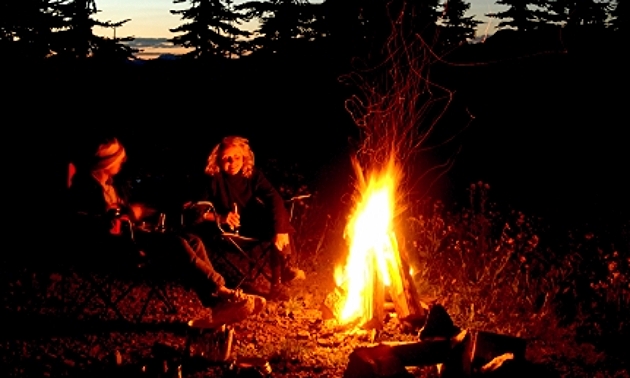 There's no doubt that this summer has been an absolute scorcher, with temperatures hitting above 35 Celsius in many areas of the province and some areas hitting even higher than 40 Celsius. According to Environment Canada, this has meant a record-breaking year, with a number of communities reaching their highest July temperatures since the 1990s. And, to the dismay of B.C.'s Ministry of Forests, it also means that there has been an elevated concern for wildfires across the province.
Control and safety tips
With the heightened risk of uncontrolled fires breaking out, Jordan Turner, a communications officer with BC Wildfire Management Branch, said that everyone needs to be far more cautious and ensure that they are following the campfire prohibition and safety laws.
"The most important thing to remember is to follow our regulations," he said. "And these aren't suggestions, these are something that people need to follow in order to have a campfire. That includes having at least eight litres of water on hand, or a hand tool such as a shovel to make sure that you can properly extinguish a fire."
Turner said that extinguishing fires doesn't just mean putting out the visible flames, but also ensuring that the ashes are cold to the touch prior leaving the area. Not everyone has to stick around, but there must always be at least one person watching the fire.
"You can never leave for any amount of time because it can quickly spark, and could become an issue," he said. "On top of that, of course, make sure that if you're having a campfire you make a fire break around it. So it's always better to do it in some kind of pre-established, engineered fire pit. But if you're doing something outside of that, make sure that there is enough clearance of any forest fuels that it can't spread out of your intended area."
Causes of forest fires
Turner said one of the most common causes of forest fires in B.C. is lighting. But just as many, if not more, fires are the fault of humans.
"We say about half are caused by humans," he said. "That includes industry fires, but also many are caused by carelessness, like cigarettes, cigarette butts, ATVs through long grass. There's a lot of ways. Especially when we get to really hot, dry, dusty conditions like we're seeing right now, it's much easier for a fire to start."
BC Wildfire Management often sends out air patrols and fire wardens to investigate fires in remote areas, though Turner notes that approximately one-third of wildfires are reported by the public.
Preventive measures
"We do a lot of fuel management projects throughout the province to try and mitigate the risk of wildfires to communities," said Turner. "This includes reducing the fuel load in surrounding areas, so that's kind of taking in our crews with chainsaws and with logging equipment to just kind of thin out the forest so that if there is a fire in the future, it won't burn as hot, or as fast, or for as long."
The wildfire branch also runs a set of controlled fires that are helpful to the environment. These so-called prescribed fires serve to both clear out forest fuels that have built up over years of human prevention of natural fires, and to benefit the fire-reliant life in the forest.
"Fire is a natural part of the landscape; it's very good for the ecosystem, for local plant species," said Turner. "So it's a good idea for us to put fire on the landscape and make sure that we're able to renew these fire-dependent species and, on top of that, mitigate any risk of any kind of large fires that would be very difficult to control."
Though the BC Wildfire Management Branch has these efforts and more in place, Turner said that it is also the responsibility of the general public to follow fire regulations.
"We always want people to enjoy their vacations and have a good time," he said, "but the most important thing is to be safe and for the community to be safe."
If you see an unattended campfire or a wildfire, please call into the BC Wildfire Management reporting line at 1-800-663-5555 or *5555 on a cell phone. For more information on fire regulations and prevention, visit www.bcwildfire.ca.