Most loved RV dogs
RVwest heads to the Cranbrook dog show to catch up with RVers and their pets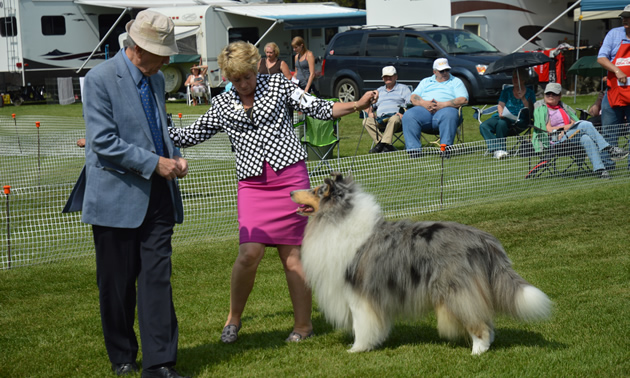 If my chocolate lab could talk, he would probably tell me that he wanted to be a show dog. Why? Because show dogs travel in style! I realized this while attending the Cranbrook and District Kennel Club's 40th Anniversary of Championship Shows and Obedience Trials. The event, which took place at Moir Park in Cranbrook, B.C., from August 23 to 25, 2013, brought in 210 purebred dogs from B.C., Alberta and the U.S. They came in every shape and size—from tiny chihuahuas to giant Newfoundlands—but one trait they all had in common was that they were RV dogs.
RVs have become the transportation of choice for dog fanciers travelling to and from shows, and depending on how many shows they attend, they will put on hundreds, perhaps thousands, of kilometres each year.
Take Bill Niddrie for example. A professional breeder and groomer of Bouvier des Flandres dogs from Calgary, Alberta, Niddrie takes in about 20 shows a year. He said his 36-foot Arctic Fox travel trailer is ideal for him and Cruz, his two-year-old Grand Champion Bouvier.
Advice from the experts
When asked if he had any tips for travelling with pets, Niddrie said it's important to bring medication for treating diarrhea, which can often be caused by a change in the dog's drinking water. He also shared a trade secret with me. He said, "Some people will put a few drops of lemon in their dog's water to prevent diarrhea."
An exercise pen and an expansion lead are other must-have items when travelling with your pet, according to Kathy Davies and Bernie Weisemen. The couple, who are also from Calgary, show and occasionally breed miniature pinschers. They also own a basenji named Phoebe that won third in the Hound Group at the Cranbrook show. Davies likened RVing with dogs to travelling with kids.
"We break every two to three hours to let the dogs out," she said.
RVs have gone to the dogs
Unlike the rest of the RVing population, when dog fanciers are looking to buy a new rig, it is the canine-friendly features that will often seal the deal. That was the case with Marlene Ferguson and Tony Mason from Calgary. When they were upgrading from a motorhome, they decided to buy the new Cyclone by Heartland 3800 Toy Hauler Fifth Wheel—not because they own motorbikes or ATVs but because they have four bulldogs. The built-in garage on this unit and rear ramp door that converts to a sun deck provide them with more living space and a comfortable area to relax with the dogs while they are between classes.
They also appreciate the flexibility of having their own comfy home away from home over having to stay in hotels while travelling to and from shows. Ferguson believes the most important item you can have with you while RVing with dogs is a reliable vehicle.
"You don't want to break down with dogs," she said.
Attending a dog show like the one in Cranbrook can help you find some great ideas for dog travel accessories for your RV. As long as you don't catch them right before they are heading into the show ring, the exhibitors will be more than happy to share tips and advice, as I discovered.
One thing's for certain: dogs love their RVs just as much as their humans do.