Let's hit the road
Why wait until retirement to enjoy the RV lifestyle?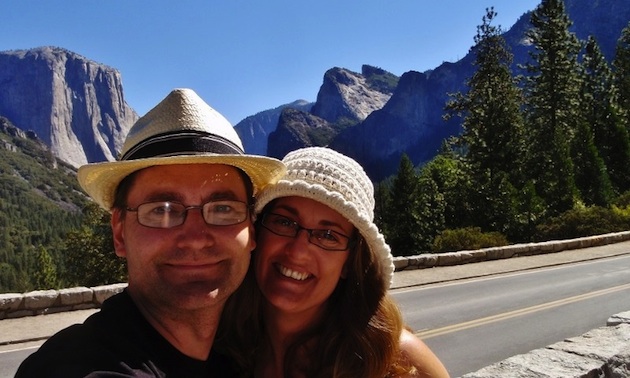 In the spring of 2011, Victoria, B.C.-based Ray Burr and Anne McKinnell had a life-changing decision to make. With a hot real estate market in Victoria, a housing crash on the horizon and dreams of a year-long RV trip, the universe seemed to be pointing the couple in a certain direction.
"It started with me talking about taking a grand trip around North America," said Ray. "When I was seven we took a huge RV trip and I remembered it and had fond memories of camping. I continued camping into my 20s, and when I met Anne we used our small camper van to take short trips around Vancouver Island."
The couples' explorations initially began with week-long excursions and worked up to a month-long trip to California. Having discovered they could indeed live happily together in a small space, they started planning and saving up for The Big One.
"Around the same time we had a friend die of cancer at 60, and my cousin also died of cancer at 54," said Anne. "It was kind of a wake-up call. We decided we should just do it because you can always make more money later rather than saving for a day that may never come."
The adventure begins
The couple sold their house and settled into a 2011 Keystone Cougar fifth wheel that would take them 19,005 kilometres around America's perimeter and through Canada from Ontario east that first year. About three months into the epic journey through 22 states and eight provinces, they decided snowbirding was the only way to go. Coming home for the summer to keep their medical intact and to visit Anne's family on Vancouver Island, the couple worked to save up for the next leg of their journey--a six-month southbound trip along the coast and to the western states.
Over two years, Ray and Anne have followed the sun, gathering memories along the way. Last year they made use of a Thousand Trails membership that earned them low camping rates at some of America's premier camping destinations including San Diego, Palm Springs, Las Vegas, Northern California and Oregon. But most importantly they gathered a hefty repertoire of memorable moments.
"We swam with the manatees in Crystal River, Florida, spent Christmas in the Florida Keys snorkeling and kayaking at Bahia Honda State Park with its blue and turquoise water; watched the sunset looking at Half Dome in Yosemite National Park from high up in Glacier Point," said Ray.
"In the Maritimes and Florida there are amazing birds and wildlife and there is the vast openness of the desert areas. In Sedona, Arizona there is the beautiful red rock landscape. We went to visit Cathedral Rock, and when we arrived a big storm came and it was pouring rain. We waited it out, and when we got out of the car there was a big rainbow over Cathedral Rock."
Wildlife encounters
Ray and Anne have also had their share of wildlife encounters. There was the javelina scare in Big Bend National Park, when the sound of the animals' clicking tusks send them hightailing to the truck for safety, a ladybug infestation in Virginia, donkeys in Black Hills, South Dakota, who stuck their heads in the truck windows begging for treats, and vultures in the Everglades that will eat anything rubber—including your bike seats and the seals off the windows.
"In PEI we were trying to have a barbecue and the mosquitoes were so thick that when we sat down to eat there were hundreds of dead mosquitoes in every one of our hotdogs," said Ray.
Some turmoil turns to fortune, he adds.
"We had a blown tire coming out of Glacier National Park and while we were getting the tire we spent the night at a truck stop in Great Falls, Montana. It was quite funny because after spending the better part of the week trying to see pronghorn antelope in Glacier National Park, we were sitting out back the rig at the truck stop and an entire herd of pronghorn antelope raced by while we were having dinner."
You only live once
To fund their trips, Ray blogs from the road and resurrects his mobile electronics repair business during their summers home. Anne's blossoming career as a writer and photographer helps pay the way and also provides some focus for the couples' next destinations, usually iconic parks like Zion, Joshua Tree, Big Bend, Yosemite, Canyon Lands and others, where she snaps stunning photographs of sunsets, sunrises and out-of-the-way places.
One of the most powerful drivers behind the couples' quest has been inspiration and encouragement from people they've met along the way.
"We found the average age of people in RV parks down south is 65 to 75 and when they heard our stories they were encouraging us to keep going," said Anne. "There were a lot of people who'd saved and had lots of money, but have no physical ability to do the things they'd wished they could have.
"We've also met a lot of people along the way who have said they planned to do something like this, but one got sick or they lost a spouse—it's a good thing we made the decision and are doing it now."
Anne recently received an email from the husband of a woman who is housebound, possibly from illness, and he felt so inspired by the couples' travels that he bought a small RV so they could take the house with them.
Now they have been doing little trips," said Anne. "They said now they have a reason to live."
The adventure continues
During the last trip the couple discovered boondocking--dry camping without hook-ups in often remote areas. These sites are usually free or inexpensive and can be as near to or far from civilization as desired.
"There are killer views, especially in the desert where you can see 20 or 30 miles in every direction," said Ray. "You can get into spots that are miles away from everything and you can imagine how the pioneers felt when they settled the land. And when you look at the night sky and you're that far from civilization it's amazing how dark the sky really is. You can see all of the stars."
One of their favourite U.S. destinations is the Grand Circle Route through Utah, which includes Zion, Bryce, Capitol Reef, Arches, Canyonlands and Grand Canyon national parks.
"This area is chock full of beautiful places," said Ray. "The red rock formations are beautiful and every one is different and interesting."
Closer to home, the couple enjoys Strathcona Park and Cape Scott on Vancouver Island, and Quadra Island, just off the coast of Campbell River.
"Once you are past Campbell River to the north everything is so beautiful," said Anne. "Pachina Bay in Bamfield is gorgeous too. Once you get in there, it's phenomenal."
What the future holds
October 20 of this year they'll be on the road again. Ray and Anne are headed south along the Oregon coast to take in the beaches, stay a while in California—Monterey, Carmel, Santa Cruz—and visit Nevada for a month, where Anne traded photography lessons for some free camping.
"We had no idea Nevada was so beautiful," she said. "Valley of Fire is unbelievably gorgeous."
With years of experience neatly tucked under their belts, Ray and Anne intend to explore some of their favourite destinations more in-depth this time around.
"For us it's the freedom to go whenever and wherever we want," said Ray. "We can explore and see the country, slowly. If we see something interesting we can stop and explore it at our own pace. There is also the anticipation for the day ahead—it's unknown and there is no need to plan. You can go with what the day brings."
To Read more about Ray and Anne, Anne McKinnell and love your RV