Forging nostalgia: The art of crafting a teardrop RV masterpiece from scratch
Jerry Clark's RV vision has come to life—find out what it took to build his latest creation
by Danielle Brost —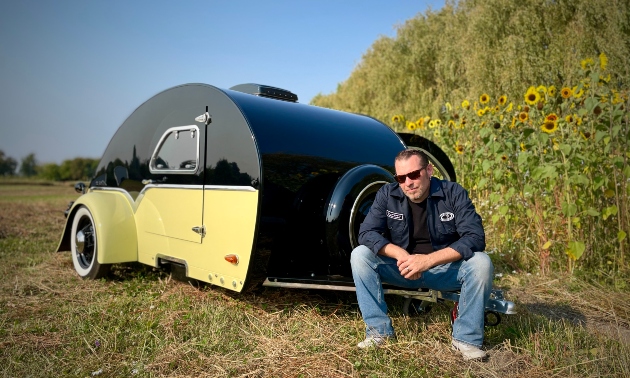 In the world of RV enthusiasts, there are those who appreciate the charm of vintage trailers, with their timeless allure and nostalgia-inducing aesthetics. But what happens when you want that vintage look and feel without the quirks and issues that often accompany older units? Enter Jerry Clark, the visionary creator behind the Outsider, a teardrop RV unit that blends the best of old-school style with modern craftsmanship. We had the privilege of chatting with Clark to get the story behind the Outsider, a project that began in early to mid-2020 and is now nearing completion in September 2023.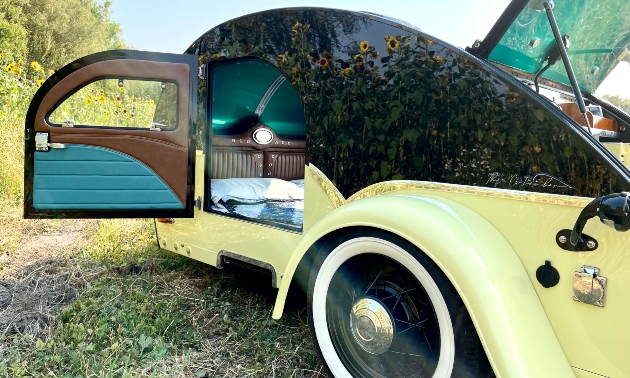 - Photo courtesy Jerry Clark
Aptly named, the Outsider embodies the very spirit of this unconventional project, one that ventured outside the box of conventional RV construction. Clark's goal was to create a teardrop RV that captured the essence of yesteryear's trailers while sidestepping their common pitfalls. Throughout this journey, the Outsider not only evolved into an exceptional piece of craftsmanship but also became a heartfelt tribute to Jerry's mother, who sadly passed away during this time.
In this interview, we delve into Jerry Clark's extraordinary undertaking, exploring the challenges and triumphs of building a teardrop RV unit from scratch.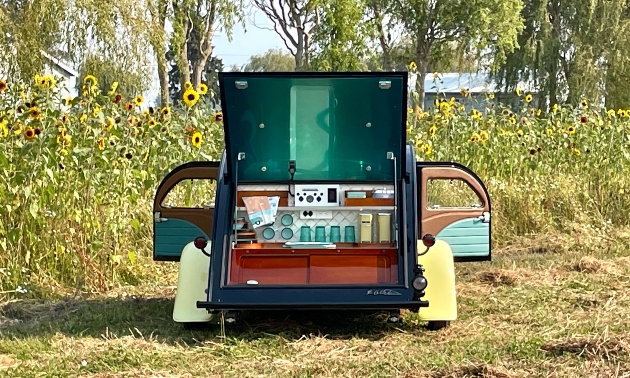 - Photo courtesy Jerry Clark
Can you tell me a bit about what you did with this RV to get it looking so great?
Our trailer was built from scratch from my drawing on paper and an idea of what I wanted to do—a cool vintage look with my own spin on it. We call it the Outsider as we built it for our outside adventures and because it is outside the box. One of our goals was to make camping in our vintage 1967 Volkswagen Kombi bus named "Sonny" that much more fun and easy. The solution to that quest was multi-layered, from design, to components, to execution and of course the time to build it. The end-result looks the way it does from countless hours of planning and hard work.
We started the planning probably in early to mid year 2020 and the build in about November 2020 and I am just now finishing it in September 2023. I have worked 6 to 7 days a week, before work and on the weekends, while most sane people would be sleeping, to get this build done. I didn't want to miss out on too much family time—at least as much as possible. But it has been an incredible journey, as this is a very unique one-of-a-kind build with many things that make it much more complicated that one would think at first glance. This little trailer is built very differently. Despite its vintage look, it is built with modern ideas and materials.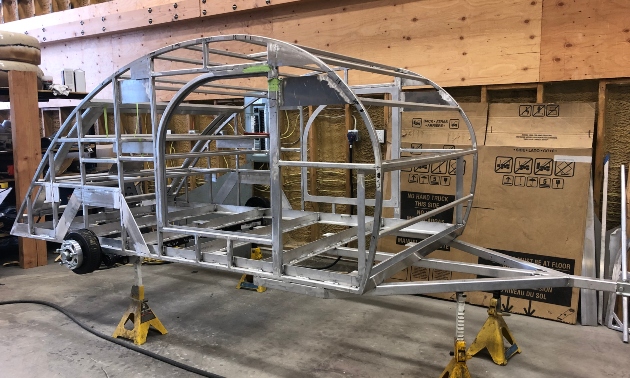 - Photo courtesy Jerry Clark
Here are some specs on the project:
The Outsider is tip-to-tip about 13.5'. The body is about 10' x 5' and plus fenders it sits about 7' wide.
The body is about 4' high. As it is not 100% done yet it has not been officially weighed but with our rough weight it looks to be about 1,350 lbs dry with battery, which, for its specific construction—all it has going on—isn't too bad. This vintage inspired teardrop is completely wood free. I love wood but it can come with maintenance and rot and problems. I have owned a 2009 trailer and I know that water is the biggest enemy to most trailers. So, I wanted to see if I could get the look and feel of an old trailer but without some of the issues they had. I tried to keep water resistance as a huge design part of the build. I tried my best to keep water out—but also, if it did find its way in, how could I make it so it was not as much of an issue? All this while trying to keep it as light as possible, as it's towed with an aircooled vintage bus, (which are not known for their power), but is super cool and amazing for camping. With our daughter growing and getting so big, it was time to add to the fleet and do it with style. So the Outsider is completely wood free. The only wood in it is the little plate holder rack and cubby but they are not actually part of the trailer itself.
The trailer has a full 6061 aluminum alloy skeleton. The skin and cabinetry are all 5052 aluminum alloy with stainless steel countertops. The inner wall panels are ABS plastic covered by upholstery. The trailer is fully insulated—even the frame tubing is filled and a thermal break was made to stop heat transfer through the aluminum and then completely wrapped in mylar before I skinned it. Even the floor and headliner are aluminum. All of this sits on a full 2,500-lb dexter torsion axle with brakes.
You will notice less trim than similar models would have on them. There was a lot of technology used in this build, like impact-resistant structural adhesive—the same stuff they use to hold the front end of cars together—instead of welding, and high strength VHB tape instead of rivets or screws to hold panels and trim on. This created a cleaner looking and a stronger trailer with as little holes as possible for water to get in. I was trying to balance the look I wanted with function and longevity. The side trim is completely hand made as are the windows and doors.
The trailer is finished in a base clear automotive paint to match our VW bus. I used some vintage details like the 30's Ford wire wheels, fenders (fiberglass ones) and bumper and the 1909 Ford head lamp converted into an LED flood/reverse light. The "phaux" spare tire is a neat detail—the hub cap spins off and all of the power shut offs, battery selector and charger and power ports are located inside it, as well as a 125 amp hourVMax battery. This trailer has the potential to have a lot of electricity going through it with power outlets and lights everywhere. It has a 30 amp converter in it as well as being set up to bypass the battery and run off a solar generator . There are even full underbody lights that illuminate it with a beautiful amber glow around the whole trailer for nighttime.
The inside of this trailer is finished more like a car , than a traditional trailer. It is fully upholstered with "door" panels - like in a vintage car. I used a really cool vintage teal vinyl together with a nice saddle coloured vinyl that gives it a warm feel much like wood would have. The panels, the ceiling, the walls and the floor can all be removed for full access to wiring and whatever else you may need to access for repairs or modifications. A lot of time and a lot of work went into figuring out how to do that. The interior also has custom, 12 volt reading lamps, more amber lighting and some custom overhead lights that switch on from either side. The cabinetry inside the trailer is actually a structural element and the sliding door facades are aluminum painted to look like wood. It has a headboard that folds down with storage inside, fold down cup holders and and a cool retro clock to give it the look of a dashboard. The floor is EVA foam to get a teak and holly look like on boats and there is a large fold out luggage shelf that doubles as a table for games or to put a laptop on, charge a cell phone—whatever you need it to do. I went with a Maxx Air fan in the ceiling, as they are efficient and quiet and can be left open in the rain. That last point was a huge plus! The headliner is beautifully aluminum faced with a green and teal and metal flake paint job that sparkles like stars in the sky. I went with a Mallard bedding full, queen size tri-fold mattress that can turn into a couch.

In the galley kitchen, I again wanted to balance a vintage feel with practicality. We actually plan to camp quite a bit in the trailer, so it was important that it was as functional as it is pretty. I designed a custom gutter system with drain holes, so, if water gets past any of the seals on the door, it won't get past the seals. So we did stainless countertops, more painted wood grain sliding door cabinets and little cubbies for the small stuff. Matching wood plate and cup holders.
Again we have a lot of lighting: overhead lights, ambient amber lighting and under counter task lights. We wanted a classy and cool look. We went with all different lighting, including all amber underbody lights. We did this because the colour temperature of amber and red lighting does not draw bugs like white light does. A big win when you're camping! White lights can be a pain when you get ready in the dark and you throw on the lights and here come the bugs! So this setup will be great. The underbody lighting can be used in conjunction with the park/driving lights, but also be turned on separately for a nice ambient glow around the campsite. This is the same with the flood lamp/reverse light. Every cabinet in the trailer lights up amber inside to help you find things in the dark. So, nice not to have to run to get out a flashlight all the time. We chose a cool white and brass backsplash for the kitchen and found some absolutely beautiful robin's egg blue, farmhouse style enamel dishes. We love them and they should last forever and a day.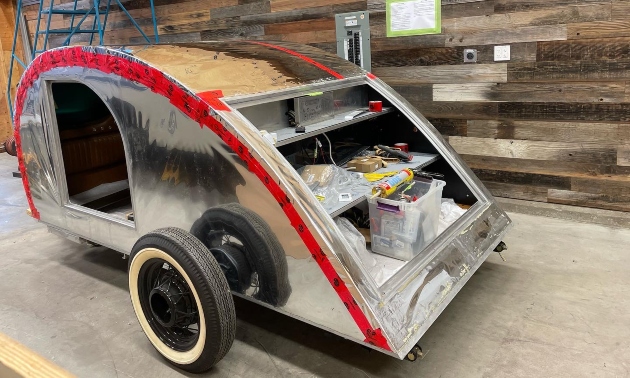 - Photo courtesy Jerry Clark
Is this the first RV you have designed?
Yes. I'm a car guy. I have built cars and many other things my whole life. Definitely a custom guy that likes to create and do things differently but this is my first trailer build. I have owned and worked on a few and that's why I built mine differently. I spent a lot of time and money to create this and I wanted to see if I could create a bit of a timeless feel, but that could last through generations and have minimal amount of maintenance. Something that could just be cool and fun and to get you outside. I hate waste and I have seen many trailers as young as one year old, rotten and falling apart—this is not acceptable. Newer doesn't equal better; better equals better. This trailer wasn't cheap to build but, if you build it right, it will last and it will need less work and bring you more joy—more time to get outside enjoying the best things in life with the people you love.
- Photo courtesy Jerry Clark
What inspired you to take on this project?
With my parents, we always camped, and then with my wife—we adopted that same camping lifestyle. For a while, we had a traditional trailer and leased a spot at Cultus Lake in Chilliwack, B.C., but we got tired of seeing the same thing every weekend. So, we purchased and restored our 1967 VW Kombi bus and started camping in that. It's our main source of entertainment all season long. I always thought the old buses were cool, but we absolutely love it! We camp on our own, with friends and with the Volkswagen community. But we are busy people and the easier we can make our camping preparation and setup, the better. Camping is a lot of fun but it can be a lot of work. We have always desired a more "grab'n'go" solution to camp preparation.
What really motivated me to build the trailer now is my daughter. She has always slept in a hammock-style cot above the front seat of the bus, but she is growing like a weed and her feet are now sticking out the window. We could have her sleep in a tent, but if it rains, then we have to go home and try to dry all of her gear out. The trailer is MUCH nicer digs and is a safer place for her to stay alone or bring a friend to. Plus, we figured that, if she's comfortable and having fun, she will want to camp with us longer and, when she leaves the nest one day, my wife and I can hook the trailer up to any vehicle and go wherever we want with ease. And, if Mother Nature keeps turning things upside down like she has been lately, the trailer is a great bug out vehicle, too. It's obviously not an off-roading trailer, but for us that's fine. Our VW bus is a bit too fancy for off-road, as well, so why does the trailer need to be?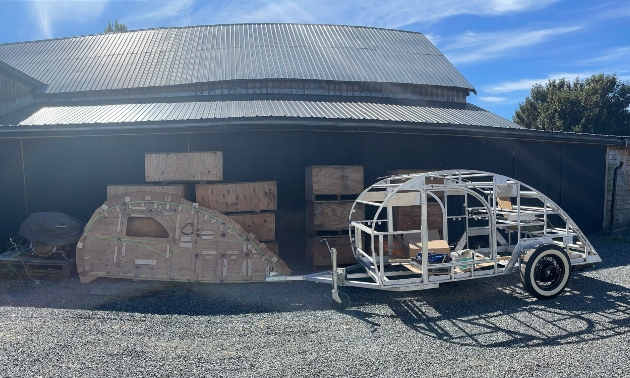 - Photo courtesy Jerry Clark
What other projects do you have on the go right now?
Right now I also have the VW bus apart, as it's getting a bigger motor to pull this little guy.
I actually started a Youtube channel at the beginning of this build, with the intention of letting everyone follow along with our adventures. However, with this basically being a one-man show—only me building, filming and editing the videos—it was hard to keep up and became too overwhelming. Now that I'm nearing the end of this particular project, I plan on getting back into the filming. If anyone is interested in the beginning build videos or the pictures I posted throughout the build, you can find me at #clarkdesignworks, @clarkdesignworks, #theoutsider, #sonnythebus.
Were there any obstacles that came up during the designing/building process? How did you deal with them?
Oh yah! Working with aluminum compared to steel is a big learning curve—a very different animal in so many ways. Also the amount of pre-planning required to build a skeleton that is skinned with aluminum vs. solid walls that have structure in and of themselves. It's hugely different. You can't just put a screw anywhere you want. If there is no tube there, then there's no strength. You need to know where everything is going in advance and really plan ahead. If a company was designing this trailer, they would build many prototypes and revisions to get it just right. But, because mine is a one-off, I didn't have the luxury of fixing something on a future iteration of my design. To get to this point it was a lot of pre-planning and hard work, so that it was right the first time. Planning is everything with so many decisions.
When restoring a car, even in a very custom build, the vehicle is probably still 50% the way it was originally designed to be. So, you have the original blueprint to work from. But, when what you're building doesn't exist and you are not just reproducing someone else's design, but trying to do it differently than everyone else, 100% of the decisions are on you to make. I mean everything. It's a lot to get right the first time. This is not something you can build at home without a lot of tools and research and knowledge. I don't know if I could have even built it entirely at home. Without the tools and support I received from my employer—letting me use the shop and equipment—I don't think this build would have been possible. I'm very grateful for that. I have built some pretty crazy stuff in the past, but this little guy, because of its complexity, was the most challenging thing I have built, hands down. That being said, it's also one-of-a-kind and it turned out pretty amazing. It's been a big accomplishment. I'm very tired, but really looking forward to some more amazing adventures in our new toy for years to come.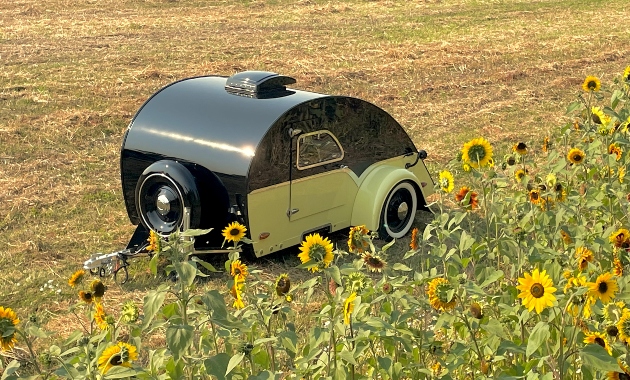 - Photo courtesy Jerry Clark
Do you have any tips for those who want to give their RV a makeover?
Don't just follow what has been done in the past. Ask yourself why you are not satisfied with those RVs and how you can make yours better. Look at the problems that come up in other RVs and use today's knowledge and materials to build better—less maintenance and less waste. Maybe some guys like to constantly be working on their RVs, but I prefer to build it right the first time and then sit back and enjoy myself. Would I do some things a bit different? Of course, nothing is perfect, but overall I'm pretty pleased with my work and that's the key—build something you can be proud of and enjoy it!
To learn more about Jerry Clark and Clark Design Works, visit the company's Facebook page, Instagram @clarkdesignworks and YouTube channel.