Hiking in the Kootenays
Visitors to the Kootenays are fortunate enough to have a plethora of hiking trails to explore in the vicinity—see paths lined with wildflowers, waterfall canyons and other stunning sights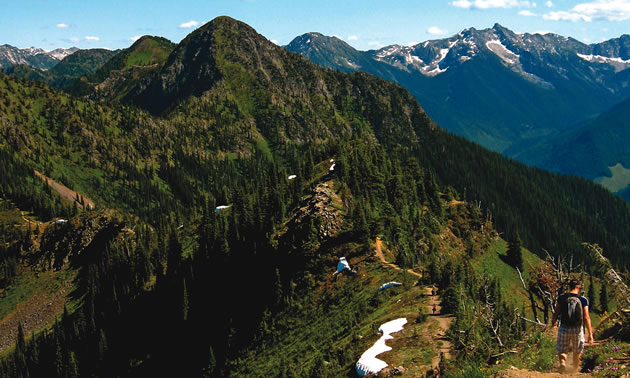 When you first arrive in the Kootenays, you will find yourself surrounded by some of Canada's most exquisite natural settings. But you don't have to view them from afar. Take the family on some of the exhilarating local hiking trails—there are plenty of easy routes that can be enjoyed by folks of all ages.
Alpine meadows awash with wildflowers
Renowned as one of the most accessible locations to view alpine wildflowers, Idaho Peak trail and lookout in the Slocan Valley is a favourite spot for Kootenay residents and visitors. The flowers bloom vigorously through July and August, and it's a mere 1.5-kilometre hike to the lookout point. The drive to access this trail is a little tricky, but shuttle services can often be arranged in nearby Sandon or New Denver.
"(It is a) beautiful hike in midsummer when the alpine meadows are in full bloom," said Keely Grunerud of the Nelson & District Chamber of Commerce. "It has fabulous views of the Valhallas, Slocan Lake and the Kokanee Range."
The city of Nelson also has several trails near by that are well suited to family outings. Pulpit Rock is an easy yet eye-catching trail that goes for just under a kilometre.
"It leads to a fabulous view of Nelson and (Kootenay) Lake from the top of the trail," said Grunerud.
A gentle lakeside stroll can also be enjoyed at Kokanee Glacier Park, which is accessible from Highway 3A , 19 kilometres north of Nelson. Try out the Gibson Lake loop here, or other backcountry routes.
Forest groves and waterfall canyons
If you are travelling in the Kaslo area, you should also check out the Kaslo River Trail—a five-kilometre stroll that begins and ends at the south end of 5th Street (Railroad Avenue).
"This well-groomed trail follows the north side of Kaslo River through a forested valley," said Grunerud. "It features interpretative stations, rest areas (benches) and a charming red footbridge."
Fairmont Hot Springs is another place with a selection of family hikes. Maps for these well-marked, colour-coded trails can be obtained at BC Rockies Base Camp, which is located in Fairmont Hot Springs Resort. One of the easiest and most impressive choices is the Waterfall Trail, accessed directly from the resort's RV park.
Stroll along rivers and wetlands
Golden is also a hot spot for hikers. Consider taking an excursion to Thompson Falls, Blaeberry River Trail or Wapta Falls. The in-town trails that are managed by the Golden Rotary Club and take hikers along the Kicking Horse River are another attractive option.
"We have Rotary trails all around town, which are nice and easy for families," said Rachel Wilde, administrator for Tourism Golden.
If birdwatching and hiking on the wetlands is more your style, Cranbrook and Creston are two must-visit communities. Cranbrook's Elizabeth Lake Sanctuary and the Creston Valley Wildlife Management Area are both optimal places to teach the kids about local bird and other wildlife species, snap a few photos or stop for a picnic.