Kananaskis Country-Calgary's backyard
Michelle Carr continues a family tradition by taking her children on camping trips to Kananaskis Country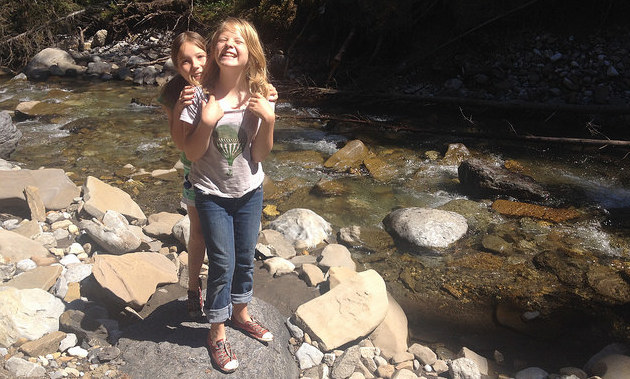 Less than one hour west of Calgary, Alberta, at the base of the majestic Rocky Mountains, Kananaskis Country's 4,000-plus acres are home to 50 provincial parks and recreation areas. Getting back to nature couldn't be more convenient!
At least once every summer, I pack up the kids, hook up my 21-foot Vanguard travel trailer and head west to K-Country. I've been doing this since the early 1980s when I was the kid being packed up!
With over two-dozen campgrounds to choose from, it really does take a lifetime to experience them all. While some cater to those with tents and backpacks, many offer serviced sites and are perfect for RVs.
One of our family's favourite camping spots is Boulton Creek, located in Peter Lougheed Provincial Park. The campground has 118 sites, 35 of which are serviced. Kananaskis is a very popular destination in the summer months; reservations can be made at www.reserve.albertaparks.ca
Things to Do:
Hiking
One of the things we love most about camping in Kananaskis is the extensive and well-maintained system of paths and trails that are found in most every campground. The Boulton Creek Trail has always been our go-to hike. It is an absolutely gorgeous three-kilometre hike that winds along the creek. There are interpretive markers to guide and educate along the way. A log cabin dating from the 1930s is one of the highlights. A camera and bear bells are a must.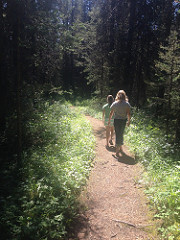 Yes, it is bear country! Wildlife abounds in Kananaskis, and it is the rare visitor who leaves without spotting something. Many people do see bears. It is a good idea to familiarize oneself with bear etiquette before heading out. You can find plenty of "bear-smart" tips on the Alberta Parks website at www.albertaparks.ca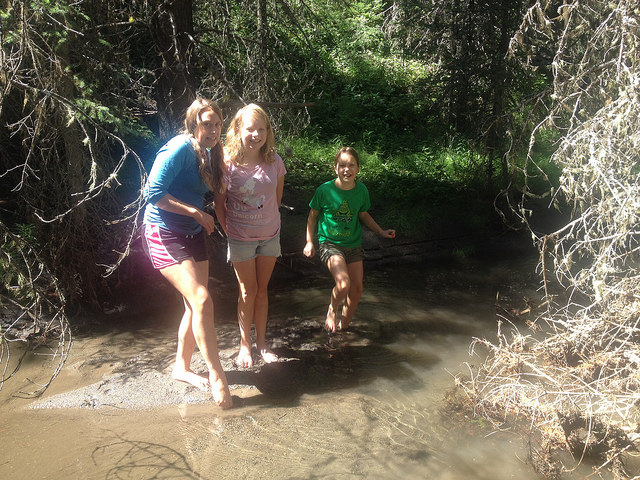 Entertainment
Interpretive programs run almost daily in the summer months, at the amphitheatre in the nearby Elkwood campground. Both entertaining and educational, the shows are always a pleasure. We have seen some incredible performances by talented park staff in such classics as, The Good, The Bad and The Ungulates, Sphagnum P.I. and All in the (Woodpecker) Family.
Every summer we participate in Boulton's own Bear Aware program. This involves a scavenger hunt for signs of a bear in the area, and a relay race in which participants dress up in either grizzly or black bear costumes. It's important to know which is which if you happen to encounter one!
Recreation
Bikes, kayaks, canoes and inline skates can be rented for reasonable rates at Boulton Creek Rentals, located at the campground's entrance. Don't be afraid to ask the staff where to go and what to do—they are area experts. Helmets, knee and elbow pads and PFDs are included with all rentals.
Fishing enthusiasts will find great fishing just a short drive away at both Upper and Lower Kananaskis lakes. The lakes can be fished for bull, cutthroat and rainbow trout. Visit www.albertafishingguide.com for regulations and restrictions.
There's no better way to end, or even start, the day's adventures than with a double scoop of delicious ice cream from the Boulton Creek Trading Post. Located next to Boulton Creek Rentals, the shop also sells firewood and a small selection of grocery and camping items.
Boulton Creek is just one of many incredible campgrounds in the area. Take some time while you are there to explore other parks and recreation areas. The roads are well marked and maintained. Maps of K-Country are available online or at the visitor centres.
A must-do for lovers of nature, Kananaskis Country is the perfect place to get away from it all, without leaving the comforts of the city too far behind.