Imagine a guaranteed home on the Shuswap!
Experience the beauty of the Shuswap all summer-long with a private RV lot, nestled on the shores of Shuswap Lake.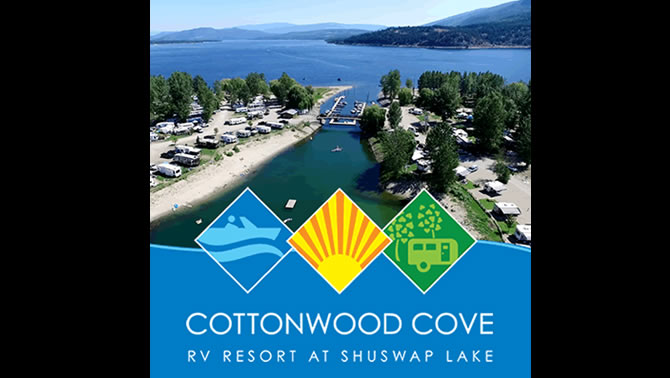 Cottonwood Cove RV Resort is a lakeside paradise named after its secluded cove and countless cottonwoods that dot the Shuswap Lake shoreline. If you haven't seen the resort since last summer, you are in for a pleasant surprise. The new owners of Cottonwood have given the resort a full makeover with additional amenities to make this truly a sought-after RV destination.
For years this destination has served as a popular campground and RV park for travellers, but now it's home to owners who want more—a guaranteed place in paradise for generations to come. As of December 2015, Cottonwood Cove announced the sale of a limited release of RV lots starting from $79,900, an achievable alternative to lakefront summer property with access to an astounding 3,445 feet of waterfront; 1,474 feet of beach; mature landscaping and flat topography. These features, along with the southeasterly orientation in a prime location, an on-site marina with 40+ boat slips, boat valet and double-ramped boat launch, plus the secluded cove opening up to Shuswap Lake combine to make this an extraordinary RV holiday destination.
Under new ownership, the updating at the resort has been exhaustive with the addition of a 1,500-square-foot covered community pavilion; rental shop with kayaks, canoes and standup paddleboards; upgraded launching areas; clubhouse; store and coffee shop; brand new laundry facilities; public showers and restrooms. And still to come in summer of 2016 are a private heated pool and hot tub.
Imagine, just 10 minutes off the Trans Canada Highway, Cottonwood Cove RV Resort may be easy to access but its nestled location next to Roderick Haig-Brown Provincial Park and the famous Adams River—known for its salmon run—keeps it feeling remote.
If you've ever witnessed the beauty of the Shuswap and dreamed of a place to call your own, this is your opportunity. The affordable cost of a recreational home and moorage makes it a very desirable place to invest. Limited-time offerings for attractive financing packages and early-buyer incentives make the deal that much more enticing.
Explore the new Cottonwood Cove RV Resort online today. Rental sites are available from May through October. Reserve your campsite early to avoid disappointment and experience life at the Cove for yourself.
Visit the website for more details: www.cottonwoodcoveresort.ca
For ownership inquiries, contact [email protected]
For bookings or general inquiries, contact [email protected]