Geocaching: the ultimate treasure hunt
Consider adding geocaching to your vacations
by Kelly Boreson —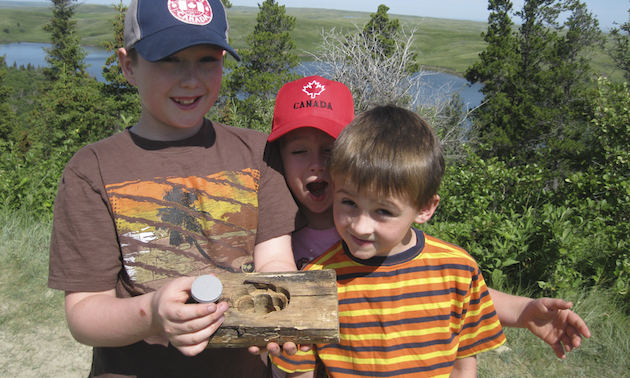 At first I was skeptical that geocaching would be enjoyable, because I use my GPS regularly for work and saw the device as only a tool to get my job done rather than as something fun. However, my skepticism evaporated after I taught my brother how to use his GPS unit so he could geocache with his kids. Over 10 days we ended up having the best geocaching vacation exploring Medicine Hat and Cypress Hills Interprovincial Park in southeastern Alberta.
There is no activity that combines outdoor physical activity, creative problem solving, strategy, math and science in a fun and exciting way better than geocaching.
Geocaching is the ultimate outdoor treasure hunt that can be done in urban settings, local parks or in more traditional forested areas. Using a handheld GPS unit or a GPS-enabled smartphone with downloaded app, hunters follow GPS co-ordinates and sometimes other clues to find a hidden treasure known as a geocache.
There are a few simple guidelines to geocaching
Look where you are going. Having your head down constantly staring at your GPS unit can only be hazardous. Wear appropriate clothing for the weather and footwear for terrain.
Bring a first aid kit, and enough water and snacks for your adventure.
Find caches within the age, fitness and mobility levels of your entire group.
Some sticklers do not like to let muggles (non-geocachers) know that you are searching for a cache, so the goal is to be as quiet as possible. That was darn near impossible with four excited kids hooting and hollering.
GPS units are not as accurate as the army ones you see in the movies and can be out by anywhere from five to 20 metres from the zero-metre mark, so take your time and have fun looking for potential hiding spots.
Log your find into your smartphone app or online to keep track and share your experiences.
If you take something from the cache, replace it with something of equal value.
Observe the principle What You Carry In, You Carry Out. This means no littering.
Above all, have fun.
How to tailor your treasure hunt
Using the geocaching website, you can plan your hike, walk or camping vacation around geocaches and their locations. Each cache has a name, number, cache size, and difficulty and terrain rating.
To make for a positive geocaching experience, my brother and I picked easy terrain and difficulty levels, but varied the cache size—so that all kids ages four to nine could enjoy the experience. Each kid was well prepared with a notebook, pencil, treasures to trade and their own backpack. To minimize arguments over whose turn it was to hold the GPS unit, we used the rock-paper-scissors method.
Mixing in other fun stuff
Our vacation didn't consist only of geocaching, but we incorporated a little bit of treasure hunting each day. In Medicine Hat, our favourite activities included touring the Medalta Museum, where the kids loved exploring all the equipment that was used in the pottery factory. We loved biking the paved trails of the Heritage Trail System. We picnicked, rolled down the grassy slopes and climbed the train and tank at Riverside Veterans' Memorial Park. We loved spending lots of time at the awesome playground, water park and trails in Strathcona Island Park. We even saw a couple of deer when trying to find a cache.
After we became geocaching savvy in Medicine Hat, we tried our newfound skills at Cypress Hills Interprovincial Park. We had a great time camping and exploring the park. We played on the beach, kayaked and hiked the trails in search of treasure. If you would like to try geocaching but don't know where to start, the park staff hold a Learn to Geocache program two times a week during summer months. The popular hour-and-a-half session provides all the equipment and training to get you geocaching quickly. For do-it-yourself types, the visitor centre rents out GPS units for $15 per day.