Farming and camping led to a memorable experience for this couple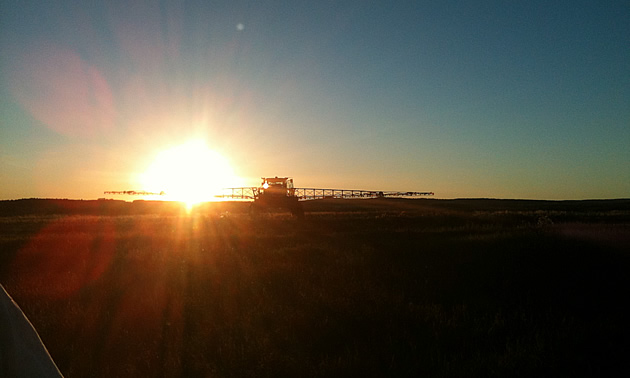 After tying the knot in July 2010, we went farming in the west central region of Alberta with Monte's brother and sister-in-law. They live in Niton Junction, which is about an hour and a half west of Edmonton. For the first couple of months we camped in their yard, but in September Monte got the opportunity to operate a high-clearance sprayer and travel to farms throughout the region. I decided to follow him with our truck and travel trailer so we could camp along the way.
It was a beautiful time of year for camping. The scenery consisted of thick boreal forest, rolling hills and rich, fertile fields. Cows are in abundant supply here, as are crops of hay, canola and barley. Just before the harvest begins, the fields are gold and white and the leaves on the trees turn vibrant red, yellow and orange.
Our first job was for some farmers who live near Mayerthorpe. This small town thrives on the agriculture industry and there are several large cattle farms as well as pig, horse and sheep farms around the community. During our stay, the farmers who we were working for allowed us to camp on their property and each night we could hear coyotes yipping and cows bawling in the field nearby. We also saw white-tailed deer and a cow moose and her calf wander through our campsite.
On my way in to Mayerthorpe one day, I noticed a sign for the Fallen Four Memorial Park and this prompted me to take a closer look. The park is dedicated to four Royal Canadian Mounted Police officers who were slain on March 3, 2005, while conducting an investigation on a nearby farm. It features four life-sized bronze statures depicting the officers as well as picnic tables, walking paths and a gazebo in which visitors can enjoy views of the prairie landscape.
After a few days in Mayerthorpe, we packed up and headed to our next destination: Wildwood. We met the farmer whose fields Monte would be spraying and he directed us to a campground at Chip Lake Park. The campground was quiet and there were plenty of excellent sites to choose from; we picked one that was closest to the water. Chip Lake is a large, shallow lake and a bird watcher's paradise. Our Labrador Retriever Bo enjoyed many hours staring at the ducks and geese splashing in the water. Visitors to the lake can also go fishing; there is a boat launch at the campground as well as day use and group areas, a playground and a gazebo. The campground was well-maintained and had a large supply of firewood.
About 10 kilometres from Chip Lake is the community of Wildwood. It is located directly off Yellowhead Highway 16 and has a small grocery store, restaurants and a saloon. In June, Wildwood hosts a professional rodeo called Wildwood Bronc Bustin'. Held at the agricultural grounds, this event features saddle bronc, steer riding and sheep riding competitions as well as a wild pony race, free camping, beer gardens and concessions. We attended this event earlier in the year with Monte's brother and sister-in-law and their three young boys and everyone had a great time.
After Monte finished the job in Wildwood, we traveled to Drayton Valley in Brazeau County. We checked in at the Pih-To-Kwe Campground north of town. It was an excellent campground with fully serviced sites, clean shower facilities and friendly hosts.
Our stay in Drayton Valley was supposed to last for two days, but the second day we were there it started to rain. The sprayer cannot operate in the rain, so we took some time to explore the town of Drayton. We met some nice people there and enjoyed a few walks with our dogs along the North Saskatchewan River, which is about eight kilometres outside of city limits. A couple of days later the weather cleared up and Monte was able to finish the job.
Next we went to Onoway, which is about an hour northwest of Edmonton in Lac Ste. Anne County. Here we had a rather unusual campsite. We arrived late in the evening at the farmer's place, so he told us we could park our travel trailer between the stacks of hay in his barnyard. The ground was very uneven in this spot, so our sense of humour came into play as we had to hike uphill to reach the kitchen and descend to get to the bedroom in our trailer. We appreciated that the farmer let us stay at his place, though.
Two days later we drove back to Yellowhead County and went to the campground at Beta Lake. The lake is 15 kilometres north of Highway 16 and right off Highway 751. There are only a handful of campsites here, but since it was late in the season we were the only ones there. Monte had finished his last spraying job, so we spent a couple of days at Beta Lake enjoying its peaceful surroundings and reflecting on our trip.
We were pleased that we got to see new areas of Alberta and enjoy many spectacular sunsets. Living in an RV also brought us closer as a new couple; we learned how to share space and enjoy the simple pleasures in life, such as having a glass of wine and cooking around a campfire.