Embracing the lifestyle
Every day brings a sense of adventure and a deeper relationship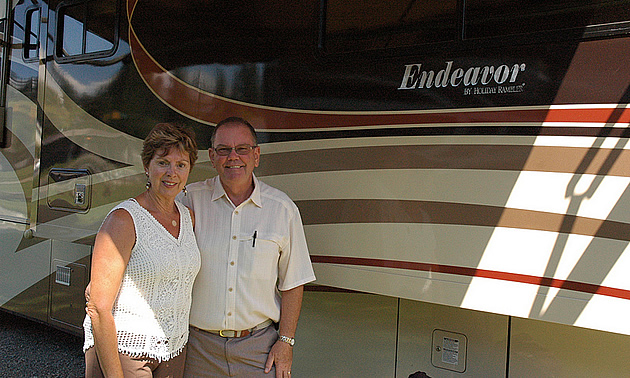 Forty-one years ago, Dr. Robert Sheffield established a medical practice and a home in Cranbrook, British Columbia, with his wife, Irene—and this is where they raised their children. Four years ago, however, the couple made some radical changes.
The Sheffields put Bob's share in a local medical clinic up for sale and—to the surprise of their family and friends—they sold their 3,800-square-foot house and moved into a 40-foot motorhome. Irene said that for them, the transition to motorhome living was easy—though she'd still enjoy an occasional soak in a full-sized bathtub—and she gets excited every time they prepare to move on.
"I love being on the road, it feels free," Irene said. "Right from the start, I just loved the motorhome. I have so much room, I can even do my quilting in here."
The essentials
With regard to scaling back on possessions, Irene laughed.
"Supposedly when you buy something, something else has to go," she said. "(That) doesn't always happen. I own many pairs of shoes and I have found places for all of them!"
From what she's observed though, Irene said full-time RV living is not for everyone.
"You have to like being outdoors, and you and your partner have to be good friends," she said. "We're fortunate in our relationship—Bob and I don't get tired of spending time together. (And) you need a spirit of adventure. You can't be too nervous about what lies ahead—you just have to go for it, and be ready to laugh."
For several months each year, the Sheffields live at Mount Baker RV Park in downtown Cranbrook, and Bob does medical locums while his colleagues take vacation time. In the late summer and early autumn, they visit their two children and seven grandchildren in Smithers and Chilliwack, B.C. The motorhome has made it easy for Bob and Irene to spend time with their extended family without being underfoot.
"We get to do some really meaningful things with our grandchildren," said Irene. "We'd like to think we're sharing that spirit of adventure."
Better than a vacation
At the end of October each year, the couple typically head for Indio, California, where they own a lot in an RV community. Volleyball, cycling, golf, pickleball and friendships keep them active, fit and enjoying life. Bob fell in love with Indio during a visit with Irene's snowbirding parents there many years ago, and that was when he first got the idea that he might like the motorhome-based lifestyle.
"Living this lifestyle is not the same as being on vacation," Bob said. "We're still involved in all sorts of things in our community—we volunteer in the park and have our own little church community. Actually, many of our friends from Cranbrook spend winters in Indio."
A little side trip
This year the Sheffields' routine will change. On July 21 they headed east to meet up with friends—who also have a motorhome—in Ottawa, to begin their first extended trip. They plan to be on the road for seven or eight months.
"We'll spend September in PEI (Prince Edward Island), Nova Scotia and New Brunswick," said Irene. "We'll go down to New York City and Washington, D.C., spend December in Florida, then work our way across the U.S. We'll go to New Orleans for Mardi Gras in February and then drive back up to Indio."
Recognizing what's important
Irene said that RV living has helped them to see what they really need and what things they can actually do without.
"Paring away that stuff gives you a real sense of freedom," she said. "We've learned the value of our friendships. It's friends who keep you going—they're your support network."
"We've also learned to communicate better," Bob said with a smile, "and to negotiate."