Route 66 lends its name to an extensive network of reliable RV service providers
Commitment to customer service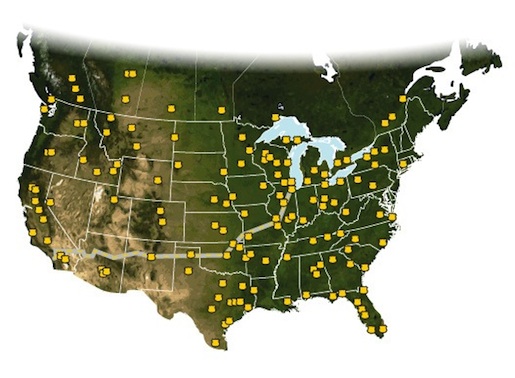 Route 66 may no longer wind all the way "from Chicago to L.A., more than two thousand miles all the way," but an expanding RV service network and discount club is working to ensure that RVers are still able to get their kicks at historic stops as well as other roads in the U.S. and Canada.
Founded in 2003, the Route 66 RV Network has grown to be the largest network of independent, full-service RV dealers in North America, with nearly 150 dealers proudly promising RVers that, "wherever the road takes you. . . you can count on us."
"We do have 12 stores that are on the old parts of Route 66—a lot of the old private gas stations and barber shops—but it's not used much anymore because everybody's using the interstates," said co-founder and partner Dave Francis. "We're called Route 66 RV Network, but whether you're travelling the pieces of Route 66 that are left or the Trans-Canada Highway, our goal as a dealer network is to maximize the fun and enjoyment of the RV experience."
A network on the road
"There are a lot of frustrations that can come with having a house on wheels," said Francis. "You can find yourself stranded in a location on a vacation and you're thinking, 'Well shoot, this isn't where I wanted to be. I wanted to be on the coast or I wanted to be in the mountains, and now I'm sitting on a block waiting for someone to take care of my problem.' Our network has been designed to help eliminate that frustration that RVers can run into, because there are many dealers that don't take care of just any customer that drives in."
For the growing network, said Francis, commitment to customer service is what it's all about.
"We've grown from five dealers in seven locations to approximately 11 dealers in 16 locations," he said. "The network has grown by word-of-mouth. It's all been by one dealer knowing another dealer, and quality tends to beget quality. It's been totally by referral."
Route 66 with a Canadian twist
In addition to growing rather rapidly throughout the U.S., Francis said the network expanded into Canada last year.
"There's a lot of migration between Canada and the U.S. in RVing," said Francis. "If we're going to make a promise that wherever the road takes you, you can count on us, you have to look at a map with a lot of dots on it.
"I was introduced to Ken Friedenberg of Arrkann Trailer & RV Centre in Edmonton four years ago in a big show down here in Louisville that a lot of dealers from all over North America go to," he said. "Then at the end of 2012 when the economy came back around I still had Ken's number, plus there was another person that we had heard about, Sylvia Thistle-Miller over at Triangle RV Centre in Sidney, B.C. They took the lead in helping to identify quality dealers in Canada.
"Now we have lots of points along the Trans-Canada Highway, which is very helpful to our RVers."
For the future, Francis said the network will be focusing on increasing its footprint all throughout North America, where the varied landscape is unparalleled, he said.
"The whole Route 66 idea is the idea of adventure and travel and excitement," he said. "Our network builds around the idea of Route 66 and travel—we're so much more than a highway."