Can't get enough of Canada
Liz and Anders Treiberg have spent the last five years getting to know the country they call home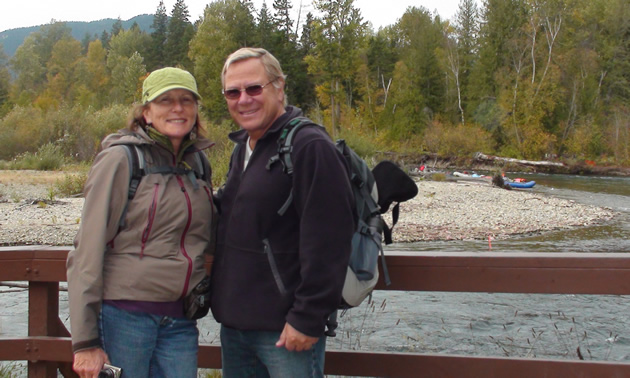 Never mind that Anders Treiberg is originally from Sweden, or that his wife, Liz, moved to Canada from Switzerland. The fact is, they have probably seen more of Canada than just about anyone you know. Although they came over separately in the 1960s and 1970s, they eventually ended up married. Now they're busy living happily ever after, driving off into the sunset, and all that. They keep an informative website appropriately named We Discover Canada, along with an engaging blog of the same title.
After retiring from careers in real estate in 2008, the Treibergs began thinking seriously about purchasing an RV. They had a dream of travelling across Canada, but first came the matter of finding out what sort of unit would work best for them. They started out renting, which is a process they still recommend for those interested in taking up RVing.
"We first rented a small Class C motorhome," said Anders. "It was a unit called Navion and it was about 24 feet long with one slide-out. Powered by a five-cylinder Mercedes motor, it was very good on fuel—a great little unit, probably still my wife's favourite."
Moving forward
The couple ended up purchasing a 2010 Rockwood 3265 fifth wheel trailer, which Liz insists is a compromise between her more modest wishes and Anders' belief that bigger is better. The trailer is 29 feet long with three slides and has some of the specific features that the Treibergs found important, such as a barbecue with hookup and good light throughout. It's also small enough that they don't require any special licence—an important consideration.
In 2011 the Treibergs undertook their bucket-list journey, during which they spent 4½ months travelling across Canada and back. They have been to every province and have found something to love about each and every one. Currently, planning is underway for another trip, this time northward. Since embracing this form of travel, the Treibergs estimate that they spend two or three months RVing each year. In addition to having children and grandchildren at home on the coast of B.C., the couple have family on the Prairies and in Ontario. As they are on the road at least twice a year, they visit frequently.
"Travelling and discovering Canada with our RV gave us the opportunity to meet incredible and varied people," said Anders. "We learned about new places, events, history, cultures, natural wonders and the arts—all from people we met along the way. RVing brings us all together in a casual way. If we travelled in hotels, everybody would make sure their room was locked. RVers have an open-door attitude."
Great outdoor discoveries
The Treibergs particularly enjoy the natural wonders that are so prevalent across Canada. They have been to 26 of the country's national parks, and hope to eventually visit them all. Among their enthusiastic recommendations are the back-road journey and the jaw-dropping beauty of Nimpo Lake in B.C., the landscape and variety of day trips from Cypress Hills Interprovincial Park—which straddles Alberta and Saskatchewan—and Gaspé Peninsula in Quebec.
However, the Treibergs seem to have a special fondness for RVing in the Maritimes. Anders said his absolute favourite destination was the town of Alma in New Brunswick, which is on the Bay of Fundy.
"It is incredible, magnificent, fascinating, captivating, enchanting—one could go on forever trying to describe this natural wonder of the Bay of Fundy," said Anders. "The tides are the highest in the world—each and every day 100 billion tonnes of seawater flows in and out of the Bay of Fundy. During one tide cycle more water flows in and out than the combined flow of the world's freshwater rivers—totally amazing!"
Liz also has a favourite East Coast memory, hers being from Newfoundland and Labrador. Originally the couple had planned to see the icebergs from Twillingate, but they ended up having to drive all the way up to St. Anthony before they were successful. Later they crossed over to Labrador.
"We drove a little north on the Trans-Labrador Highway," said Liz. "It was totally different from any other vista we had experienced throughout all of Canada. It had rocks, snow and small shrubs—real subalpine tundra. We decided to hopefully come back here someday to travel the 550 kilometres to Happy Valley Goose Bay on the gravel road."
All for the best
Along with the many benefits of RVing, there can be challenges, the Treibergs noted. A twister once hit a town they were visiting in New Brunswick. Fortunately, no one was hurt, but their trailer sustained thousands of dollars worth of damage. Keep a positive attitude, they said—stuff does happen, but eventually it all turns into memories.
Having said that, a little preventive planning goes a long way. The Treibergs recommend that you plan ahead and don't rush, become familiar with your unit, and carry a small compressor and tire repair kit. As well, using two-way radios to back into a campsite can save screaming, yelling—and marriages.
Above all, make time for exploration and recreation. Ultimately, Canada can be a thrilling process of discovery.
"Canada is, hands down, the best country in the world," said Anders. "We have such beauty in nature and a freedom of expression most people can only dream of. It's easy to take it for granted. We live in the second largest country in the world, so it would be really hard to experience it all—we have parks that are larger than many countries in the world. We are surrounded by three different oceans, mountains, prairies, and the incredible boreal forest of Canada covers 60 per cent of the country—we just can't get enough of this wonderful nation of ours."