A retirement project leads to full-time RVing with a herd of goats
Conrad and Donna Lindblom travel in a fifth wheel and bring along dozens of goats, two saddle horses and some dogs.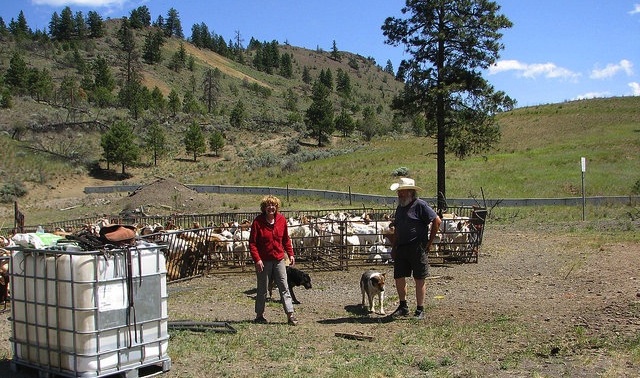 Longtime farmers Conrad and Donna Lindblom of Beaverlodge, Alberta, decided it was time to retire. They handed over the farm to their son to manage and, gathering up a herd of goats and their fifth wheel, headed to the interior of British Columbia.
Hauling around a herd of goats isn't exactly most retirees' idea of relaxing, but the Lindbloms had a goal in mind. They got an invitation from the City of Kamloops to bring their goats and participate in a pilot project using animals for controlling weeds naturally.
Since that time other contracts have led them to Kimberley, Logan Lake, Merritt, Vernon and back to Kamloops, where the goats eat weeds from May to September. Goats really like weeds, but not grass, and once the weeds are gone the grass actually grows better.
"It's just as permanent as chemical sprays," said Conrad. "The next year there will still be weeds, but by the third year it's really under control. The goats digest the weeds 100 per cent, so seeds do not transfer back into the soil."
A typical day for everyone starts around 8:00 in the morning, with the goats grazing for three hours over 10 to 15 acres, depending on the terrain. A nice break lets them chew their cud before heading out again for another three hours, all while being guided along by two people on saddle horses and three herd dogs. The day usually ends around 4:30.
"In the evenings the goats settle down for the night," said Conrad. "Right now we are near Kimberley and parked next to a creek with nice fishing, and it's beautiful. We really have seen some beautiful country and B.C. is such a scenic province."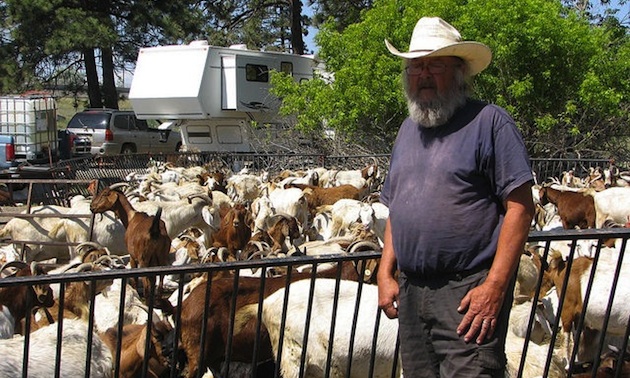 The project also allows the Lindbloms to meet interesting people.
"We meet the most fantastic people," said Conrad, "and most are concerned about the environment."
For example, the pair recently met a man whose family has been in the Kimberley area since the 1800s and who shared some interesting historic stories.
While many snowbirds head south into the United States to the hot, dry climates of Arizona, the Lindbloms spend winters in Kamloops with the goats.
"This is as far south as we've been," Conrad said with a laugh. "We've been living in the RV full time for the past four years, traveling with our goats, but (we) spend the winters here since it's warmer than Beaverlodge."
The Lindbloms say we don't have enough goats in this country and just in British Columbia alone we could use a million.
"We are the only people doing this in Canada at the moment," said Conrad, "although there are a lot of people doing it in the United States. We're currently teaching another couple how to do this and they plan on starting their own herd next summer."
The Lindbloms plan on retiring again when they know someone else can take on the weed control projects. They hope their future includes a well-deserved vacation to Europe. And no, the goats won't be going with them.