Where it all begins
Larry Ortman, sales manager at award-winning Village RV, talks about being in an industry that introduces RVers to their units in the first place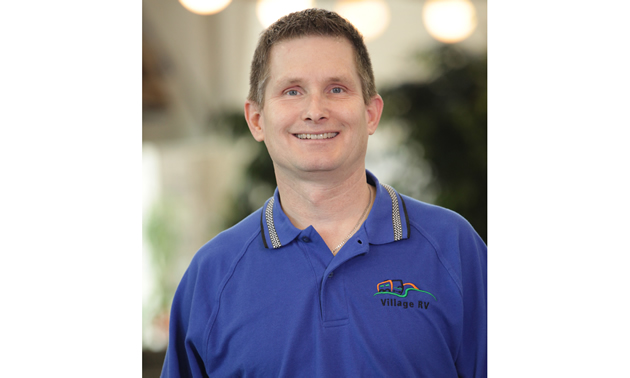 Most RVers have spent time at an RV dealership at one point or another, but since purchasing an RV isn't a frequent occurrence it helps to have someone who can help you with the details. So what makes a great RV sales rep?
"I think first and foremost (a good sales rep is) somebody that shows interest in you as a person and is willing to take the time to find out what your needs are," said Larry Ortman. He's the sales manager at Village RV in Regina, Saskatchewan. The company won platinum for both Favourite RV Dealer (Sales) in Saskatchewan and Favourite RV Repair or Service Centre in RVwest's 2013 Reader's Choice Awards.
"A good salesperson recognizes the importance of individuals that have individual needs, and that their time is important," he said. "That's why we bother to take a few moments to sit down—find out what their needs are. And then we'll show them two or three or four that meet those needs."
After growing up in the business, Ortman has settled into managing the sales side of things. The job suits his personality—he has always enjoyed meeting with individual customers and helping them find the right RV. Every day he works towards the goal of serving customers so well that they'll return and refer friends. It's the most enjoyable part of the job, but also offers the greatest challenge
"I guess (the biggest challenge) is to find a way in a very short period of time, those few minutes when a customer walks through the door, to build rapport with them—to get them to like and trust you so they'll listen to what you have to say as you guide them through the buying process. It really boils down to you, as a salesperson, doing your utmost for that customer and winning them over."
Although the staff at Village RV appreciate the RVing lifestyle, they generally don't get the chance to practise it as often as their customers. Sales reps start their day returning calls, finishing off paperwork and walking the yard to familiarize themselves with any changes. They also allot time for training, and the seasonal nature of the industry means busy summers.
Still, Ortman can honestly get behind the product he's selling.
"The RV lifestyle, as far as I'm concerned, is probably one of the best family activities that anybody could ever get to be involved in," he said. "It's a great way to raise a family. For those that have never experienced it, it's something that I very highly recommend trying—even if it means going with somebody first to get a taste about what it's all about."