Twin Lakes Golf and RV Resort
The South Okanagan has some excellent public golf courses, along with a climate that is conducive to a long golf season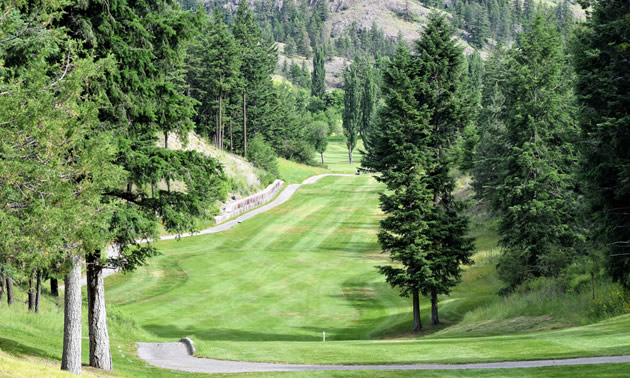 The South Okanagan has some excellent public golf courses, along with a climate that is conducive to a long golf season. Tucked into the Similkameen Okanagan Valley is a golf course most travellers bypass, but that golfers and RVers should be sure to visit. This hidden gem is Twin Lakes Golf Course and RV Resort. It is not often you can stay in a comfortable RV park and have only a chip shot to the first tee. The resort is located 20 kilometres southwest of Penticton along Highway No. 3.
Twin Lakes is situated in a valley that had been used for mining and a cattle ranch, and presently owned by investors from Vancouver. The owner, Rick Shillito of Penticton, first developed the front nine on the lower half in the late 1960s. Fifteen years later, he added the back nine on the upper level. Connecting the two nines is Hole No. 12, a par five, all uphill and 465 yards from the back tees. It is also one of the narrowest holes on any B.C. golf course, being only 50 yards wide at one point. Leave the driver in the bag and go with a seven or six iron for a well-deserved par.
Other than a couple of holes, the course has generous fairways. It is surrounded by fir, ponderosa pines and deciduous trees and bordered by rock outcroppings. The 18-hole, par-72 course is divided into two parts. The entire front nine is on the lower shelf with Hole No. 7 running parallel to the Crowsnest Highway. The back nine starts with the signature hole, hitting down into the valley and onto a well-guarded sloping green. After mastering Hole No. 12, holes No. 13 to 18 are on the upper flat section of the course. Just prior to teeing off, I saw a deer walk onto the first tee - it seemed to be waiting for its turn to play, before wandering down the fairway.
The course ranges from 5,446 yards for ladies to 6,867 yards from the back tees, for those long off the tee. Water only comes into play on three holes, No. 8, No. 11 and No. 16. The course rating is 71.9 (back tees) and the slope is 125, making Twin Lakes a good recreational course for all levels of golfers.
The RV park
Situated just off the parking lot is the RV park. It consists of 39 gravel sites and can handle all styles of RVs, but has only 15/30 amp power. The amenities include showers, laundry facilities, dump station, fire rings and Wi-Fi; the park is pet-friendly. The resort offers Stay and Play packages, saving on green fees. A nice feature of the park is that trailers are available to rent on a weekly basis or to store your RV over the summer months.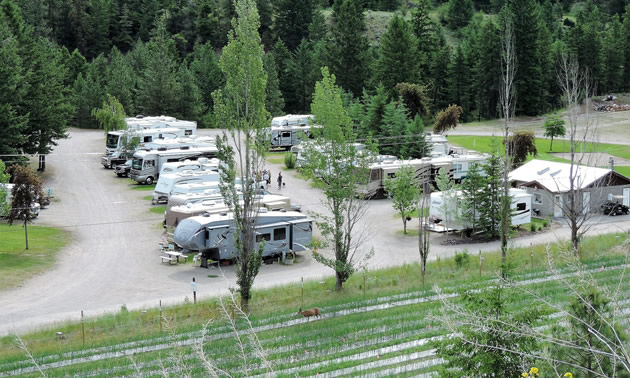 More golf
What grabbed my attention was Ten-Dollar Tuesday. After 12:30 p.m., it cost only $10 to play a round of golf, which is the best deal in the province. The course has a full range of services from a driving range, putting/chipping green, well-stocked pro shop, snack bar and restaurant/lounge. Twin Lakes also features Men's Night, Ladies Day and Senior Men's Day, as well as hosting local golf tournaments. General manager Kate Trahan and her staff have put together a nice vacation resort as well as attracting the locals.
If interested, Twin Lakes is only one of many golf courses that is part of the South Okanagan Golf Trail, which includes Fairview Mountain, Nk'Mip Desert Canyon, two courses in Osoyoos, Penticton and Summerland. There is no shortage of good golf courses in the South Okanagan.