Savage Creek Golf Course and Driving Range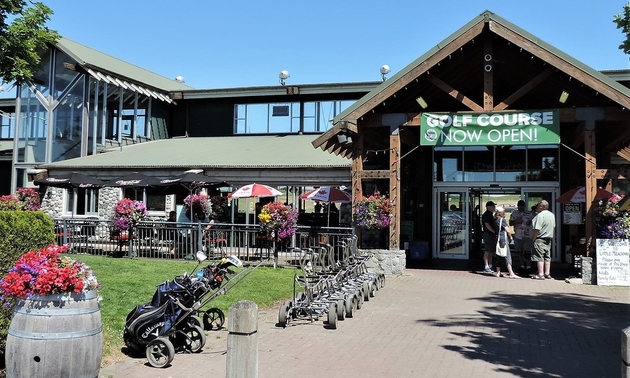 Across Canada and the United States the trend in golf has been to close golf courses for financial reasons. When a new course opens, a rare event, golfers flock to the course only to discover the design is more suited for the LPG/PGA. Savage Creek in Richmond, B.C., on the other hand, was designed with the average golfer in mind. This executive public course opened in 2018 with only 13 holes, followed by two additional holes for the 2019 season. The course appeals to all levels of golfers including ladies, juniors, seniors and low handicappers who want to improve their short game.
The man responsible for Savage Creek is Harry Hogler, a local businessman. Harry and his family own and operate the Richmond Country Farms and Country Vines Winery on Steveston Highway. Two decades ago, Harry entered the golfing industry with Country Meadows Golf Course on # 6 Road. The two golf courses resemble one another because they were designed/built by Harry. It would appear that he has the golden touch. Speaking with Harry, he summed up his new course in four words, "…..you will have fun."
New golf concept?
Savage Creek at present has only 15 holes, which brings up an interesting concept. Many people feel nine hole courses are too short while 18 holes take too long to play. The recent trend is towards shorter courses, with Pineridge Golf Resort near Edmonton designed with only 12 holes. Saskatchewan has one 12 hole course in Saskatoon and Ontario has 3 courses. British Columbia has only one 12 hole course, the Westwood Plateau in Coquitlam. As a senior golfer, nothing seems wrong with 12 holes!
Course layout
The name 'Savage' comes from a local farmer and a road at the back of the golf course. Harry was faced with creating a course on a flat surface, which was boggy and needed a great deal of fill and contouring. That meant moving tons of dirt/rock to create an undulating surface. Each hole looks natural, lined with hills, trees or water, creating 15 very unique holes. At the same time, the course had to wrap around the existing driving range.
Playing the executive course
Being an executive course, there are 6 par 3's, 8 par 4's and one par 5, with only red or blue tees. The first two holes, par 4's, make for a good start. The course then narrows into Grand Central Station with # 2 green, #3 tee box and green, #14 tee box and #13 green, all converging into a central area. Add a waterfall, creek, pond and stone bridges, with the back drop of Burnaby and the Northshore Mountains, you have a picture ready to paint.
The par 4's are the heart of the course, ranging from 241 to 300 yards. Shorter par 4's allow most golfers to reach the green in regulation, providing an opportunity for a bird or par. Hole #4 at 219 yards is the signature hole, which plays a little too long. The green and the left sand trap are heart shaped while the right sand trap is shaped like a Canadian Maple Leaf. Par 3's range from 93 to 219 yards, with five par 3's in a row. The only par 5 is hole #10, uphill 353 yards, with a pond to the right. There are five dogleg holes, #'s 10,11,13,14 and 15. Long hitters like the doglegs because they are also risk and reward holes. Total yardage for the course is 3,434 yards, par 55, half the size of a regular course.
Course management is essential with 40 white sand traps, water on 12 holes and blind shots. Greens are undulating and tiered, so do not expect flat putts. Playing this course for a second time should make it easier. Golfers can walk or ride. Power carts are equipped with GPS giving a layout of the hole and distance to the flag.
Other amenities
The driving range is billed as the largest in British Columbia with 60 heated stalls on two levels. Coffee and lunch are available. There is two practise putting greens at the entrance to the driving range. Adjacent to the parking lot is Mini Meadows, an 18 hole putting course, decorated with mini ponds, waterfalls and bridges. This additional feature has proven very popular with non-golfers, providing a great family and couples activity. Interested in lessons, see Jennifer Wyatt, a former member of the LPGA Tour.
Harry was right, "…..you will have fun."
Course contact info: www.savagecreekgolf.com ph. 604 278 7500