The RV golfer plays a PGA course
Dennis sets a goal to score 79 on the Omni Tucson PGA tour course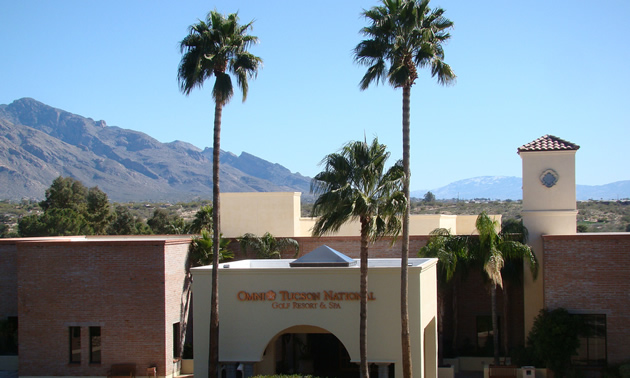 Want to golf a real PGA course? You can't, because the Professional Golf Association of America and the PGA Tour are two different organizations. The PGA of America or Canada is an association with the objective of promoting golf through teaching. It does not create standards for a course to host a PGA tournament. The PGA Tour, on the other hand, regulates a qualifying school (known as Q-School) and 43 annual tournaments.
Individual golf courses can apply to host a PGA tournament. Because every golf course is different, the PGA Tour only sets general guidelines for inclusion, from the length of the rough to sponsorship and media requirements. There are no real PGA courses--only courses used by the PGA Tour.
The tour is tough
In 2000 John Paul Newport wrote a golf book called The Fine Green Line. The author took an entire year to take lessons and play the Florida Mini Tour, with the idea of qualifying for the PGA Tour through Q-School. Newport never came close. In fact, he received a letter from the PGA Tour that strongly suggested he improve his game before making another attempt. Newport discovered the difference between being a good amateur and a touring pro was a fine green line he failed to cross.
My modest goal was to play a PGA Tour course from the back tees and score 79. The course I selected was the Omni Tucson National Resort, listed in the top 75 of America's best golf resorts. Tucson National has two courses to select from, Catalina and Sonoran, with Catalina having hosted 33 PGA tournaments. The Sonoran course is shorter, a very picturesque links desert course that is only 6,529 yards, par 70, CR 71.0, slope 131. The Catalina course is a traditional tree-lined layout that is 7,262 yards, par 73, CR 75.4, slope 16.
How hard could it be?
Playing the Catalina Course was my Q-School, my first PGA tournament, my moment to be a touring pro on television. The day was sunny and slightly windy, with temperatures in the mid-60s. My playing partners were a husband-and-wife team who, after learning of my intentions, were very supportive and informative about the course. How hard could it be?
In playing the back tees, I found the distance from tee to green daunting. I was hoping that a golf ball really does travel further in the dry desert air. My first observation was the difficulty in reaching the greens in regulation. I usually ended up short of the green. The longer holes meant that I would have to chip and putt well. The distance to the greens looks long, feels long and plays long. Most shots into the green are middle irons or metal woods. My first hole ended with a bogey, but then I ran off five straight pars and a chip-in for bird. Hole eight resulted in a double bogey because I ended up in three sand traps. Hole nine was a bogey and I ended the front nine with a respectable 39.
Professional golf tournaments are usually 6,800 yards to 7,300 yards. That makes a par five 550 to 610 yards, par four 420 to 480 yards and par three 150 to 247 yards. In 2011, J.B. Holmes had the longest average on tour off the tee, with 318.4 yards. With that distance, most par fives are reachable in two for professionals--but not amateurs. A good recreational golfer plays 6,200 to 6,500 yards and can reach the greens only in regulation. Let's say your local course is 6,200 yards, par 72 and you shoot 82 with a 10 handicap. Catalina is a par 73, 7,262 yards, meaning you are playing 1,062 extra yards (two par fives), or ten more possible strokes. Do the math:
Score is 83, plus 10 extra strokes for 1,062 yards: 93 real score.
Your real score is 93 but remember, Omni Tucson National has eight lakes and 80-plus bunkers. There are no gimmies, mulligans or best balls and you play the ball as it lies. If your goal is to break 100 you have little room for error, especially with an abundance of water and sand traps. Remember, 90 per cent of golfers can not break 100 under USGA rules. Keep in mind that tournament pros have no handicap and the best average score on tour in 2011 was Luke Donald with a 68.86 average.
It's a challenge
Playing 7,262 yards as if on tour was mentally draining. It is hard to imagine doing it every day for a living. It was Johnny Miller in 1975 who shot a record 61 at Catalina--that is 25 under par for the tournament.
My back nine did not go well, although it started with a par. There were too many sand traps, with only one sand save. The dreaded 18th, one of the hardest finishing holes on the PGA tour, ended with a bogey, for a back nine score of 42 or five over par. Oops. My score was 39 + 42 = 81, eight over par for the course. My driver, metal woods and putter with six one-putts did not fail me--only the middle irons did. Nine holes were at par, with one chip in for bird.
In general, I was pleased with the challenge and the course, but not my final score. Not bad for a senior citizen! It was a interesting experiment and I finished the game with a greater appreciation for how good PGA tournament players are. The PGA Tour has a commercial called These Guys Are Good, featuring famous golfers making incredible shots look routine. When you play a course like Omni Tucson National, you realize how good those touring pros really are.