Golfing with the Devil
The lowest golf course in North America is more than 200 feet below sea level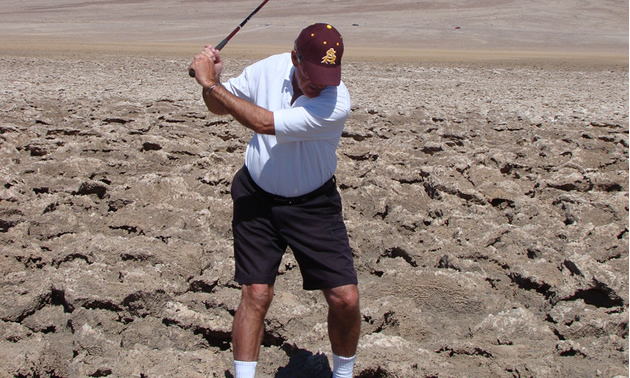 The Devil's Golf Course is in Death Valley National Park, California. It must be Lucifer's golf course, because in mid-March the temperature was already in the mid-90 degrees F. The air temperature in July only averages 115 degrees F. Surface temperatures are usually 40 degrees more than air temperatures. It is not necessary to sell your soul to the Devil to play his course, but it would help. My goal was to play Lucifer and beat him.
The Devil only has only one rule: there are no rules. It is not necessary to book a tee time or wear a collared shirt. No carts are permitted on the course. If you miss the fairway on your drive, throw the ball back into play. If you hit the ball into a sand trap, throw it on the green. Feel free to use a foot wedge to improve your lie with no penalty. Miss a short putt, putt it again. There is no out-of-bounds, water hazards or trees getting in the way. Come to think of it, there are no greens or green fees. Whatever you shoot, that is par or under par if you want. The Devil cannot be beaten, he never shoots bogey. What a novel golf course!
Of course, no such golf course exists, not even in Death Valley. The Devil's Golf Course, however, does exist, but in name only. The name comes from the idea that only Lucifer could play on such a rough surface. As Lake Manly evaporated 2000 years ago, a salt pan was left on the Badwater Basin. Technically the salt pan is a halite salt crystal formation, and it provides an unusual, bumpy landscape. It looks like a dead coral reef, but it is really salt. Just walking through the sharp crystal formations is dangerous, let alone playing golf on them.
Furnace Creek Ranch and Golf Course
In the midst of more than three million acres of wilderness, the oasis at Furnace Creek has brought life to Death Valley. For centuries, this oasis provided animals and the Shoshone Indians with water. The Furnace Creek Ranch has been in operation since 1881, although it was first called the Greenland Ranch. The ranch was used to house borax miners and grow food and feed. Over the years, the ranch was used to support gold miners, railroad workers, twenty-mule teams, date farming and eventually tourism. The Pacific Coast Borax Company in 1927 turned its facilities into a resort and built the Inn at Furnace Creek. As tourism increased, Death Valley became a National Monument in 1933 and a National Park in 1994. Today, the Furnace Creek Ranch has a general store, three restaurants, a saloon, the Borax Museum, a swimming pool, 100 employees and 224 guest units, plus a fully serviced RV park.
Tourism means golf and thus the Furnace Creek Golf Course. In 1927, Murray Miller built a three-hole golf course and then expanded it to nine holes four years later. It was the first grass course in the California desert region. The course in 1968 was expanded to 18 holes and in 1997 Perry Dye redesigned the course with its present layout and equipped it with a full irrigation system. The golf course and Furnace Creek Ranch are owned and operated by Xanterra Parks and Resorts. The course is only a few miles from the Inn at Furnace Creek and is within walking distance inside the ranch.
The most striking feature of the golf course is how lush and green it is despite the barren terrain of Death Valley. This is not your typical desert course, combining fairways and greens with desert wasteland. The course is well maintained, has tree-lined fairways and small greens and feels more like a golf course in Palm Springs. Three holes have strategically placed trees in the fairways and on six holes water can come into play.
Just before teeing off, I was warned that since the course is below sea level the ball would not travel as far. They were right! The golf course is called the "lowest golf course in North America," and is in fact more than 200 feet below sea level. That also means that you would shoot your "lowest" score. A little humour there.
The course is 6,236 yards, par 70, CR 70.9 and has a slope of 117. This is a good resort course and enjoyable to play. As for the Devil, he failed to show up.