Golfing at Mabel Lake Resort
Mabel Lake Resort is a jack of all trades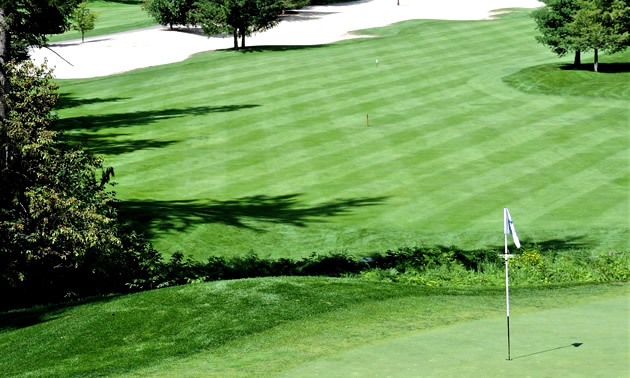 Golfing and RVing seem to be synonymous. Some RV parks have golf courses and some golf courses have RV parks. Being able to walk from your RV to the first tee is a real treat. Mabel Lake is a planned resort that appeals to fishers, boaters, flyers, RVers, campers and of course golfers. If you are a golfer and RVer, set your GPS for Mabel Lake.
Mabel Lake is 35 kilometres (22 miles) east of Enderby in the North Okanagan. A Canadian Pacific Railroad survey engineer, Charles Perry, named the lake after Mabel Hope Charles in the 1870s. The lake is approximately two miles (three kilometres) wide and known for its sandy beaches, salmon and trout fishing, and forests and mountains. Mabel Lake Provincial Park is located in the southeast corner of the lake.
The owner of the Mabel Lake Resort is Ken Laursen and he does not hesitate to state that his golf course is "the best nine-hole course in the province." It is difficult to disagree with him. The course architect was Les Furber, who has designed and constructed over 60 golf courses across Canada.
All about the course
The course is not a "grip and rip" style of course, despite being 6,206 yards long and having three par fives. From the back tees, the course rating is 69.0 with a slope of 125. The key to success on this course is course management, meaning staying out of the fairway trees and setting up the second shot. For example, the first hole is a dogleg right, par five, 539 yards, needing three shots to reach the green. It is essential to play the left side of the fairway.
The same applies to Hole No. 2. Hole No. 3 is the signature hole, needing a good drive followed by an iron to a very elevated small green. Make sure you clear the rocks. Hole No. 4 is the shortest hole on the course at 159 yards, but this par three is surrounded by an environmental waste area and is out of bounds. Hole No. 5 is a sharp dogleg left needing to make the corner with your drive. Hole No. 6, a par three, at 197 yards shares a huge sand waste area with holes No. 3 and 5.
Hole No. 7 is a short par four at 324 yards and a chance for birdie. Hole No. 8 is the third par three at 159 yards, but it is nearly surrounded by a sand bunker. The finishing hole is one of the best in the province, a par five, 512 yards, with the need to thread your third shot between a small lake/fountain to the left and a pond/fountain on the right. Expect to enjoy the challenge and the feeling of wanting to play the course as soon as possible.
All about the airpark
Mabel Lake has one other attraction, an airpark which was opened in 1990. Just think about the concept of flying your own plane to the golf course. The airstrip is located between holes No. 6 and 9, having a 2,900-foot grass runway. "You can taxi right to the backdoor of your house and private hanger, then walk to the restaurant or the first tee," said Laursen.
This concept of combining your house with a hanger does exist in some American cities like Salome near Phoenix, Arizona. People live in Salome and fly to work in Phoenix. In British Columbia, Shuswap Estates, at Blind Bay and Long Beach near Tofino, also have airstrips mixed in with the golf course.
Mabel Lake is more than just a golf course, being a resort that also features a 260-boat marina, general store, beach cafe and 90 fully serviced RV sites. If you do not have a RV, rent one from the resort. Lakeside Estates will rent or sell townhouses, luxury condos, single-family homes, airpark homes and various rustic beach cabins. This is prime vacation property and open year round. If interested, contact [email protected]
Golf is often criticized for being "too difficult, too expensive and too time consuming." As a result, the newest trend in golf, according to the United States Golf Association, is to "play nine." Mabel Lake is not too expensive or time consuming and there is no better place in the province to play nine.