Best strategies for senior golfers
Face it: aging changes your game. Here are some tips for staying relevant on the course.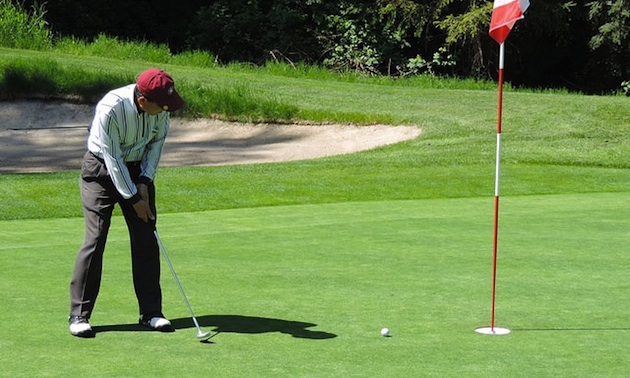 Every January there are golf industry shows and PGA merchandise shows held in cities from Orlando, Florida, to Los Angeles, California. Anything connected to golf is on display, from apparel to new clubs and balls. Golfing manufacturers from Callaway to Taylormade make clubs for juniors, ladies, men and touring pros—but few clubs are made solely for seniors, men or women. (The term senior in golf is usually defined as 50 and over because of the Champions Tour, but for the purpose of this article, senior refers to recreational or amateur golfers over 60 years of age.)
As people age, the body gradually makes changes that influence the golf swing. Muscles lose tone, strength and coordination. As a result, club head speed decreases below 90 miles per hour and as a result distance drops. In comparison, touring pros have on average a club head speed between 107 and 120 miles per hour. The dividing line between amateur and professional is considered to be 107.
The next biggest problem for seniors is the lack of flexibility, in the shoulders and especially in the hips. The body has difficulty in turning, producing a shorter backswing and slower club head speed. To compensate for aging, use a regular flex (R) shaft or a shaft marked A for amateur. Flex means the ability of the shaft to bend during the swing. The faster the swing speed, the greater the flex and the greater the distance, and the converse is also true. A regular flex shaft is equal to 80 miles per hour on average. The correct shaft will generate club head speed, launch angle, impact on contact and maximum distance.
Golfing manufacturers seem to make clubs for pro golfers, but the reality is that the majority of golfers are well below average. The USGA states that 90 per cent of golfers can not break 100 following the rules of golf. The game is too difficult. Every January manufacturers unveil their new and improved clubs, but not necessarily clubs for seniors. Take for example the new 2015 Cobra FLY-Z, with "Flip Zone Technology" and "adjustable weight technology," providing two different flight paths in one head. Only an aerospace engineer could understand this, and Cobra is typical of most manufacturers. What it boils down to is that senior golfers need to make some adjustments in their clubs and swing.
Adjustments for 60-plus golfers
Use an open stance that allows the hips to turn
Use clubs with a larger sweet spot and a lower center of gravity
Allow the left heel to come off the ground on the back swing
Shorten the back swing in favour of control
Use a regular flex shaft not over 65 grams
Use a graphite shaft instead of a steel shaft
Use a shaft that is one inch longer to increase club head speed
Have a professional match club head speed with the flex of the shaft
Narrow the stance slightly
Golf under control and do not worry about distance
In deciding what club to use, always use an extra club
Use a driver with a loft between 10.5 and 12 degrees
Replace the long irons with a 4 or 5 hybrid
Use a push cart or power cart instead of carrying your clubs
Put aside your pride and play off the white tees
Use a low compression ball like Titleist NXT Tour or Taylor Made TP Black
Put the score card away and golf just for fun
The club question
So what clubs are best for seniors? That is a matter of opinion and no two people will probably agree. It is necessary to research what companies manufacture both irons and metal woods for senior golfers. Here is a list of some recommended clubs; just take your pick:
Adams Speedline S
Callaway X-Hot
Ping G25
Wilson Staff D100
Cleveland Black Series
Taylormade Burner 2.0 Senior Irons
Unlike most sports, golf is a lifetime activity. So make the senior adjustments and continue playing.